News
Home-visit program will be Busan's own cultural exchange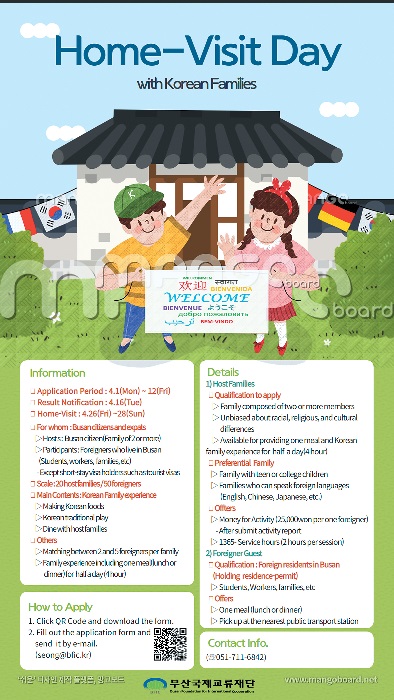 Home-visit program will be Busan's own cultural exchangeusan will begin a home-visit project in order to create a community friendlier towards foreign cultures. The project is for Korean families and foreigners living in Busan and is intended to allow families to host guests in a cultural exchange.

The city will set up 50 foreign guests with 20 Korean host families. Hosts may invite between two and five foreigners. Guests will be able to choose from different days to visit and will spend about four hours with their host families. Families who are interested must have more than two people in their household, are required to provide at least one meal a day to their guests and should have an open mind about interacting with and learning about new cultures. Families will have an easier time being selected for the program than others if there are teenagers or university students living in the household and if they are proficient in a foreign language. Tourists and visitors on short-term visas will not be able to qualify.

The home-visit project will be held four times this year. The first recruitment has already passed, but the second round will go from June 24 until July 12. This will cover both the second and third home-visit periods. Foreign guests will subsequently stay with their host families between July 27 and 28 and then Aug. 23 to 25. The final recruitment dates will be Sept. 30 to Oct. 11 with the home visits to be held between Oct. 25 and 27. To apply, you may download the application form from the Busan Foundation for International Cooperation website (bfic.kr) and submit it by e-mail to seong@bfic.kr.

Information: bfic.kr
Phone: 051-711-6842
E-mail: seong@bfic.kr