News
Global locals gather at Global Gathering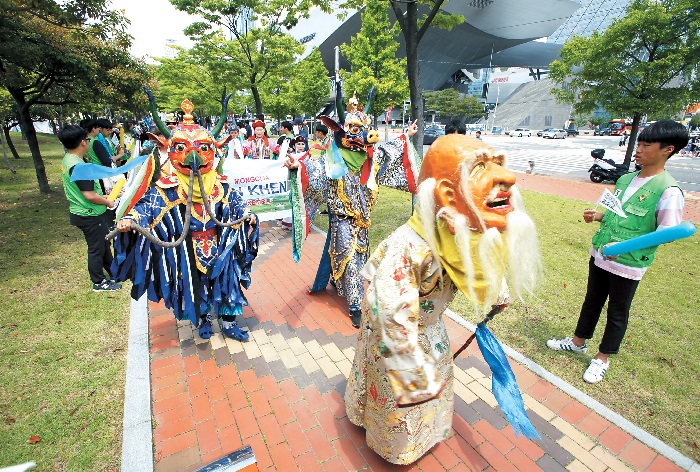 - The 14th Global Gathering will be held at APEC Naru Park on May 19 and will celebrate the diversity of Busan's citizens and residents.
출처 및 제공 : Busan Foundation for International Cooperation
APEC Naru Park will be the home of this year's Global Gathering on May 19 from 10 a.m. to 6 p.m.
As a city of many cultures and nationalities, the Global Gathering is one of Busan's most popular yearly events. This year's affair, the 14th of its kind, will be closely linked to the ASEAN-ROK Commemorative Sum-mit. The Global Gathering will feature cultural exchanges, performances and food from over 40 international countries and cultures.

Approximately 150 international organizations will open over 100 stalls and booths. At these stands, different embassies, cultural and foreign support centers, environmental organizations and students will provide information, activities and goods. Visitors to the Global Gathering will be able to take part in hanji (Korean paper) crafts and face painting. Clothing, food, toys and souvenirs, including used items, will all be made available for purchase. For those who may feel hesitant about pulling out their wallets for a souvenir, there will be raffle tickets given to those who do. A lucky few will win hotel coupons and gift cards, so it may not be a bad idea to buy something after all!

On the main stage, troupes from six of Busan's sister cities (Bangkok, Thailand, Cebu, the Philippines, Phnom Penh, Cambodia, Surabaya, Indonesia, Vladivostok, Russia and Yangon, Myanmar) will perform. Teams from Beijing, China, Nagasaki, Japan and Ulaanbaatar, Mongolia will also join in on the festivities, which will include dancing, singing and other theatrical art forms.

Of course, one of the festival's biggest highlights is the food. Festival-goers will be able to take a bite out of exotic cuisine made by people who know how to make it best. Craft German beer, delicious Belgian waffles, traditional Slovakian bread and scrumptious Paraguayan beef dumplings are just a taste of what will be available to munch on at this year's event.

How to get there: Centum City Station (Metro line 2), exit 12. Cross the road behind Shinsegae Department Store.