News
Osiria Tourism Complex showcases nothing but the best
▲The Hilton Busan provides a view for the ages, along with luxurious comfort Hilton Busan. 출처 및 제공 : 부산관광공사
With Haeundae Beach and Haedong Yonggungsa temple, the eastern part of Busan has attracted a number of visitors for many years. These days, it continues to gain popularity thanks to the Osiria Tourism Complex, which has been developing tourism and drawing even more people to the area. Just last year, the complex attracted 8.3 million visitors.
The complex occupies a total area of over 3.6 million square meters across the east of Busan and was designed to provide visitors with a package of shopping, healing and tourism. The complex already has various attractions, such as Lotte Premium Outlets (Dongbusan branch), the Busan National Science Museum and the Hilton Hotel. Furniture giant IKEA is set to begin construction there later this year, with Aqua World also set to claim this part of town as home.
Lotte Premium Outlets, also known as Lotte Mall Dongbusan, is a must-visit for shopping tourists. The outlets have about 500 domestic and international shopping brands, and contain a Lotte Mall, Lotte Cinema, and more than a few restaurants. It always provides discounts on goods and as a result is very popular. Last year, the establishment attracted around 6.1 million visitors.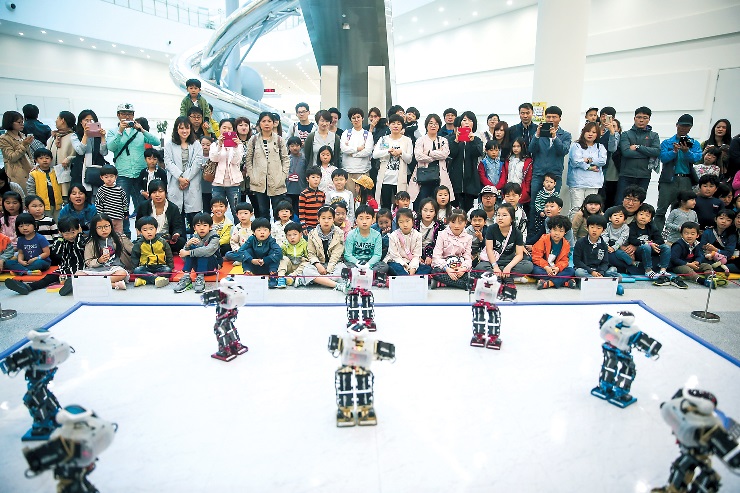 ▲Children watch robots at the Busan National Science Museum- 출처 및 제공 : 국립부산과학관
The Busan National Science Museum opened in 2014 and provides patrons with exciting scientific activities to discover. While children stand to grow bored in science class at school, some adults may have not had such a class in several years. Therefore, the museum is potentially a hit for everyone! Its section on vehicles and aerospace, as well as its observatory, are sure to provide fun for the whole family, so bring your curiosity and wonder with you!
If it's luxury you're looking for, the Hilton Busan is also located along the east coast and occupies a total of 75,000 square meters. The hotel, which brings approximately 1.2 million guests every year, is a vacation spot that boasts wonderful sea views and the most relaxing therapeutic facilities.
Finally, City Hall is going to help the complex open an IKEA in 2020 and Aqua World, complete with a hotel, aquarium and even a theme park, in 2021.
Busan expects the Osiria Tourism Complex to attract 10 million visitors a year when all facilities are open.
How to Get There: Lotte Premium Outlets (Dongbusan Branch); Osiria Station (Donghae metro line) or Busan City Tour Bus (blue line)
Busan National Science Museum: Busan City Tour Bus (blue line)
Hilton Busan: Busan City Tour Bus (yellow line), transfer yellow line at Haedong Yonggungsa (해동용궁사) stop