News
Local-supported Busan hot spots revealed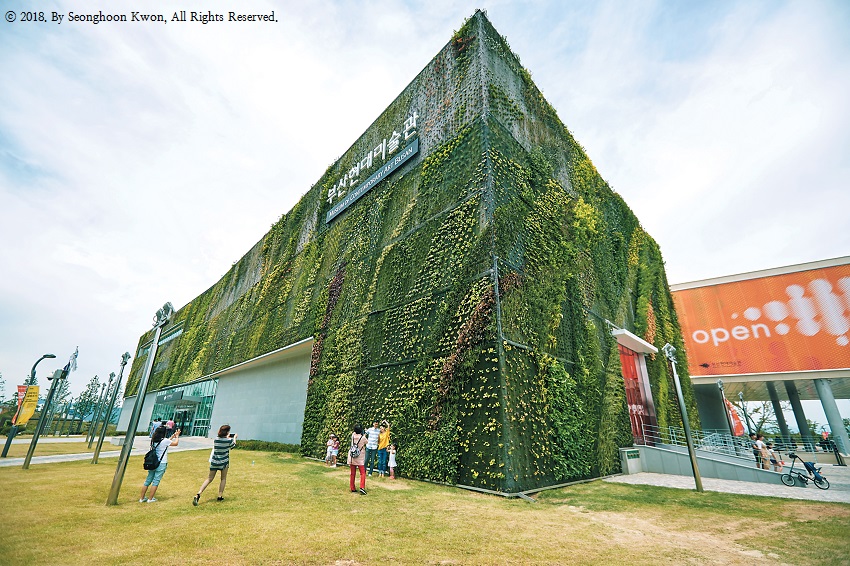 The Museum of Contemporary Art Busan has become quite popular.

The Museum of Contemporary Art Busan on Eulsukdo and Kangkangee Arts Village on Yeongdo Island took top honors in the recently-announced "Top 10 Busan Hits of 2018" list, organized by the Busan Development institute. List inclusions are determined every year in order to find out the most commonly-used keywords associated with Busan through popular products, local government policies and influential figures and institutes in the city.
The top 10 Busan hitmakers this year include the aforementioned Museum of Contemporary Art Busan and Kangkangee Arts Village, as well as "Bbangcheon-dong," the bakery-centric section of Namcheon-dong (neighborhood), the Busan Provisional Capital for 1,023 days, Sanseong Tunnel, the Busan Biennale, Haedong Yonggungsa Temple, Daesun Distilling Co., Ltd., the beltway around Busan and Haeridan-gil, one of the newest cafe street concepts, launched behind the former Haeundae Train Station.
The Museum of Contemporary Art Busan opened in June 2018. It was included for its cultural benefits to the Saha-gu (district) area, as well as throughout the city by providing comtemporary arts easily-accessible to both arts aficionados and newcomers alike. Furthermore, the museum was lauded for hosting the city's Biennale arts event last year, which made western Busan the center of arts in the city for the first time. The museum is currently closed for the preparation of a new exhibition and will reopen in March.
The site of Kangkangee Arts Village originally hosted many shipyards and ship repair facilities along the Yeong-do shoreline. It gained its fun nickname because of the loud "kang kang kang" sound that was once a regular fixture when repairs were made to ships by heavy hammers. Famous artists from Korea and abroad have since rejuvenated this once-decaying village by exhibiting works including murals and sculptures throughout the village, while local residents have begun to host a number of cultural experience programs and more, becoming a successful example of urban revitalization. Additionally, beautiful and interesting cafes have also found a home in the village.
Some of the delicious breads one can purchase in Bbangcheon-dong.
Bbangcheon-dong took third place, in part for its popular bakeries specializing in providing delicious breads and desserts for the hungry masses. There are more than 20 bakeries that have set up shop in the area, meaning visitors will find more than just a place to buy a loaf of bread these days. Visitors will also find a place to enjoy a lovely tour of the ever-expanding and evolving Korean baking culture.
Haeridan-gil, which rounded out the list in 10th place, is a newly organized concept located along a quiet, older street located behind the old Haeundae Train Station. Visitors to Haeridan-gil will see a lot of cute and interesting coffee shops and restaurants here that are popular among the city's Instagram-crazed youth. It has become a popular first part for many dates before moving on to Haeundae Beach.