News
Busan to promote new 24-hour airport plan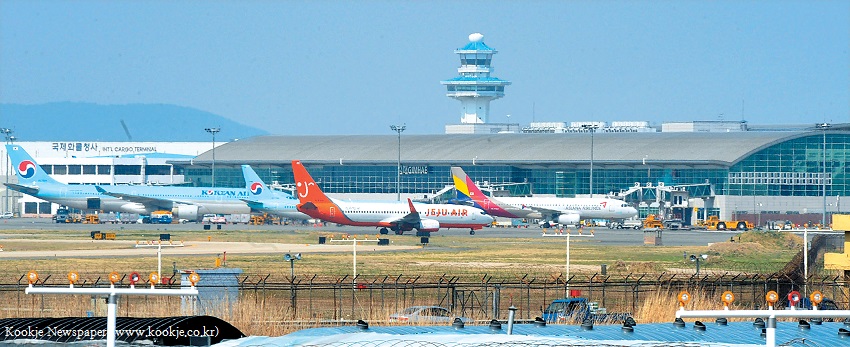 Planes wait to take off at Gimhae International Airport. The present airport faces difficulties regarding curfew and capacity limits.
​
In this era of globalization, airports serve as a representative for their respective cities. Beijing Capital International Airport has crafted itself to be a representative for China. Amsterdam's Schiphol Airport's lively atmosphere reflects the characteristics of the Dutch. These are just two examples of airports that seek to serve as reflections of their locations and cultures. Now, Busan is pushing for its new airport to represent Busan and the entirety of Korea.
The city is now preparing its new southeastern gateway airport, which officials said will operate 24 hours a day upon completion. Currently, Busan and the southeastern corridor for Korea is served by the 42-year-old Gimhae International Airport. Its small scale has, however, resulted in a lack of ability for the kind of growth officials say air transportation in this portion of the country has demanded. Passengers often need to be transported by bus from the runway because of a lack of terminals, and late night flights are impossible in this current location due to the airport's proximity to residences, for example.
One of the most attention-grabbing aspects of creating a new airport is the promise of launching additional routes. An increase in mid-range and long distance routes are the most anticipated, such as to the United States and Europe. Currently, flights from Gimhae International Airport to these parts of the world often require transfers either at Incheon International Airport or at other airports outside of Korea.
Presently still in its planning stages, city officials along with the Ministry of Land, Infrastructure, and Transport are discussing future mid-range and long distance flight routes to be offered at the new airport, specifically to Helsinki in Finland and Los Angeles in California, United States. However, discussions on issues such as curfews (known as "night flight control time") and noise reduction for local residents also continue to be addressed, officials said.
Officials continued, saying that expanding the current Gimhae International Airport may cause various pro-blems. In particular, serious noise pollution may be generated. Officials surmise that it is impossible for the airport to create additional routes without significant upticks in noise pollution. It is estimated that over 4,000 residents would be impacted by severe noise pollution.
Officials hope that, upon completion of the new airport, a "tri-port," which connects the land through the roadways, the sea through Busan Port, and sky can be realized, thus better linking Korea to Russia and China.