News
Dynamic Busan satisfaction report released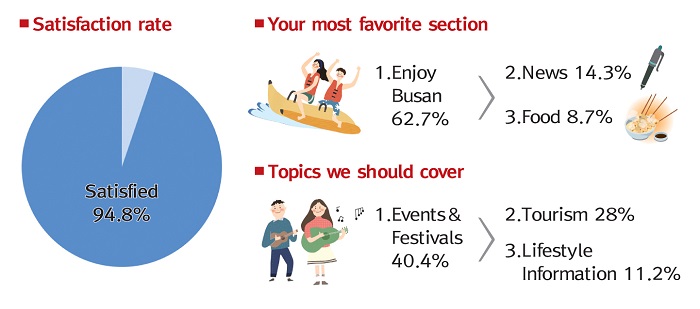 Results from the Dynamic Busan subscriber satisfaction survey conducted last fall revealed nearly 95 percent of you seem to like what we're doing. Held from October through No-vember, the survey showed an overall satisfaction rate among subscribers at 94.8 percent, up a full percent from 2017 results.
This year, 154 readers participated, through a Google online survey and on Facebook. Participants hailed in large numbers from Southeast Asia, including from India, Indonesia, Malaysia and Vietnam.
The "Enjoy Busan" section of Dynamic Busan was the most popular section, at 62.7 percent. This was the same result as last year. Up second was the "News" section, with "Food" following close behind at third place.
The survey indicated readers were most interested in learning more about Busan's festivals, starting with events taking the top spot. This was followed by tourism and lifestyle, respectively.
Dynamic Busan as a publication earned generally favorable scores with most survey participants giving the newspaper "4" out of a total of "5"
points. This was based on a number of factors, including the monthly news-paper's content and accessibility, among other factors. Aesthetics including photographs, design and layout earned high scores. However, the score for delivery was relatively low.
Participants suggested Dynamic Busan offer more information about historical places, local culture and hands-on programs for foreign tourists. Survey participants also suggested increasing the number of pages in Dynamic Busan, as well as offering new issues of the newspaper more often than once per month. In addition, survey participants noted interest in Dynamic Busan offering more practical information such as when and where free health checks are offered, as well as free consulation services.
When it comes to learning more about Busan, 86.4 percent of survey participants said reading Dynamic Busan helps. Meanwhile, 84.4 percent of participants said they will continue to subscribe to Dynanic Busan in the future.
Everyone on the Dynamic Busan editorial team always appreciates the comments and suggestions made by our faithful readers. We are still listening.
Dynamic Busan plans to introduce more of Busan's hidden attractions and trendsetting spots in future issues. Additionally, we plan on offering even more content affiliated with the Busan Global Center, through Face-book and more.
As always, we want to hear from you, our readers, on what we're doing right and what you'd like to see from us in the future. All inquiries, including questions, news tips, topic suggestions and more should be directed by email to letmedosth@korea.kr.
Thank you very much to those who participated in our 2018 survey. We look forward to exceeding every expectation. Everyone at Dynamic Busan wishes everyone a happy, healthy and prosperous 2019.