News
Sunrise events set to start 2019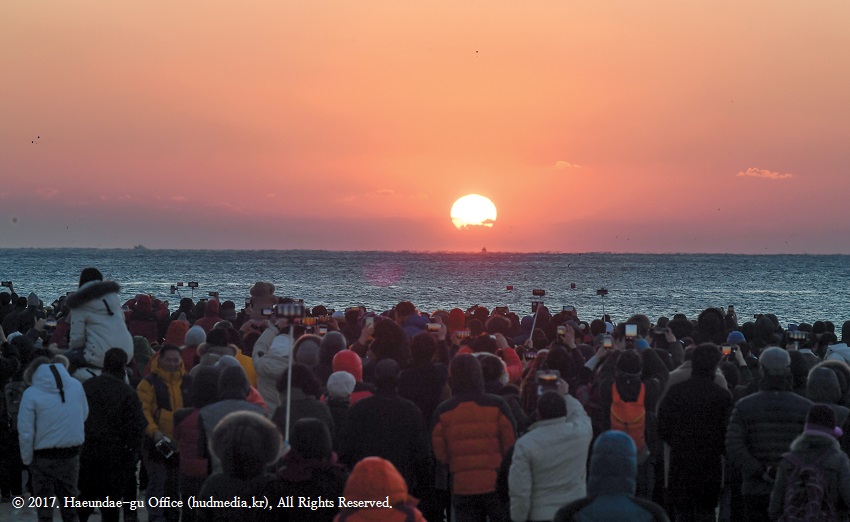 Sunrise over Haeundae Beach draws many.

Stumped on how and where to celebrate the end of 2018 and the birth of 2019? Let us help. Many flock to several locations across the city every new year, from Yongdusan Park to Haeundae Beach. How will you greet the new year?
■ Citizens Bell Ringing Ceremony
Tens of thousands gather at Yongdusan Park every Dec. 31 for this special event. Beginning at 11 p.m., the evening includes music, the bell ringing ceremony as well as new year's greetings. The highlight of the event, however, is the countdown that begins 10 seconds before midnight. Ring in the new year with a wish for health, happiness or whatever else you want to see in 2019!
-How to get there: Nampo Station (Metro line 1), exit 7. Walk about 10 minutes and find the escalator leading to Yongdusan Park on your right.
■ Sunrise events
· Haeundae
Thousands of people regularly gather along Haeundae Beach at around 6 a.m. on Jan. 1 to bear witness to the first sunrise of the new year. This year is expected to be no different. Special events are expected to include cheer performances, new year's greetings and a frigid ocean swim.
-How to get there: Haeundae Station (Metro line 2), exits 3 or 5. Walk about 10 minutes toward the beach.
· Gwangalli
Various performances and tteokguk (rice-cake) sharing for thousands will highlight the fun on the beach. But, the real draw is the chance to witness the first sunrise walking on the Diamond Bridge, which the public can access between 6 and 9 a.m.
-How to get there: Gwangan Station (Metro line 2), exits 3 or 5. Walk 10 minutes toward the beach.