News
Celebrate fall with chrysanthemums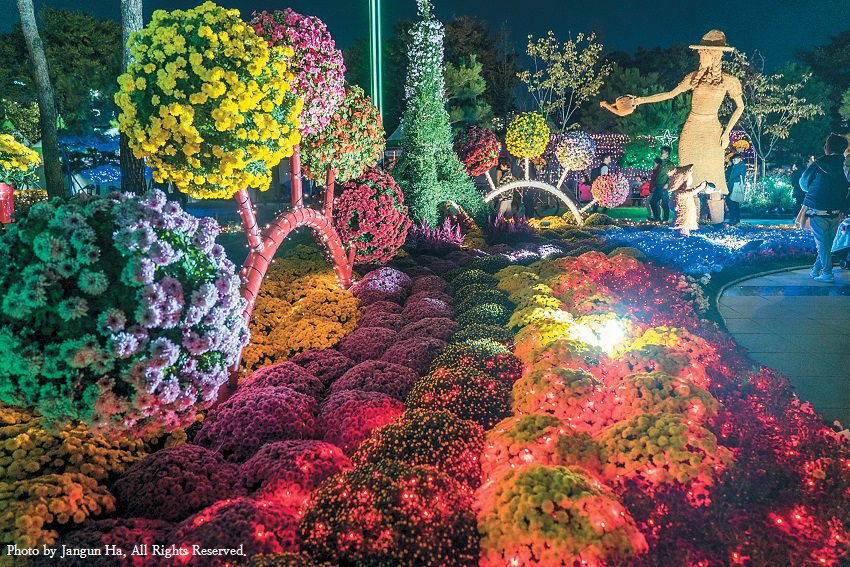 Peace Park is even more peaceful with its beautiful chrysanthemum installations.

A number of chrysanthemum celebrations can be enjoyed across the city this month. Check one out and be wrapped in a cocoon of peace.
Speaking of peace, Peace Park, in Daeyeon-dong (neighborhood), Nam-gu (district) continues its chrysanthemum celebrations through Nov. 11 in its central square. There are more than 100,000 lovely flowers in a multitude of sizes and a rainbow of colors. In addition, 33 varieties of bonsai trees are also on display. Chrysanthemum sculptures including hearts, seagulls (Busan's official mascot) and harps will no doubt once again be popular photo fodder.
Peace Park is not the only place to flip for fall's favorite flower. While Samgwangsa Temple is better known for its incredible lotus lantern festival during spring, it also started its own chrysanthemum festival last year. Enjoy it through Nov. 15. Located a short taxi ride from Seomyeon in Choeup-dong, there are some 10,000 chrysanthemums at this festival.
Hongbeopsa Temple, famous for its massive gold-colored Buddha statue, is another worthy option for those looking for some autumn chrysanthemum excitement. Located a short drive from Nopo Station (Metro line 1), Hongbeopsa's annual autumn chrysanthemum festival has been entertaining flower fans since 2011. Until mid-November, thousands of chrysanthemums will be on display.
-How to get there: (Peace Park) Kyungsung University/Pukyong National University Station (Metro line 2), exit 5. Take bus 10 or 155 near Paris Baguette and get off at the Human Resource Development Service of Korea center (한국산업인력공단); (Samgwangsa Temple) take mini bus 15 at the large bus stop complex across from Lotte Department Store and get off at the Samgwangsa stop; (Hongbeopsa Temple) Nopo Station (Metro line 1), exit 1. Take mini bus 1 or 1-1 and get off at Songjeongni bus stop, cross the street and walk straight. Cross the nearby bridge.