News
Busan's top tourist destinations revealed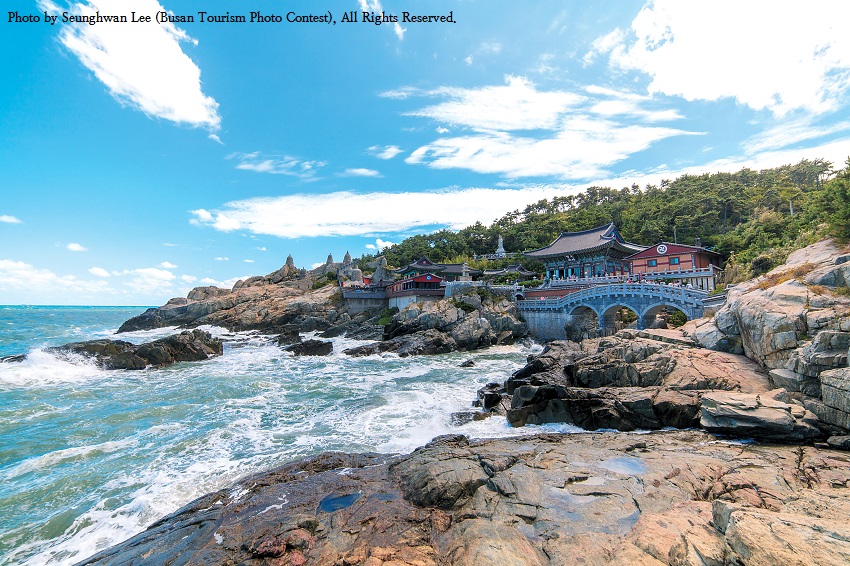 Haedong Yonggungsa Temple saw a huge increase in tourists in the first half of this year.
The results are in. Tourists coming to Busan flocked to Seomyeon more than any other spot in the first half of the year.
The city recently announced results of a study conducted to determine Busan tourism trends. Information was culled from such sources as phone usage locations, locations where credit card spending was collected and more.
According to the study, Busan enjoyed a seven percent bump in its number of tourists during the first half of 2018. This included more than 13 million tourists, with some 1 million of them visiting from outside Korea. Most foreign tourists came from Japan, China, Taiwan and Russia.
While Russian, Taiwanese and even Indonesian tourism dramatically in-creased, the study indicated numbers were slightly lower among American and Canadian tourists.
Analysts pointed to the popularity of Korean popular culture, known as the "Korean Wave (hallyu)." Focused promotional marketing campaigns, the expansion of "themed tourism" packages for specific countries and nationalities along with a number of other tourism promotion efforts were also cited for the increase in tourists.
Additionally, the recent summit between leaders of North Korea and the United States was cited for increased interest in the region.
Besides Seomyeon, other popular tourist areas for both domestic and international visitors included BIFF Square in Nampo-dong, Jagalchi Market, Gukje Market and Haeundae Beach.
Foreign tourists who visited Haedong Yonggungsa Temple and Dalmaji-gil Road in Haeundae doubled compared to last year, according to the study. Overall visitor numbers jumped for even less central locations including Songdo Beach and Beomeosa Temple.
Jeonpo Cafe Street was the fourth-most visited place in Busan among foreign tourists, according to the study. According to the report, foreign tourists opened their wallets widest at Seomyeon's Lotte Department Store, followed Lotte Department Store's Gwangbok branch in Nampo and Busan Port International Passenger Terminal. Overall, spending was up at department stores and duty free shops.
Hotel spending increased, but accommodation spending through travel agencies decreased, in part due to the rising popularity of self-planned tours through the Internet. No surprise, the consumption of coffee and other cafe treats sharply increased.
The city and Busan Tourism Organization plan to establish customized tourism policies for individual countries, which will then be utilized for future promotion and marketing.