News
Get into the game at annual G-STAR event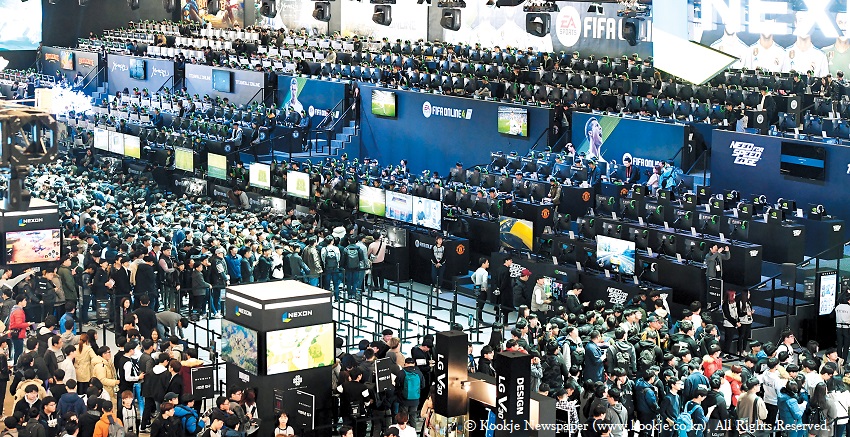 Expect BEXCO to be just as packed with gaming fans as it was at the annual event last year.
One of the gaming industry's biggest exhibitions, G-STAR, returns to BEXCO from Nov. 15 through 18.
"Let Games be Stars" is the tag line for this year's event, now in its 14th year. Nearly 3,000 booths will be set up from almost 700 participating companies from 30 different countries. This year's participation rate is G-STAR's highest ever.
This year's main sponsor is United States-based developer Epic Games, best known for their incredibly successful online multiplayer game Fortnite. Epic Games is G-STAR's first-ever foreign main sponsor. It's little surprise given Fortnite's massive popularity here in Korea. As such, the game will play a large role in promotions throughout the event.
PlayerUnknown's Battlegrounds, another incredibly-popular similar battle royale-style online multiplayer game, will have 100 booths, as well.

Gamers get serious about their games.

Korea-based game company Nexon will once again offer the largest presence at the event. Best known for its MapleStory series, Nexon will occupy 300 booths for the public, 30 booths for business-to-business operations, as well as an outdoor booth to showcase and let visitors experience their newest projects. Netmarble will present Blade & Soul Revolution and Seven Knights 2.
G-CON, a special segment within G-STAR that allows attendees an up close opportunity to find out more about game industry trends, is being expanded for 2018. It will be held across two days, Nov. 15 and 16 and include 20 information sessions for online, console, mobile, e-Sports and more.
Some of the industry's biggest companies are expected to be in attendance, including Electronic Arts, Blizzard, Naughty Dog, Ubisoft and Microsoft. The event's keynote address will be conducted by EA's Greg Black, who was a game designer on Starcraft 2, among other titles. Lecturers will include Gwangsub Shin of Epic Games, Seungyong Lee who is Blizzard's head of its e-Sports team and more.
Games aren't the only things people will get to see this year. G-STAR has also expanded its "Costume Play Awards," as well.
-Hours: 10 a.m. to 6 p.m. (the event begins at noon on opening day, Nov. 15)
-Tickets: 8,000 won for adults, 4,000 won for teens. Tickets can be purchased in advance or at the door.
-Information: gstar.or.kr
■ G-STAR tips
The easiest way to enjoy G-STAR is to purchase tickets online in advance.
Visit ticket.auction.co.kr for tickets and simply present a form of identification when you arrive.
Transportation discounts for G-STAR will also make the event more enjoyable. Up to 50 percent discounts will be given to those who travel by SRT or Korail to the event.
SRT train passengers who travel from Suseo, Daejeon, Osong, Dongtan and Dongdaegu to Busan are eligible for a special G-STAR tour package. KTX also has a discount for G-STAR attendees from Seoul, Gwangmyeong, Osong, Cheonan-Asan and Daejeon.
For more information on the SRT and KTX travel packages, visit here or KORAIL homepage (Korean).