News
Fabulous festivals overflow with fall fun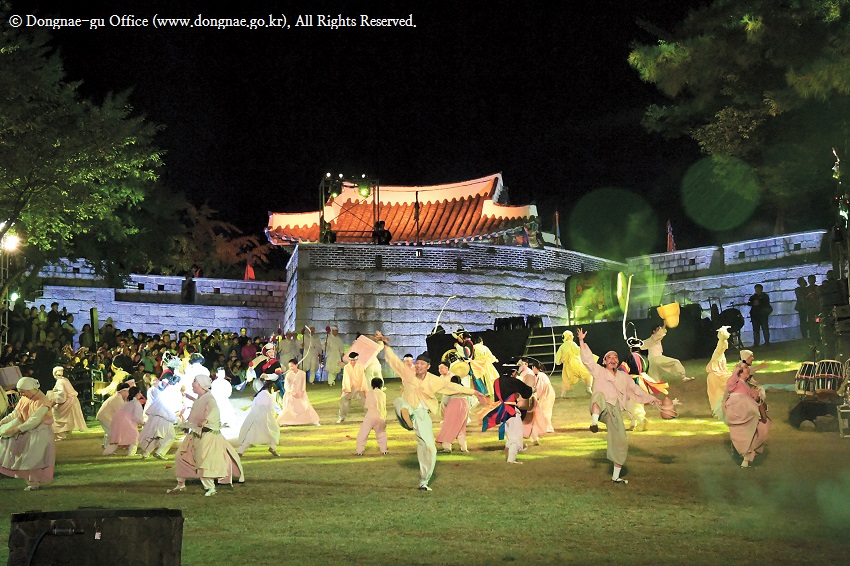 A musical scene is performed for the battle at Dongnae Eupseong.

It's always festival season in Busan. October highlights include a street parade, massive hoe (raw fish) bibimbap (mixed vegetables and rice) tasting, catching mackerel from Songdo Beach and more.
■ Busan Jagalchi Festival (Oct. 11-14)
Korea's most famous fish market is also home to one of the country's biggest seafood festivals. Enjoy some rugged hometown charm and also learn more about ajimae (old Korean women) during the event. Attendees can sample and purchase seafood that's cheaper than normal so be sure to bring your wallets.
Kicking off at 2 p.m. Oct. 11, events include the "Sea God celebration," where people pray for fishermen to return home safely with a full load of fish. A street parade through Jagalchi Market and Gwangbok-ro begins at 3 p.m.
Jeonbok-juk (abalone rice porridge) or bok-guk (puffer fish stew) will be served free at 2 p.m. during the first three days of the four-day festival. Additionally, 2,700 hearty servings of hoe bibimbap prepared in a massive bowl will be given out on the last day.
-How to get there: Nampo Station (Metro line 1), exit 6. Walk toward Yeongdodaegyo Bridge. Or, Jagalchi Station (Metro line 1), exit 10. Walk toward Shindonga Market by the waterfront.
-Information: ejagalchi.com
■ Dongnae Eupseong Festival (Oct. 12-14)
Dongnae Eupseong was the walled city created to protect a fortress on the southern coast of Korea. Dongnae was where a fierce battle took place during a Japanese invasion of Korea.
The hightlight of this festival is the reenactment of the battle of Dongnae Eupseong. A musical depicting the battle will be performed on the North Gate hill. Five one-hour musical performances will be at 7:40 p.m. Oct 12; 1:30 p.m. and 7 p.m. Oct 13; and 11:30 a.m. and 5 p.m. Oct. 14.
Visitors to Bokcheon Museum can make unique items that were used during the Joseon Dynasty era including traditional identity tags, character rings, engraved postcards and more. Starting at 4 p.m. Oct. 12, an event honoring the Dongnae Magistrate will travel from the government office all the way to Dongnae Cultural Center. Additional entertainment will include a puppet show, magic show, busking, tightrope walking, tug-of-war and more.
-How to get there: Dongnae Station (Metro line 1), exit 5; Oncheon-jang Station (Metro line 1), exit 1; and Myeongjang Station (Metro line 4), exit 3. A shuttle bus will be available every 20 minutes during the festival.
■ Busan Mackerel Festival (Oct. 19-21)
Something fishy's happening later this month at Songdo Beach. Specifically, that fish is mackerel, a staple on many Korean tables and the focus of a festival across three days on Korea's oldest beach.
Catch mackerel with your bare hands (for a 5,000 won registration fee) at 1, 2:30, 4 and 5:30 p.m. Oct. 20 and 21. Lucky (well, not for the fish) catches can be skewered and grilled on-site for your consumption.
Additional programs this year include slicing mackerel for sashimi and grilling, mackerel crackers for purchase and a three-legged race. A musical will be performed at 7 p.m. Oct. 20 and 21 featuring the legendary story of a fisherman and the daughter of the Dragon King on Geobukseom Island in Songdo.
-How to get there: Busan Station (Metro line 1), exit 7. Take buses 17, 26 or 61 and get off at Songdo entrance bus stop. Walk toward the beach.
■ Busan China Town Festival (Oct. 19-21)

The always well-attended Dragon Parade during the annual China Town Festival.

Find China right here in Busan. Situated opposite Busan Station, the Chinese consulate began here in 1884, prompting a wave of Chinese immigrants to settle in the area. Celebrate their history in Busan starting with an opening ceremony at 6:30 p.m. Oct. 19.
Performances during the event will encompass Chinese and Korean cultures, including Chinese acrobatics, traditional dance, Korean fan dance and Korean folk songs. A huge street parade always draws big crowds, as well. A Chinese cultural experience center will offer Chinese specialty items, foods and more.
-How to get there: Busan Station (Metro line 1), exit 1. The China Town areas begins from the large "Shanghai Gate" located opposite Busan Station.
-Information: busanchina-f.com