News
Find out why Busan is a 2018 tourism darling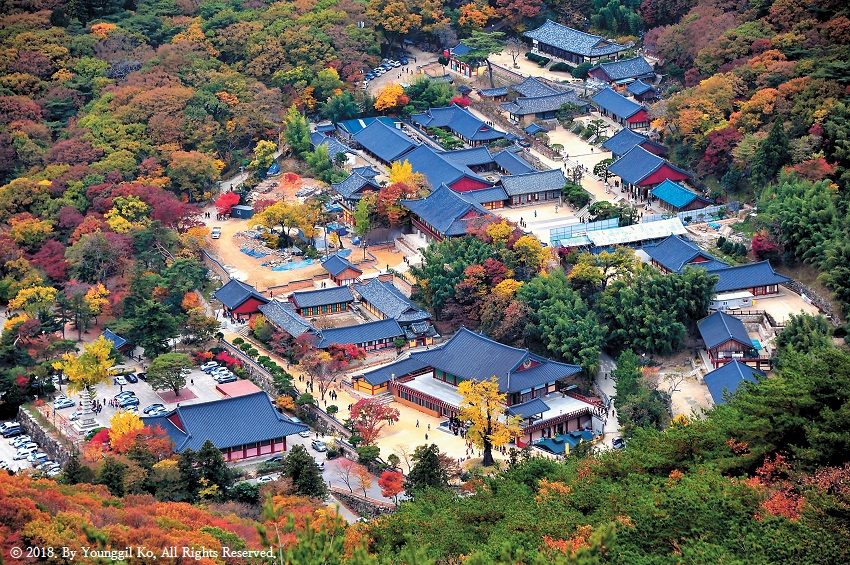 Beomeosa Temple is an impressive place.

Busan welcomed 8.5 million travelers to Gimhae International Airport through the first half of this year, the highest number ever reported.
What awaits visitors here? Seven beaches and many mountains that make for both excellent scenery and excellent adventures. The city's spectacular nighttime scenes that run the gamut from ultra modern skyscrapers to humble older neighborhoods. Festivals, fish and fun times.
Do you want to know why Lonely Planet named Busan "Best in Asia" this year? Read on to find out.
Must-visit spots
· Gwangalli Beach: Haeundae Beach has historically gotten the bulk of attention, but perhaps not for long. Gwangalli Beach, located six stops down Metro line 2, has continued to compete with Busan's most famous beach for its number of attention-grabbing attractions. These include many bars, restaurants and coffee shops, close proximity to an excellent fish market and a strip of sand that is framed by the impressive and iconic Diamond Bridge. The area offers different attractions every season, including cherry blossom viewing in the spring, sand and surf in the summer, the hugely-popular fireworks festival in autumn and the quiet quaintness of winter (Gwangan or Geumnyeonsan Station, Metro line 2. Follow signs toward the beach, about 10 minutes).
· Dadaepo Beach: Busan's largest beach got a helpful tourism boost when the Metro line 1 extension was finally completed last year. Today, more people are checking out Da-daepo's incredible sunset views, copious sand and gentle waves. Besides the beach proper, the adjoining beach side park can easily fill an afternoon, and the popular Sunset Fountain of Dream provides a wet and wonderful way to welcome evenings from April through October (Dadaepo Beach Station, Metro line 1, exit 4. The beach side park is on the right, followed further inside by Dadaepo Beach).
· Beomeosa Temple: Built in 678 during the Silla Dynasty, this Buddhist temple atop Geumjeongsan Mountain is one of three major temples in the Yeongnam region of southeastern Korea. Its temple stay program and English guide book are available for foreign tourists (Beomeosa Station, Metro line 1, exit 5. Take bus 90 and get off at the entrance for Beomeosa Temple).
· Jagalchi Market: Even at dawn, the biggest and best-known fish market in Korea is hustling and bustling like some major city centers midday. One of Jagalchi's most famous attractions is the ability to buy live seafood, like red snapper, abalone, octopus, sea squirts and more and have them prepared and served for your consumption on the spot. It's an event foreign tourists should not miss (Jagalchi Station, Metro line 1. Follow the signs for the fish market).
· Korean spas: Head to one of the many jjimjilbang (Korean-style spas) throughout the city. Spa Land, in Shinsegae Centum City, is probably the most famous and most accessible Korean-style spa for foreigners. Visitors can enjoy hot spring pools, saunas, massage chairs and more.
 While Spa Land is famous for its various themed sauna rooms, Hur-shimchung Spa, located north on Metro line 1 in the Nongshim Hotel, is lauded for its impressive bathing area. This is in part thanks to the hot spring in Dongnae where the spa is located. Enjoy outdoor baths, cave baths, longevity baths and more. Afterward, visit Hurshimchung Brau, the hotel's very own German-style beer hall, featuring several locally-brewed beers, beer hall-style foods (think sausages and roasted chicken) and energizing live music.
(for Spa Land: Centum City Station, metro line 2, exit 12. It's inside Shinsegae Department Store
; for Hurshimchung Spa: Oncheonjang Station (Metro line 1), exit 5. Cross the pedestrian overpass. Walk another 10 minutes toward Oncheon Market).