News
Art and ice equal adventures cool and nice
A pair of new facilities, in Nam-gu (district) and Saha-gu, are set to debut this month that promise to provide culture and cool entertain-ment.
■ Museum of Contemporary Art Busan (부산 현대 미술관)

An artist's rendering of Museum of Contemporary Art Busan on Eulsukdo Island.
Eulsukdo Island, located across the Nakdonggang River in Hadan-dong (neighborhood), is best known as a peaceful sanctuary for thousands of migrating birds every year. On June 15, it will also begin its new chapter as Busan's newest art destination.
Museum of Contemporary Art Busan's five exhibit halls, training center and more will certainly get noticed. A lush, green garden covers the whole museum, creating an inviting scene. Patrick Blanc, a French botanist who is also the modern innovator of "green walls," commonly referred to as "vertical gardens," has planted more than 150 native plants on the outer walls of the building, including saururus and arctic daisy. The plants flourish in this unconventional method through a "nutrient broth" that is supplied through pipes. The garden is expected to look different with each new season.
The first-floor interior has been decorated with art by Tobias Reh-berger, a world-renowned German artist. Of note is an 80-square-meter box-shaped installation dubbed "Tobias Space." An upcoming exhibit, "People who walk in the future," will feature 10 artists from Busan, Japan and Taiwan who will present their projects in nearly 20 different genres including video, art and photography. Art utilizing sound and light are also planned for the new museum, as is a children's art museum.
-Hours: 10 a.m. to 6 p.m. Last entry is 30 minutes prior to closing. Closed Mondays.
-Information: busan.go.kr/moca_en
-Address: 1191, Nakdongnam-ro, Saha-gu
-How to get there: Hadan Station (Metro line 1), exit 3. From the nearby bus stop, take Eulsukdo-bound buses, including 58-2 or Gangseo-gu mini buses 3, 9, 9-2, 16 or 20. Get off at Museum of Contemporary Art Busan (부산현대미술관) bus stop.
■ Namgu Ice Skating Rink (남구 빙상장)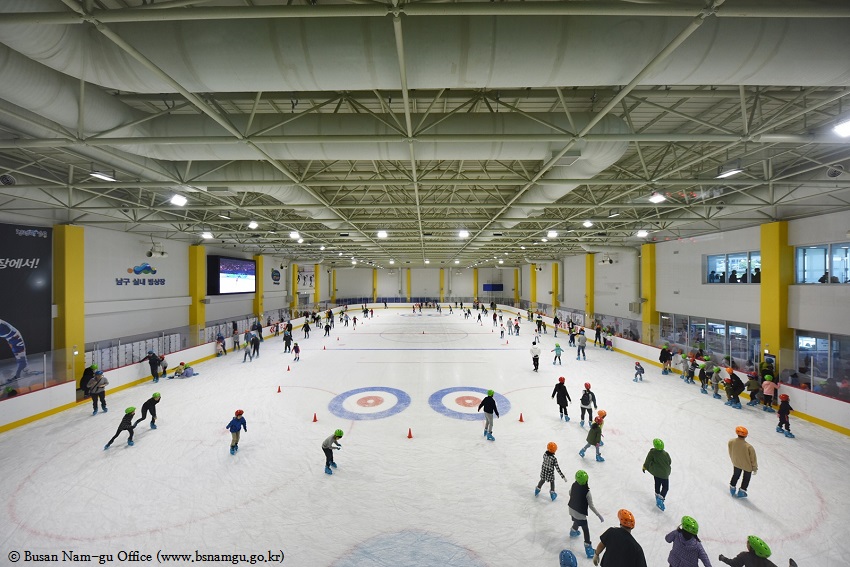 A new ice skating rink is ready to help young skaters realize their dreams of becoming winter sports legends.
The new 4,000 square-meter, 200-person capacity rink is located near Baegunpo Sports Park in Nam-gu. The facility, which conforms to international ice skating rink standards of 61-by-30 meters, is only the second internationally compliant rink in Busan, joining the Buk-gu indoor ice skating rink.
Visitors to the new Namgu Ice Skating Rink can enjoy not only leisurely ice skating but also participate in various lessons, including speed skating and free skating.
-Operating hours: 9 a.m. to 6 p.m. Closed on the second Monday and fourth Tuesday of each month.
-Admission: Adults, 8,000 won; teens, 7,000 won; kids, 6,000 won
-How to get there: Motgol Station (Metro line 2), exit 1. Take bus 22 and get off at Baegunpo Sports Park (백운포체육공원 정류장). Or, Suyeong Station (Metro lines 2 and 3), exit 3. Take bus 39 and get off at Baegunpo Sports Park.