News
Fireflies, flowers and more festival favorites
Are you looking for fun festivals to put you in the summer spirit? There is no shortage of opportunities here in Busan. Let Dynamic Busan help with the following convenient list.
■ Taejongsa Hydrangea Festival (June 30-July 8)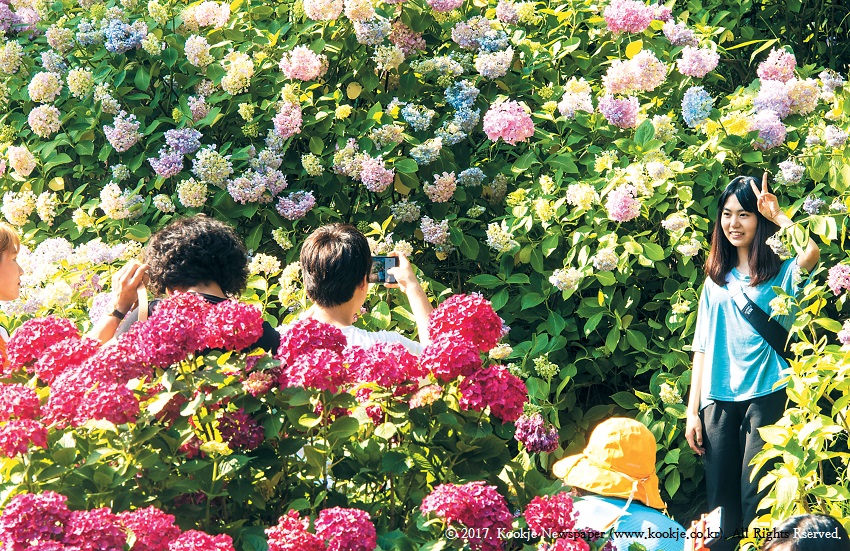 The Hydrangea Festival at Taejongsa Temple is a perennial favorite.
Taejongsa Temple, at Taejongdae, on Yeongdo Island, is the best place to enjoy gorgeous hydrangea flowers in full bloom. The best time to enjoy them is from June 30 through July 8 at the annual Hydrangea Festival!
Taejongsa is recognized as one of the largest hydrangea habitats in Korea. During the festival, enjoy 5,000 hydrangea shrubs in 30 varieties from around the world. The color of hydrangea can vary from blue to pink to purple depending on the varieties or soil. No matter the type, they create a beautiful scenic view. This year, a diverse variety of hy-drangea has been planted at the entrance of Taejongdae, with night lights newly installed around the observation area. Performances, photo opportunities, the sharing of cold noodles at the temple and a photography exhibit are slated.
-How to get there: Busan Station (Metro line 1), exit 7. Walk straight 150 meters and take bus 88 or 101 and get off at Taejongdae bus stop. Walk toward the Taejongdae entrance and from there take the Danubi Train to Taejongsa. Or, walk toward Taejongsa Temple for 15 minutes.
■ Geumjeongsanseong Fortress History and Culture Festival (June 22-24)
 This festival is held to celebrate the area's extensive history of makgeolli (fermented rice wine) production. Highlights include a walking program along the 18,845 km Sanseong-gil (mountain fortress road), makgeolli and food tastings and much more.
-How to get there: Oncheonjang Station (Metro line 1), exit 5. Take bus 203 and get off at Gonghae Village (공해부락) stop and walk until you find the festival location.
■ Busan International Dance Festival (June 1-9)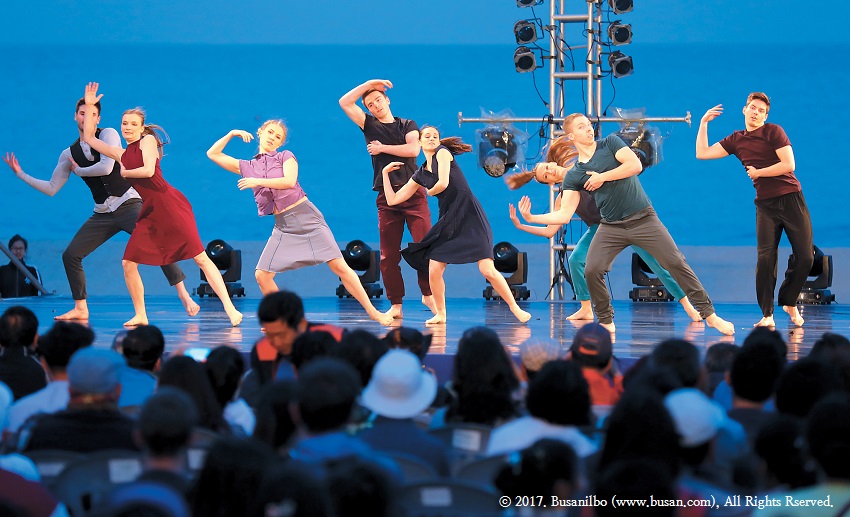 Prague Chamber Ballet at the Busan International Dance Festival in 2017.
The unofficial beginning of summer begins with the 14th Busan International Dance Festival. The festival, located on Haeundae Beach and at Busan Cinema Center, will feature dance performances from countries all over the world. Free outdoor performances will be held at 7:30 p.m. June 1 through 3 on Haeundae Beach, with street dance performances at 6:30 p.m. on June 2. The closing performance will be held at 7:30 p.m. June 9 at Haneulyeon Theatre at Busan Cinema Center. Forty-five different dance groups from South Korea, United States, Vietnam, Belgium, Switzerland, Spain, Singapore, Austria, Israel, Italy, India, Japan, China, Finland and Hungary will participate this year across various genres including ballet, modern dance and belly dance.
-Information: eng.bidf.kr
■ Banditburi Festival (June 16)
Fireflies, called banditburi in Ko-rean, appear when the weather warms up and are often a telling sign that summer has arrived. Enjoy their presence in Busan on June 16 in the Igidae Park area in Yongho-dong (neighborhood), Nam-gu (district) at the Banditburi Festival.
Events include handkerchief-mak-ing, energy generation through locomotion by bicycle, making picture frames and more. Children and teenagers can participate in writing or drawing contests, as well. Activities begin at 3:30 p.m., but the real star of the show, the fireflies, only come out after dark. Visitors can move on to see them starting at 8:30 p.m. In addition, the firefly observation event will be held continuously from 9 p.m. until June 21. The event is open to all. Rain cancels.
-Registration for observation is available for up to 60 people per day. Call 051-607-4383∼4 for registration (Korean). The program is conducted in Korean. Registration in English is available by emailing letmedosth@korea.kr with name and contact details.
-How to get there: Kyungsung University/Pukyong National University Station (Metro line 2), exit 5. Take bus 20, 22, 24 or 27 and get off at Igidae entrance (이기대 입구) stop. Cross the street toward Davichi Optical store, opposite the big yellow sign of a bookstore and walk straight along the Igidaegongwon-ro 500 meters. Walk past Igidae cathedral and take minibus 2 at Igidaegongwon parking lot to Keungogae rest area (큰고개쉼터) stop.