News
New fountain finds home in Haeundae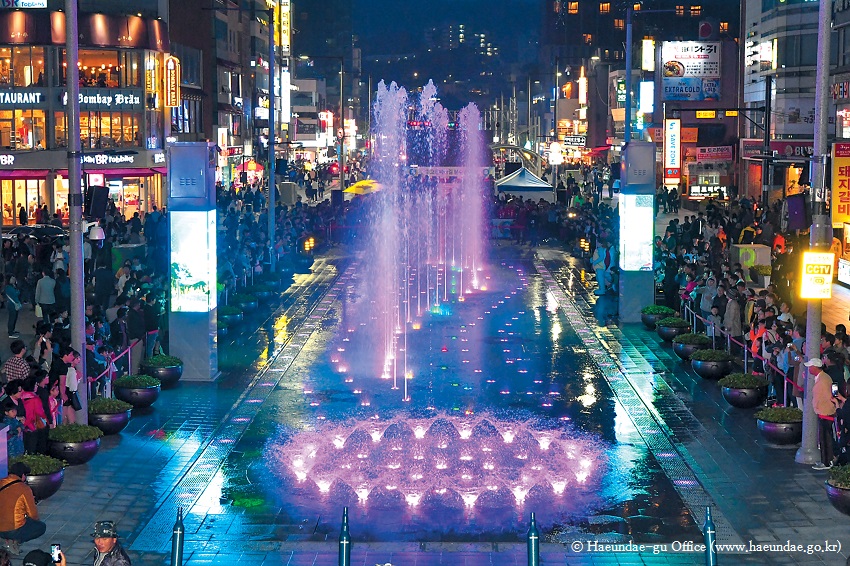 As if the Haeundae Beach area wasn't already packed to bursting with things to do and attractions to experience, a new one is ready just in time for summer.
New fountains at Gunamro Square, near Haeundae Beach, are ready to cool down summer heat sufferers with refreshing water, exciting lights and invigorating music.
While test runs for the fountains were conducted in May, they were officially launched this month. Music, media and experiential fountain shows are scheduled throughout the summer.
Music fountain shows at the Gu-namro Square fountains are planned for 2, 7:30 and 9 p.m. June through August. Experiential fountain shows are expected to be held at 3, 4, 5 and 7:50 p.m. Media fountain shows will be shown through projected images at 8:20 p.m. on Fridays and Saturdays.
In addition, music (2 and 7:30 p.m.) and experiential (4 and 7:50 p.m.) fountain shows will be held twice-a-day during spring and autumn, media fountain shows will be held once-a-day on Friday and Saturday and media image experience events will be held once-a-day.
-How to get there: Haeundae Station (Metro line 2), exits 3 or 5. Gunamro Square is located not far from the station.