News
Prepare for return of Busan beach season
Summer is just about here and Busan's beaches ready. Haeundae, Songdo and Songjeong are open to the public as of June 1, while Gwangalli, Dadaepo, Ilgwang and Imrang will open on July 1. All beaches will be officially open until Aug. 31. To get everyone ready for sand and surf season, here's a rundown of Busan's beaches.
■ Haeundae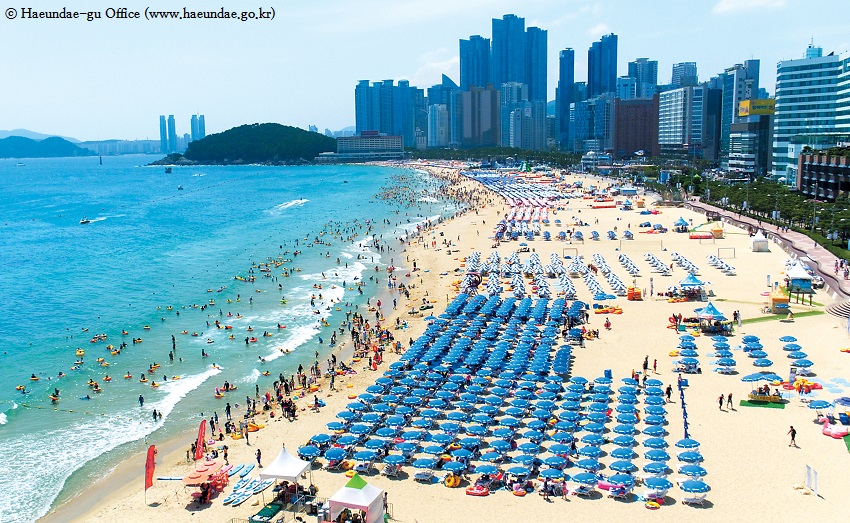 Parasols line Haeundae Beach every summer.
A hot-air balloon might be the first thing that people notice when they approach Haeundae Beach. Installed at Mipo, on very edge of Korea's most famous beach, this tourist attraction operates 15 meters above the ocean, allowing those who partake a whole new view. Haeundae introduced night swimming in 2016, garnering lots of positive feedback. That returns this year between 6 and 9 p.m. from July 27 through Aug. 10. In addition, a mesh net will be installed in the water for people to enjoy various leisure sports. The width for walking paths along the beach was extended for this year, from 2.5 to 4.5 and 4.6 meters. Also, motorbikes and bicycles have been banned from the walking areas, with fines of 50,000 won for those caught breaking that law.
Movies on the beach are also expected to be a popular attraction this summer. The program is perfect for couples, families and friends who want their sand and cinema all in one place. Afterward, small concerts will feature music from various movie soundtracks. The dates for this event have not yet been set.
■ Songjeong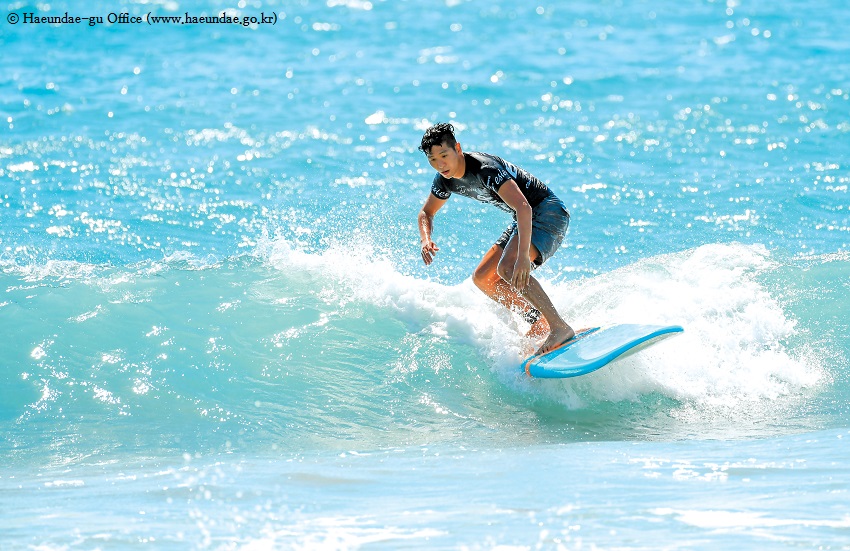 A surfer at Songjeong Beach.
Songjeong Beach is feeling fresh. The most noticeable change has moved the location of the area's public parking lot, allowing visitors to enjoy walking here with a much more expansive ocean view.
Accessible walking paths have been widened from 1.5 to four meters and new rest area facilities are expected to be open by mid-June near the Gudeokpo area, offering a great ocean view, air conditioning, shower facilities, wireless internet service and more. In addition, new electronic payment system is also expected to be launched this summer for easier payments on items such as parasol rentals.
■ Songdo
Songdo Beach's sky view cable cars can be seen from the sandy shores of Korea's oldest beach, which reopened for summer on June 1.
The country's oldest public beach has seen a renaissance recently, when the district office installed a skywalk and rebooted its sky view cable cars after almost three decades. Songdo Beach, which opened in 1913, will operate "kids only" seawater pools this year to further attract family vacationers. Songdo is the only beach in Busan that offers a diving board in the middle of the ocean. A "marine academy" program is planned for those looking to familiarize themselves with water sports, while outdoor music programs, magic shows, cocktail-making shows and more will begin at 7 p.m. Saturdays from July through August.
■ Coming next month
Gwangalli Beach will operate a free kayak experience center and shell gathering event. The main beach road's outrageously-popular car-free days will return every weekend in July and August. For those only familiar with the city's more eastern beaches, a trip to Dadaepo, in Saha-gu (district), will surprise and delight. Dadaepo Beach was chosen in 2017 as Korea's best beach. Visitors can enjoy the Sunset Fountain of Dreams, a massive ar-tificial swimming pool, bounce house and mud play zones are available, as well. Ilgwang and Imrang, in Gijang, both operate free public shower facilities and will host exciting music festivals this summer season.