News
Four fun festivals for families and friends
 It's beginning to feel like summer.With warm weather returning, some of Busan's finest outdoor festivals are ready to entertain once more this month. Be sure to check out one, two or all of them if you can!
■ Busan Lotus Lantern Festival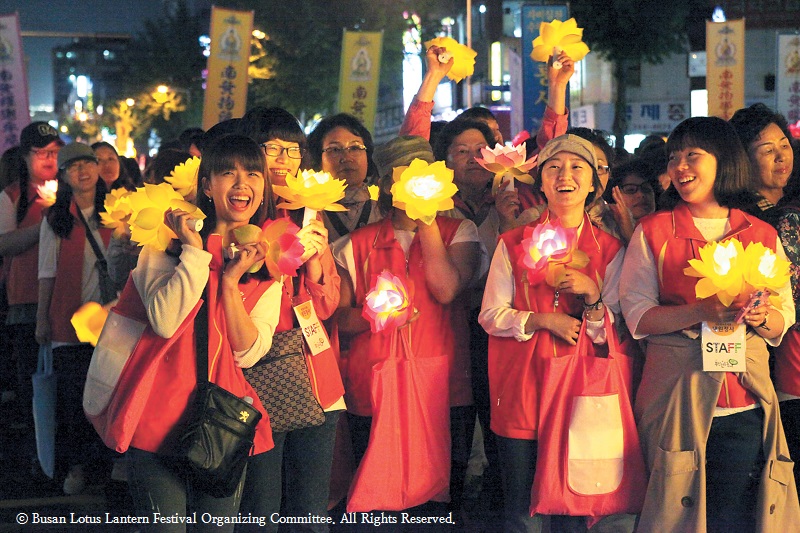 The annual Busan Lotus Lantern Festival, commemorating Buddha's birthday, returns throughout this month. The city will shine with colorful lanterns at both small and large Buddhist temples in honor of the Buddha, whose birthday this year is on May 22. Celebrations include Busan Citizens Park, which will perform their lotus lantern ceremony on May 12. An evening Buddhist service, as well as performances will be held, and tteok (Korean rice cake) will be served. A parade will begin at 8 p.m. and include a cornucopia of participants including musicians and singers marching up the street with hand-held lotus lanterns. Their parade will start from the park and pass through Bujeon Market and Seomyeon intersection before returning to the park.
 Nearby, a lotus lantern exhibition will be held from May 1 through 13 at Songsanghyeon Square. Lotus lanterns of various sizes and shapes will welcome visitors every night. The exhibition's conclusion May 13 will feature free bibimbap (mixed rice with assorted vegetables) for up to 3,000 people.
-How to get there: For Busan Citizens Park - Bujeon Station (Metro line 1), exit 7. Walk straight to the intersection and turn left. Walk straight for 10 minutes. For Songsanghyeon Square - Bujeon Station (Metro line 1), exit 7. Walk straight to the intersection. Songsanghyeon Square can be seen across the street.
■ Gupo Naru Festival
 The Gupo Naru (dock) was historically a gateway for peddlers. Today, it is home to a festival with programs inspired by the area's rich history.
 The Gupo Naru Festival, which is scheduled for May 11 to 13 around the dock area in Hwamyeong Ecological Park in Buk-gu (district), offers dozens of programs each year that call to Busan's distant past.
 Highlights will include a reproduction of the Naru ferry from 200 years ago, streetscapes from more than half-a-century ago and the yongwangje (worship to the Dragon King) performance. Visitors can enjoy raft rides and the experience of standing in a traditional sail boat at the quay.
 Several regional foods, including Gupo-style noodles and milsari, containing wheat made from fire roasted wheat berries will also be available at the festival.
-How to get there: Sujeong Station (Metro line 2), exit 3. The park's entrance can be seen straight ahead.
■ Haeundae Sand Festival
 The best way to get an early start on summer every year is by attending the Haeundae Sand Festival, from May 19 to 22 on Haeundae Beach.
 The theme of this year's festival, "Heroes," will feature works from 11 participants from Korea, the United States, Japan, China and Taiwan. Sand sculptures will remain until June 10.
 DJ performances, popera (pop-opera) performances, comedy shows and saxophone performances are slated for the festival. Visitors can for a fee also learn how to make sand art. "Sandboarding (think snowboarding, minus the snow)" areas will be open and a water gun survival game at 2 p.m. on May 20 and 21 will be held at Gunamro Square. Parades and performances will be staged along the beach road throughout the festival.
-How to get there: Haeundae Station (Metro line 2), exits 3 or 5. Walk toward the beach for 10 minutes.
-Information: sandfestival.kr
■ Busan Port Festival
 The Busan Port Festival returns for its 11th year from May 25 to 27 at the Busan Port International Passenger Terminal and Korea National Maritime Museum in Yeongdo. A cornucopia of sea-centric programs for the young and young-at-heart, including a fireworks show, boat tours and more.
 An opening ceremony with musical performances kicks off the event at 7 p.m. May 25 at the Busan Port Passenger Terminal. Also, food trucks and beer booths will be camped at the Busan Port Passenger Terminal for additional merriment. Fireworks are expected to begin at 9 p.m.
 Programs for the Korea National Maritime Museum on May 26 and 27 include a tour of Busan Port by boat. Korean naval vessels, Russian vessels and more will also be open to the public. Yacht and mini kayak tryouts and children's activities like a drawing contest, model ship making and the always-popular stamp tours are also slated.
-How to get there: For Busan Port Terminal - exit 8 of the Busan Station KTX station and cross the road. For the National Maritime Museum - Busan Station (Metro line 1), exit 7. Walk from the exit to bus 66, get off at the National Maritime Museum or International Cruise Terminal entrance bus stop.
-Information: bfo.or.kr/festival_Eng