News
Learn about the great professional female golfers of Korea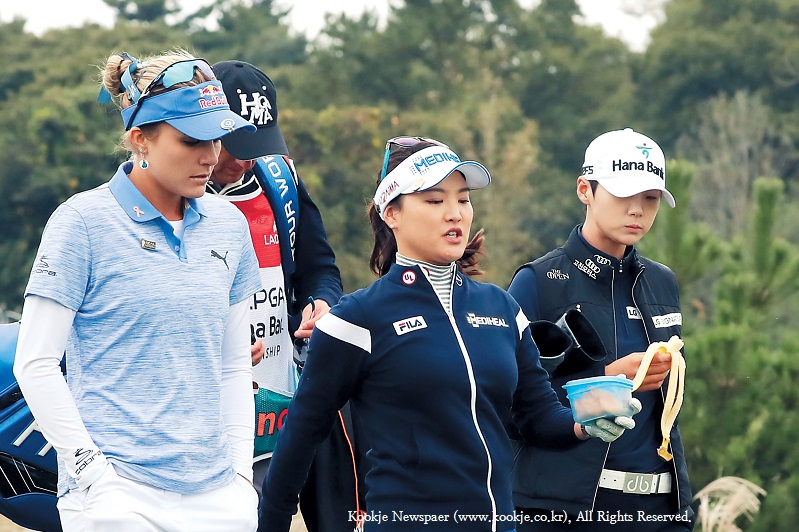 Lexi Thompson, Soyeon Ryu and Sunghyun Park at the 2017 KEB Hana Bank Championship.
 As the sport of golf has grown in popularity in Korea over the past 20 years, so has its number of participants on the professional level.
 Professional golf has been enjoyed far longer in North America and Europe, which offers copious amounts of flat real estate that is suitable for the land-intensive sport. Despite Korea, which is much smaller and very mountainous, having a general lack of options for golfing enthusiasts to take up the game, the country has seen a remarkable number of professional golfers, particularly women golfers, emerge.
 Seri Pak is perhaps the best known female professional golfer from Korea. Originally from Daejeon, Pak participated in the very first season of LPGA tournaments in 1998 and won the McDonald's LPGA Championship. Park would go on to win four games that year, earning her the rookie of the year award. One of Pak's most admired and remembered moments that year was when she took her socks off to get into the pond during the U.S. Women's Open.
 Pak won 25 LPGA tournament games, including winning five majors, and she was the first Korean golfer to be named to the World Golf Hall of Fame in 2007. Pak, with her excellent play, is credited by many for helping golf attain its tremendous popularity in Korea. She retired from the sport in 2016.
 Jiyai Shin, the first Asian ranked first in the Women's World Golf Rankings, and who also won the Women's British Open in 2008.
 Inbee Park was the youngest player to win the U.S. Women's Open at 19 in 2008. She was also the first Asian golfer to achieve a Career Grand Slam, winning four different majors.
 One of the most notable players recently has been Hyejin Choi, who first gained notice as a teenager studying at Haksan Girls High School here in Busan. At only 20 years old, Choi has recently made waves, including a solid second place at the U.S. Open in the amateur category last year. She has also won two championships from the Korea Ladies Professional Golf Association.