News
Many colorful ways to enjoy the holidays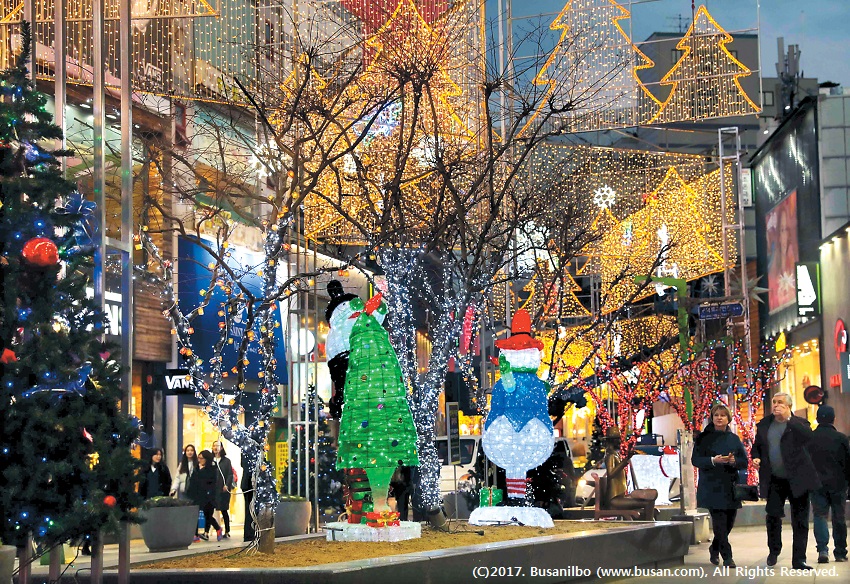 ■ 9th Busan Christmas Tree Culture Festival
The Busan Christmas Tree Culture Festival, the city's most well-known winter celebration that brought eight million revelers to Gwangbok-ro area and Nampo-dong (neighborhood) last year, returns on Dec. 2.
The lighting ceremony kicks off the festival, which concludes on Jan. 7 along popular Gwangbok-ro (street). The big tree is lit from sunset to midnight every day during the festival, allowing plenty of time to come out and enjoy the spectacle.
The festival stretches 1.2 kilometers from Nampo Station to the center on Gwangbok-ro, then further to the Busan Modern History Museum and Gukje Market.
The 20-meter-tall tree at the center of attention is also going through a facelift this year, with new LED lights allowing a wider variety of images to be displayed. The impressive tree will be decorated with different color concepts this year using red, blue, yellow, green and white, projecting images associated with Christmas such as gifts, snowflakes and more.
An opening gate will be installed at the entrance of Gwangbok-ro around Nampo Station, presenting sculptures depicting the baby Jesus and golden trees with imitation musical instruments.
Traffic restrictions will be enforced on weekends during the festival to make exploring easier for visitors. Carolers and artificial snow is expected to appear at various intervals.
- How to get there: Nampo Station (Metro line 1), exit 7. Walk straight to the center of the festival.
-Information: bctf.kr (Korean)
■ 4th Haeundae Light Festival
Busan's most famous beach is not just for summer. A plethora of holiday colors wait this winter, as well.
Gunam-ro, the road from the metro station to the beach, and the area nearby Haeundae-gu Office and local market will dazzle from Dec. 1 to Feb. 18.
The festival features a 18-meter Christmas tree, heart-shaped tunnels, a turtle light garden and lots of lights. Live performances are scheduled to entertain at 5:30 p.m. every Saturday in December, at 5:30 p.m. every Friday in January during the festival (subject to change without notice). Photo events and stamp tours will also be available.
-How to get there: Haeundae Station (Metro line 2), exit 3 or 5.
-Information: 4hrlf.com (Korean)
■ Jobang Light Festival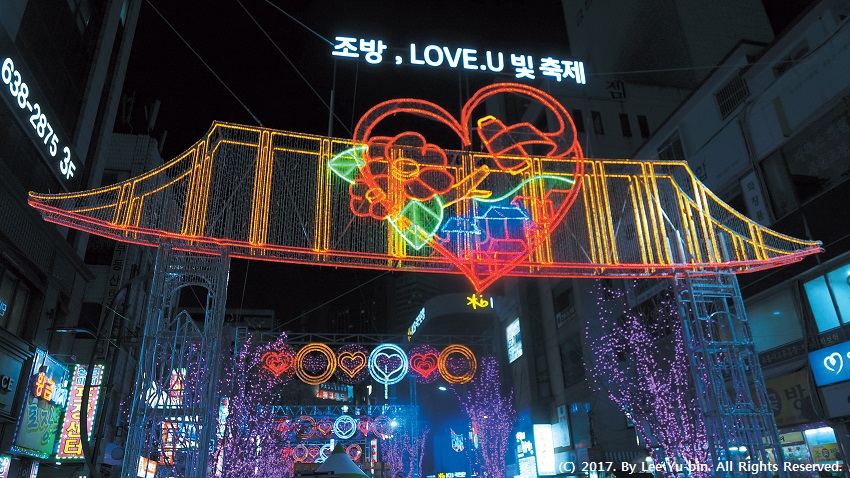 Some parts of the city are already lit up for the holidays. The Jobang Light Festival in Dong-gu (district) has been in the holiday spirit since Nov. 17.
"Jobang" is the abbreviation of the Joseon textile factory that once dominated the Beomil-dong neighborhood where the festival today takes place. A large gate, light tunnels and photo stops will be on-site until Dec. 31. On New Year's Eve, a snow cannon will be used to usher in 2018 with a wintry blast. Merchants from near-by Busanjin Market and Jayu Market will participate in street parades and food markets, as well.
-How to get there: Beomil Station (Metro line 2), exit 2.
■ Dongcheon Gingko Tree Path Autumn Leaves Festival
A month-long festival continues throughout December in the Seomyeon/Jeonpo area. Christmas trees will be installed along the ginkgo tree path leading from the NC Department Store to the Gungri Maru building, with programs held throughout the festival.
A blanket of yellow ginkgo leaves will be spread all along the Dongcheon Ginkgo Tree path, which is always an awesome sight. An art market event will run through the weekends, including Fridays during the festival, with various crafts including handmade soaps, candles, accessories and caricatures for sale. The market will also be open on Christmas.
The Christmas trees will go up on Dec. 22 and Santa costume-clad sellers will be out and about. There will also be an opportunity to write memos of bad memories to throw away, symbolizing a fresh start.
-How to get there: Seomyeon Station (Metro lines 1 or 2), exit 8. Walk straight five minutes. The path continues from the NC Department Store to the Gungri Maru building.