Life
"Cookin' Nanta" beginning six-day Busan run Dec. 20.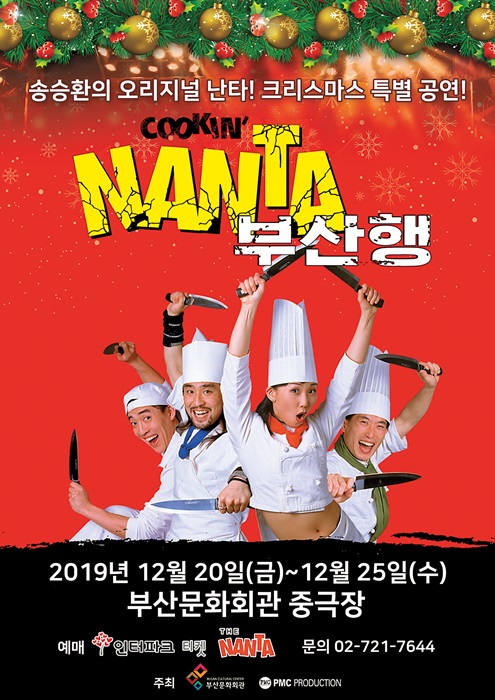 ▷ "Cookin' Nanta" promises percussion and laughs.
Christmastime usually comes with trees, presents and more than enough Santa, but this year it can also come with knives, percussion and a whole lot of "Nanta."
"Cookin' Nanta," a nonverbal comedic piece of theatre that has been performing in Korea for 22 years, will put on a special Christmas show in Busan from Dec. 20 to 25. With over 14 million spectators during its run, "Cookin' Nanta" has been both a critical success and a cultural phenomenon throughout its time.
The performance is composed of samulnori (a traditional Korean percussion quartet) and other forms of percussion, including the use of kitchen utensils and cutting boards. With a light plot surrounding chefs who need to prepare for a wedding at the last minute, attendees can expect some degree of audience participation, including a segment that involves making dumplings.
"Cookin' Nanta" participated in the 1999 Edinburgh Fringe Festival in the United Kingdom, where it sold out every performance. It also performed on New York's Broadway in 2003, becoming the first piece of Asian theatre to do so. The show was a critical success in both countries, garnering positive reviews from The Daily Mail, The New York Times and CNN.
"Cookin' Nanta" will be held at the Busan Cultural Center from Dec. 20 to 25. Reservations are available at Interpark Ticket. VIP seating is 60,000 won, S seats cost 50,000 won and A seats are 40,000 won.
Reservation: ticket.interpark.com
Website: www.nanta.co.kr