Life
[INTERVIEW] BIWA warms under-privileged and citizens' hearts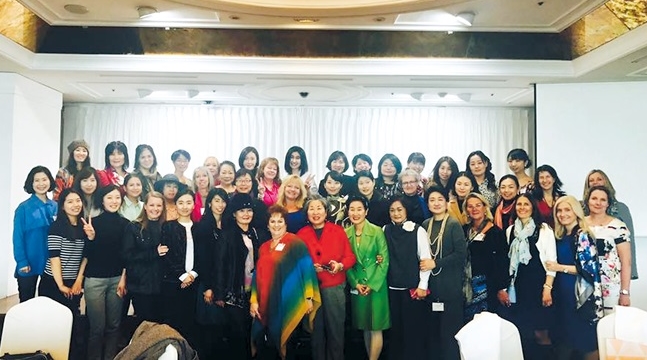 ▷ The Busan International Women's Association has helped those in need and provided cultural exchange since 1964.
Christmas is on the way, and with the cold weather comes the best time to spend with family and friends. There are many less-privileged people around the world, however, and one organization does its very best to help them get through the frigid season.
The Busan International Women's Association (BIWA) is an international volunteer group that extends aid to those in need. Dynamic Busan sits down with Hyunsook Kim, who became the president of BIWA this year.
Q. Could you tell us a little about BIWA?
A. BIWA was founded in 1964, with the aim of providing cultural exchange and charity. It was founded by over 70 women, including wives of military officers, members of the Chamber of Commerce and Industry, teachers and others. Together, these women decided to start charity events and volunteer activities, as well as cultural exchange opportunities between foreign residents and Busan citizens.
Q. What are some examples of cultural exchange that you do at your events, and can you tell us more about the Christmas bazaar?
A. We showcase cultures from around the world through food and dress, and our Korean members perform gugak (Korean classical music), which they practice for several months at a time. The Christmas bazaar is our largest fundraiser of the year and is completely family oriented. Through this event, we raise money to help disadvantaged people, such as orphans and elderly people who live alone. Specifically, the funds we raise at the bazaar will support organizations that help senior citizens. We also visit orphanages with foreign members to teach them some English.
This year's bazaar will be held on Sunday, Dec. 8 at the Grand Hotel's convention hall on the second floor, from 10 a.m. to 4 p.m. Everyone is welcome to attend. We'll have a lot of booths selling handcrafted holiday items, home-baked cookies, cakes, international foods and many other activities. You'll be able to enjoy musical performances throughout the day featuring children's choirs and orchestras from the city's foreign schools, as well as a visit from Santa Claus!
Q. Are there any requirements to join BIWA?
A. Anyone who wants to help the less fortunate and participate in cultural exchange is welcome to join BIWA. You can find our page on Facebook and learn how to attend our monthly meetings, which is where you can fill out an application to sign up.
Q. What are BIWA's goals for the future?
A. I hope that more foreign women living in Busan will join us in our aid to underprivileged people and with our cultural exchanges. I also expect BIWA to become a global women's association that keeps in touch with the times by remembering the contributions of its previous members and by encouraging younger members to join.
Facebook: facebook.com/busanbiwa