Life
A message from Korean War veteran Vincent Courtenay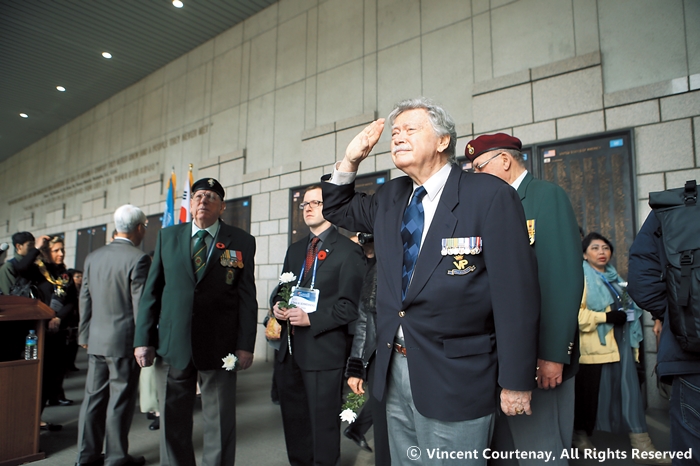 ⊙ Vincent Courtenay is a Canadian Korean War veteran and the founder of the Turn Toward Busan commemoration ceremony.
​
​Vincent Courtenay
When I was in Korea, a few days before my company made a counterattack against the enemy, I was surprised when a bugler came to our position. He played "The Last Post," a funeral dirge. It was Nov. 11, known as Remembrance Day in Canada and other Commonwealth Nations, Veterans Day in the United States and Armistice Day in Belgium and France.
We all stood to attention and observed a minute of silence for the soldiers who had fallen during the history of our young country. While we stood there, Shooting Star jet fighter planes were firing on enemy positions quite close to us. One week later, my platoon was awakened in the middle of the night and sent forward to a hideous small hill called the Hook. It was utter horror. We counterattacked by walking over the bodies of fallen British soldiers. Now, every Nov. 11, I remember those who fell during the minute of silence. I remember them on all other days, too. Like many soldiers, I have thought about the Korean War every day of my life.
I was asked 13 years ago if I could develop a plan for holding a ceremony at the venue every Nov. 11. Instead of making it a local ceremony, the plan I developed permitted veterans from all nations that had sent troops to Korea to participate. While the ceremony is held, veterans in countries all over the world also turn toward Busan to pay silent tribute to their fallen comrades.
I named the ceremony "Turn Toward Busan." Korea's Ministry of Patriots and Veterans Affairs adopted the ceremony and gave it national ceremony status. Veterans come to the city to take part in the main service. Korean officials and diplomats from contributing nations also participate, in addition to the people of Busan, Seoul and other grand cities.
In Busan, sirens sound at 11 a.m. for a minute of silence. In Ottawa, Canada's capital, a service is held at 9 p.m. on Nov. 10, when it is exactly 11 a.m. on Nov. 11 in Busan. In Washington, D.C., Korean War Veterans hold a Turn Toward Busan service at the Korean War Memorial. The Turn Toward Busan tribute is also performed in ceremonies by veterans' groups in numerous American states, in Europe, as well as in South Africa, Ethiopia, Columbia and Thailand.
Very few Korean War Veterans are still with us. Still, all of them remember their fallen comrades. Most of them think of the Korean War often; some virtually every day. A few have asked to be buried here in the United Nations Memorial Cemetery, to be near their fellow men. The cemetery holds the remains of 2,200 soldiers from 11 nations, but at one time it held many more. Before America began repatriating the soldiers who fell in Korea, there were some 10,000 buried here. It is the symbol of the more than 40,000 soldiers, sailors and airmen from 25 different foreign nations, who lost their lives defending the Republic of Korea.
​
If you hear the sirens in Busan on Nov. 11, please join us in paying tribute to all of the United Nations fallen. How proud they would be to see the soaring glass towers of this magnificent city, and those in Seoul and the other great cities, and to see how happy and free the Korean people are in this new era of peace and freedom.