Life
The Day I Bought a Star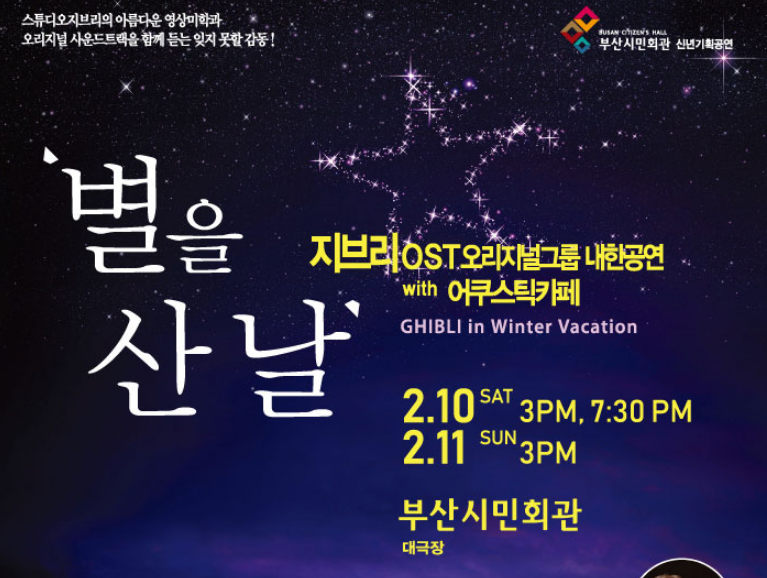 Fans of Japanese animation, and specifically of the legendary Studio Ghibli, should not miss a trio of special performances slated for Busan Citizens Hall on Feb. 10 and 11.
 Music from the 2006 short film "The Day I Bought a Star," based on a short story by artist Naohisa Inoue and directed by Hayao Miyazaki, best known for such films as Princess Mononoke, Spirited Away and Howl's Moving Castle, will be performed at 3 and 7:30 p.m. Feb. 10 and at 3 p.m. Feb. 11. The music will be performed with the accompaniment of selected scenes from the film, which is part of a suite of short films shown exclusively at the Ghibli Museum in Tokyo.
 Japanese New Age violist Tsuruno Norihiro, the short film's music director, will be accompanied by cellist Ayako, pianist Terada Shiho, percussionists Oishi and Tomonori and guitarist Seki Junjiro, who participated in the movie's original soundtrack recording. Selected music and images from Iblard Jikan, a 2007 animation short also by Inoue, will also be performed during the event.
 Busan Citizens Hall is easy to get to, just a short walk from Munhyeon Station (Metro line 2), exit 3, over the nearby bridge.
- Tickets: "R" seats 60,000 won, "S" seats 40,000 won, "A" seats 20,000 won
- Reservations: goo.gl/ngr5UM (Interpark homepage in Korean)
- Information: bscc.or.kr