Life
[NTERVIEW] Internazionale Busan sees international success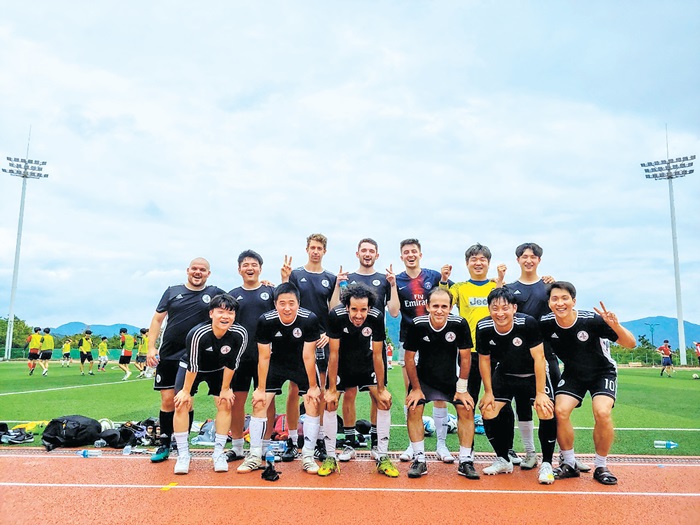 No matter the event or your skill level, no one can deny that Busan is a sports city. As a host of the 2002 World Cup, the home of the LPGA International and the chosen spot for the 2020 Table Tennis World Championships, there is no shortage of professional sports to be found. Daily beach activities and amateur teams of baseball, rugby and other athletics are also in no short supply. Being an international city as well, Busan welcomes people from all over the globe in the sports world. Football club Internazionale Busan (or "Inter Busan") is one such team.
Established in early 2014 by Kim Young-woo, Inter Busan is made up of 36 players from many countries, including Korea, Iran, the United States, the United Kingdom, Morocco, Germany and France. The team plays games every Sunday in Nopo-dong (neighborhood), Geumjeong-gu (district). The establishment of the team was the first time Kim had played with foreign players, but the experience was positive enough that he continues to recruit them through Instagram and Facebook.
Q. How did you establish Inter Busan?
A. I gathered about 20 Korean players through the Internet community of Pusan National University, where I graduated from. We played in a few games, like any other team does, every Sunday. One day, I was watching the K-League, and suddenly I thought that there are a lot of foreigners around who may also want to play soccer. So, I decided to recruit foreign members, like professional teams in the K-League do.
I started to search for foreigners living in Busan through Facebook. I found a page called Expats in Busan. I posted recruitment there and on other pages, like Korea Bridge, even with my awkward English. The first person to contact me was half-Indian, half-British. I was happy to get in touch with him, so I told the team and happily invited him on board.
Q. What are the advantages and disadvantages of running the team in Busan? What kinds of problems do you have?
A. Because Korea has a lot of mountains, it's difficult to find a venue with natural grass. It's especially tough trying to reserve a field at the peaks of summer and winter, because everyone wants to play on the coolest summer days and the warmest winter days.
Busan has a lot of advantages, though. It's the best city to work out in because it's cooler than other cities in the summer and warmer in the winter. Also, it's easy to recruit people, since there are a lot of foreigners to choose from in Busan, but not so many that it's overwhelming, like in Seoul.
Q. What do foreign members think about Busan?
A. Most foreigners like Gwangalli Beach and the bridge, as well as the weather. So, we often go to Gwangalli Beach together. They also like that there aren't too many people in the city. Those who study Korean are very interested in learning the Busan dialect, so they go out to places like Seomyeon and Dongnae to hang out with Korean friends. My foreign friends' favorite food is Korean barbecue. Whenever we have dinner, they all want to eat barbecue. Overall, I think that most of them are satisfied with their life in the city.
Q. What is Inter Busan's goal?
A. We've never gone on a trip together, so we hope to do that. We want to make the team a club that every Busan foreigner knows about. We're also participating in a tournament, so we want to win that.
Q. What are your future plans for running Inter Busan?
A. I've applied for "Guided Adventure" (뭉쳐야산다), a TV show. Busan is less likely to appear on it, but I'm hopeful. The biggest plan is to continue to grow the team, so I'm actively recruiting teammates. I hope that we'll become more well-known as our supporters continue to advertise the club.