Life
Reach for the sky and dance the day away!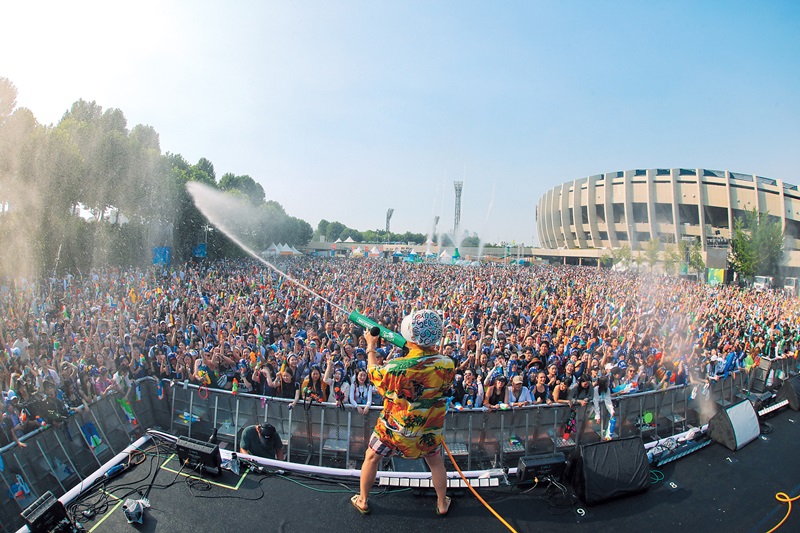 - 출처 및 제공 : 워터밤 페스티벌
What do you think would go well with a music festival? Maybe a dance floor? Or a rest area to take a break? How about water guns?
Waterbomb, a festival that combines a rock festival with water play, is making a national tour, with its stop in Busan coming on July 13 at the Asiad auxiliary stadium. Visitors will be able to choose between two teams designated by color and will be able to have water-gun battles while at the same time enjoying musical performances.
First held in Seoul in 2015, Waterbomb has been a success, attracting more than 20,000 visitors every year and becoming a representative festival of the Korean summer. Busan held the event last year, and the festival will continue in locations such as Daegu, Daejeon, Gwangju and Incheon. For the Busan event, the festival will invite popular Korean music acts, such as the popular group Winner, rappers ZICO and Jessi, as well as Crush and RGP (formally known as Skull and Haha). Whether you want to get you and your friends soaked or blast the performers with water, this is a festival quite unlike others held in the country. This festival will be very exciting because visitors can also shoot water guns at singers performing on stage.
As far as other attractions go, there will be a large swimming pool, auxiliary facilities and food trucks. The festival will begin at 12 p.m. and run until 10 p.m. To be as comfortable as you can and to make the most out of the experience, it would be best to prepare extra clothes, since you are guaranteed to get wet. You will be able to buy water guns at the event hall, and the larger gun you buy, the less you will need to refill it.
● Tickets: 77,000 to 110,000 won
● Reservation: globalinterpark.com
● How to get there: Sports Complex Station (Metro line 3), exit 9. Go straight for 20 minutes.