Life
Taejongdae Park Hydrangea Blossons Festival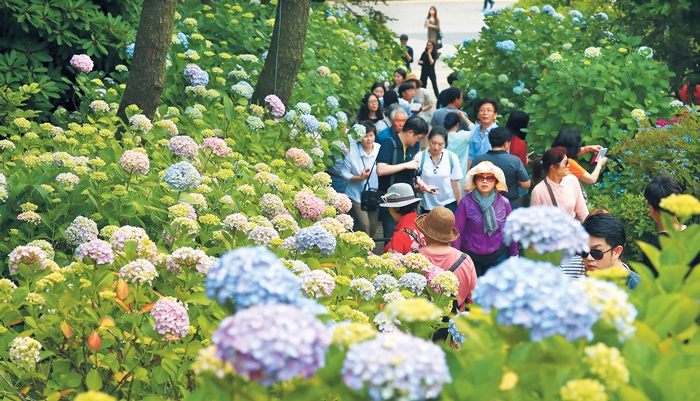 - 출처 및 제공 : 부산일보
Spring is the season for flowers in Busan, but that doesn't mean that summer has nothing to offer in the floral department. The Taejongdae Park Hydrangea Blossoms Festival will be held around Taejongsa Temple in Taejongdae Park from June 29 to July 7. The park is famous for its coastal scenery, with the vast East Sea and rocky islands in full view for all. This particular area is also one of the largest hydrangea habitats in Korea. It exhibits about 5,000 hydrangeas amid 30 different species from various countries, including Japan, the Netherlands, Thailand, China and Indonesia.
As with any festival in Korea, there's more than just the main attraction. Concerts, photo zones, folk songs and traditional music performances will be held to liven up the atmosphere and make the festival enjoyable for people of all ages. In addition to hydrangea flowers, the temple has unique plant life, including the Shakyamuni sarira (the banyan tree presented by the Secretary of State of Sri Lanka in 1983) as well as the olive tree donated by the head of the Greek National Museum in 2010.
Private cars are not allowed in the park, so you will need to walk to Taejong Temple or use the Danubi train, which is the park's mode of public transportation. It takes about 20 minutes to go around the park using the train, with stops at Taejongdae Square, the observatory, Yeongdo Lighthouse and Taejong Temple. You may get off at any of these stops to enjoy the view before taking the next train or just walk the rest of the way. The Danubi service runs from 9:20 a.m. to 5:30 p.m. The fee is 3,000 won for adults, 2,000 won for teenagers and 1,500 won for children.
● Information: taejongdae.bisco.or.kr