Life
Embrace Busan's history and culture with a leisurely stroll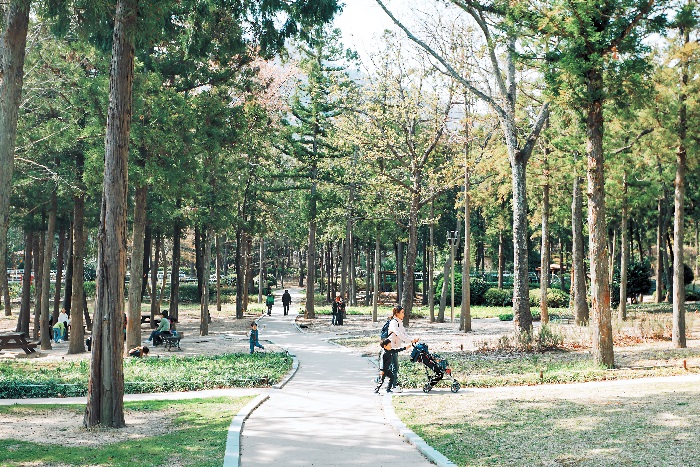 - Families from all over Busan and Korea come to the Children's Grand Park to exercise, take a walk, or just enjoy the view.
출처 및 제공 : By Seonghoon Kwon
A popular spot with excellent accessibility
Innumerable mountains and trees hug Busan and its population. It's easy to take for granted that a stroll through a forest is never hard to get to, even if you're currently in the middle of the city. Just look to the Children's Grand Park on Baegyang-san Mountain for evidence of this.
The park is located in Seomyeon, right in the city center, but it's easy to meander along paths winding through lush forests. With a length of roughly two-and-a-half kilometers, it could take between 40 to 90 minutes to walk the entire park.
Since it opened in 1970, the Children's Grand Park has been a popular place to wander, run and play for children and their families. The park opened from a government decision to develop the Seongjigok Reservoir, which had been used by locals for over a century. The reservoir is now located at the top of the park. Whether young or old, a person with a disability or a person without one, the park has something for everyone.
Statues of Peace and Samjung the Park
Visitors to the Children's Grand Park can take one of two major ways to the reservoir. The easier route is a wooden deck pathway, while the more difficult walk is on the natural dirt route. Along the way, one can take a look at Korea's history through numerous statues. The Statues of Peace were built in memory of the Korean comfort women victimized by the Japanese military during the occupation. There is also a statue of Reverend Samyeong, a Buddhist monk who fought against Japanese raiders, as well as a memorial stone for Soohyun Lee, a man who died at the age of 26 after saving the life of a drunk man in the subway tracks in Tokyo.
There's also something totally unique from other places in Busan돟 Samjung the Park Zoo. Samjung opened in 1972 and is the only zoo in the city. Over 1,200 animals of 123 species live an area of almost 26,000 square meters. Hours of operation are from 10 a.m. to 6 p.m. with final entrance at 5 p.m. Entrance fees are 19,000 won for adults, 17,000 won for those from 13 to 18 years old, 15,000 won for children aged 3 to 12, and free for infants and toddlers under 3. Visitors going to Samjung on their birthday may receive a 50-percent discount.
How to get there: Seomyeon Station (Metro line 1). Take buses 54, 81 and 133 at Bujeon Market (부전시장) stop and get off at Busan Children's Grand Park (어린이대공원) stop.