Life
South African finds the right 'Beat' in Busan
INTERVIEW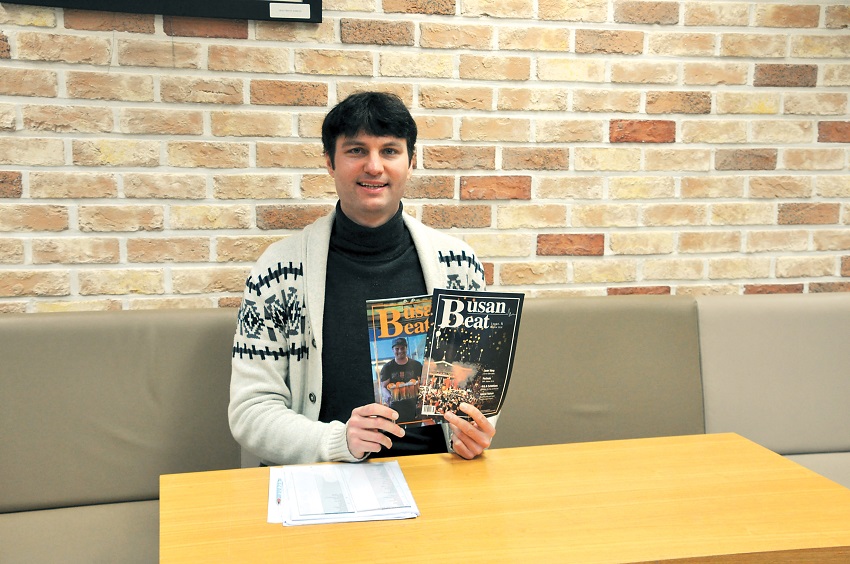 Louis De Jager, of Busan Beat, presents a few representative examples of the quarterly magazine.
Dynamic Busan is not the only source for foreign tourists and residents to our fine city to learn more about all it has to offer.
Over at the Busan Foundation for International Cooperation, Busan Beat, too, is helping to make sure readers are well-informed, entertained and motivated to explore Busan even more. One of the key components of making the magazine a success has been the work of South Africa native Louis De Jager.
Q. Can you tell us a little about yourself for our readers?
A. I was born and raised in Cape Town, a beautiful coastal city in South Africa. Not knowing what I should do with my life, I studied a bit of everything at university from accounting to Virgil's Aeneid. After graduating, I met the person I would marry. She happened to be from Busan and that is how I ended up in this corner of the world.
Q. How long have you lived in Busan? How has your time been here so far?
I have lived in Busan since 2012 and, given its similarities to my hometown, it suits me to a tee. The city has everything you need돟 beaches, mountains, subways, malls, and the the list goes on and on. You can experience quiet nature one minute and a bustling city center the next.
Q. Can you tell us a little more about Busan Beat magazine and your role?
Busan Beat is a quarterly magazine published by the BFIC to inform, entertain and bring together Busan's expatriate and local residents, and the international community. Busan Beat's mission is to promote Busan as a dynamic, innovative city where all residents and visitors can enjoy a high quality of life together. I am one of three foreign editors at the magazine. Among other things, we decide on the types of articles to include, communicate with the contributing writers and edit and proofread the articles.
Q. What has been one of the most rewarding experiences you have had with the magazine?
One highlight was visiting the Sochi Paralympics with the other editors and foreigners from 44 different countries who reside in Busan or Seoul. Our diverse backgrounds and experiences made for an enriching exchange of perspectives on a variety of issues.

Q. What do you like to do here in your spare time? Can you recommend any activities to readers?
My two daughters and I have recently taken up baking as a hobby. There is nothing like the smell and warmth of freshly baked bread on a cold winter's day.
One place that everyone must visit to appreciate the size, beauty and diversity of Busan is Hwangnyeongsan Mountain. The highlight of my summer vacation last year was going to the peak for the first time. It offers unparalleled views of the city that can be enjoyed day or night.
Q. What is ahead for you and Busan Beat in the coming year?
Nothing this year (and last year for that matter) has come as close to torture of waiting for the result of my application for Korean citizenship. Not only because obtaining citizenship would be such a consequential event in my life, but also because the expected date of the result keeps being postponed. To combat the impatience, I shall try to listen to the words of Winnie the Pooh: "Rivers know this: there is no hurry. We shall get there some day."
For more information about Busan Beat, including how to be a contributor, visit busanbeat.kr or email busanbeat@gmail.com.