Life
Chili for charity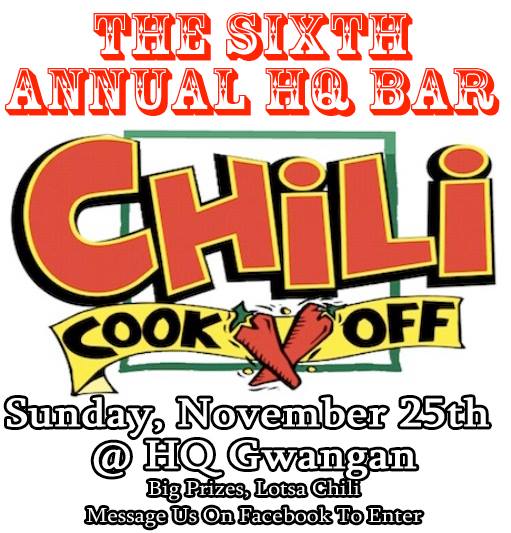 What's better than a hot, comforting bowl of homemade chili? Knowing that the chili going down into your belly is benefiting a charity that helps children in the Philippines, of course.
The sixth-annual Chili Cook Off will heat up HQ Gwangan starting at 4 p.m. Sunday, Nov. 25. A 10,000 won fee gets attendees a spoon, bowl and voting card, which decides which chili deserves top prize. Proceeds from the event this year will go to Educate a Child, which helps impoverished children in the Philippines get an education.
Everyone is encouraged to sign up to compete. First place winners will receive a keg party at HQ Gwangan, while second and third-place winners will receive bar credit valued at 50,000 and 20,000 won, respectively.
-How to get there: Gwangan Station (Metro line 2), exit 3. Walk toward the beach, turn left at the last traffic light and enter the third building on the left. HQ Gwangan is on the fourth floor.
-Information: Sign up to be a competing chili cook by contacting HQ Gwangan at "hq.bar.5" on Facebook.