Life
Busan is second home for city hall English editor
INTERVIEW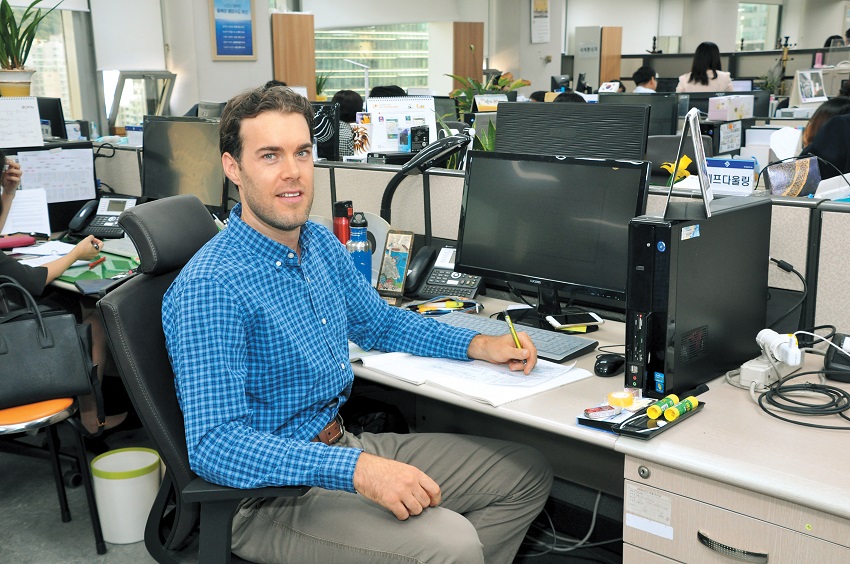 Jeff Dowling, who came to Korea in 2011 to teach English, is currently the foreign English editor for city hall.
A lot of people contribute to making Busan's English material clean and complete. Some hail from Korea, others from places such as the United States (see our January 2018 issue or check out our interview with John Dunphy, Dynamic Busan's foreign editor at busan.go.kr/dynamic).
Jeff Dowling, the foreign English editor at Busan City Hall, is originally from Canada. Having lived in Korea since 2011, however, Dowling says Busan is now like a second home.
Q. Can you tell us about yourself and your role in Busan?
A. I'm originally from Ottawa, Canada, where I also attended university. I went to Australia to receive an education degree in order to pursue a teaching career in Canada. However, I thought it might be a good idea to gain international experience first.
I came across Busan and, with its mix of mountains and beaches, knew this was where I wanted to be. I arrived in Busan in 2011, so Busan kind of feels like my second home.
Q. What is your role as a foreign editor in city hall?
I edit various documents for the city's different departments. For ex-ample, I'll be asked to look over the mayor's speeches, press releases, tourism booklets, website articles and occasionally formal agreements between Busan and international cities or organizations. These days Busan is really focused on urban regeneration projects and becoming an international hub city, so there's a lot of effort being funneled into promoting local culture and attracting future-oriented industries.
Q. Your job title might seem unusual to a lot of expats living in Korea. How did you come to be a foreign editor in Busan?
I spent my first five years teaching in English hagwons. I was lucky enough to have a former boss let me know about the position here after the last editor moved on.
After I submitted the necessary documents, I came for an interview, along with two other English-speaking candidates. Once the first can-didate's interview finished, I learned they were being done in Korean and that the other two candidates didn't speak Korean very well. Luckily for me, I began attending Korean language classes in 2011 and had just recently finished a course prior to the interview.
Q. What are some of the most rewarding parts of your job?
Working here has been a great experience, but it is a little intimating at times to be surrounded by so many Korean speakers. However, my coworkers have been very helpful and will use English most of the time when we talk.
One of the most rewarding experiences has been to be a part of the effort to promote Busan to the world. It doesn't surprise me that Lonely Planet ranked Busan as the number one travel destination in Asia this year. The amount of effort Busan has made to attract global attention and investment is quite remarkable and bodes well for the local economy and its citizens long-term.
Q. Can you recommend any foods or drinks in Busan for visitors?
Find a place that serves craft beer. It's getting quite popular these days and there are a few expat-owned places, as well as more and more Korean-owned establishments opening up across the city that offer decent choices.
Q. What is ahead for the coming year?
I will hopefully finish my master's degree in education by the end of next year, and either continue working at city hall or transition to teaching English at a local university.