Life
Russian Consul applauds cooperation between cities
INTERVIEW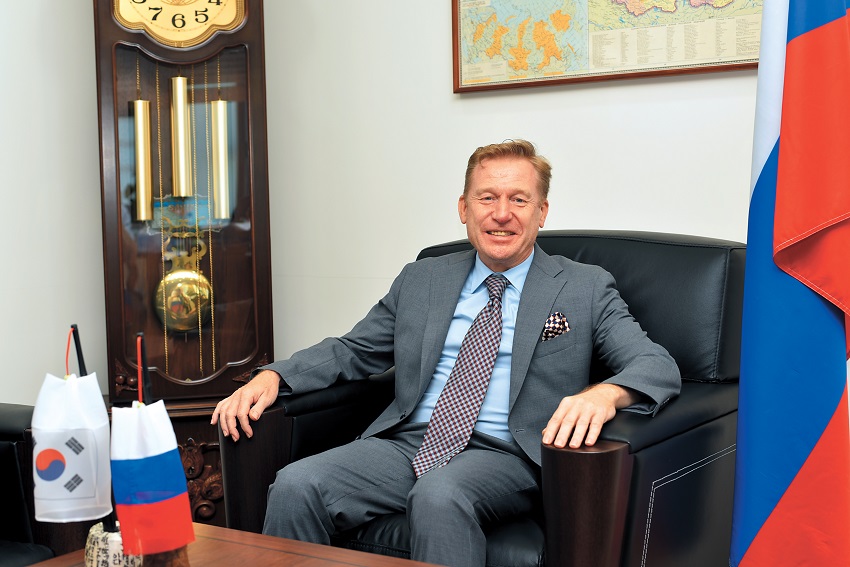 Russian Consul General Gennady Ryabkov has held the title here in Busan since May.
Two decades later, he is back in Korea but in a very different role. It was about 20 years ago that Gennady Ryabkov, of Russia, came here to earn a master's degree at Yonsei University in Seoul. In May, he returned to Korea, this time as the Russian Consul General, in Busan.
Q. Can you tell us a little about yourself and your role here in Busan?
A. I have recently assumed my duties as the Russian Consul General here in Busan, exactly like the United States Consul Daniel Gedacht, who appeared in one of your previous issues.
It is funny that our backgrounds are also similar in that we both received our master's degree in Korea during the 1990s. But, Daniel graduated from Korea University and I came here to study at Yonsei.
After working for about five years at the Russian Embassy in Seoul upon graduation, I returned to Moscow and continued my diplomatic career in other places. I came back to Korea after about 20 years.
Q. What is the role of the Russian Consul General in Busan?
The main task of consular offices is serving the needs of their respective nationals abroad. This work is highly inspiring because we deal with everyday problems for ordinary people.
Being stationed in Busan, we also strive to promote various ties between our host city and its partners in Russia in economic, cultural and humanitarian spheres. This part of our work is also tremendously important for the same reason.
Q. Busan seeks greater intercity diplomacy. Vladiovostok in Russia is one of the closest cities where Busan is focusing. How do you feel about this?
We cannot but welcome very much the city government's desire to further develop its ties with partners abroad, including Vladivostok, St. Petersbourg and other Russian regions.
Q. Busan plans to open a new foreign office in Vladivostok and several airlines have started new routes there. What kind of role do you expect the Russian Consulate to play in this?
I myself traveled to Vladivostok last August to see with my own eyes this "closest to Korea European city" as they use to call it. I must confess that, visiting the city for the first time in my life (it is rather difficult even for Russian people to travel this far from Moscow), I was impressed both by its beautiful scenery and also by the number of Korean tourists. It was especially enjoyable to see that Korean visitors found themselves quite comfortable in an unfamiliar but obviously friendly atmosphere.
We welcome the introduction of new air routes as well as other steps facilitating further mutual exchanges.
Q. Can you recommend any food or tourist destinations to our readers?
I arrived in Busan not long ago, in last May. However, I was able already to see how the city has changed during the past 20 years. I still have too many places to go and too much to see here to be qualified to recommend something in particular.
But for me, personally, the best thing about Busan is its marine scenery. It is so nice to inhale fresh sea breezes while walking along the city's numerous beaches and promenades.
Q. What is ahead for you in the coming year?
I am going to devote myself fully to my new assignment and at the same time not lose an opportunity to get acquainted more with our wonderful host city of Busan.
*For general inquiries and information, visit pusan.mid.ru.