Life
Paul Porter provides fresh produce in short order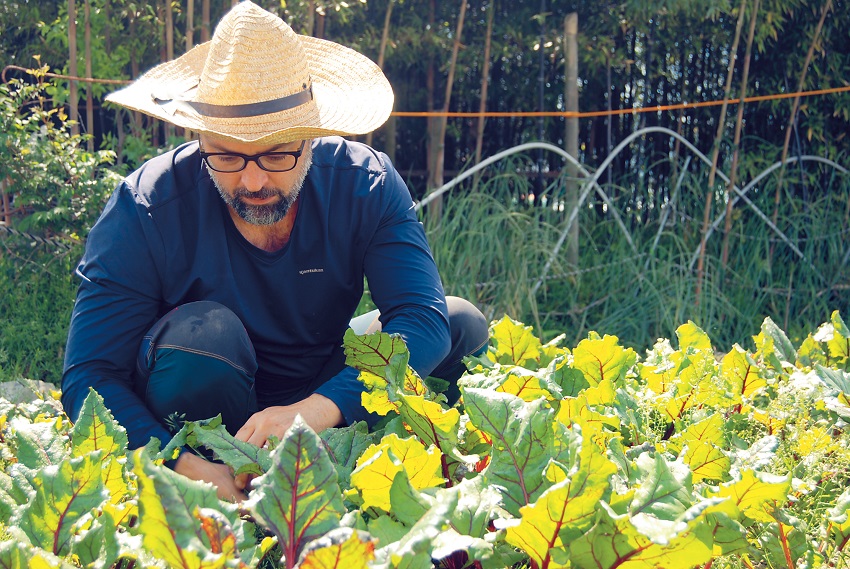 Paul Porter, originally from England, in his element among fresh, tender vegetables.
What happens when an English transplant in Korea with a casual "green thumb" decides to get serious about farming? You get Paul Porter's Busan Organic Vegetables, a humble operation offering fresh, seasonal lettuce, onions, eggplant, tomatoes and much more for those seeking food grown without the use of pesticides and about as local as local gets.
Q. Can you tell us a little about yourself?
A. I'm a Bristolian (someone from Bristol, England) who arrived in Busan some years ago and has grown roots here. I'm settled and happily living on the northwest side of the city with my wife, Seohyang. I work a regular job and enjoy spending my time outside with my two dogs walking, or on the farm.
Q. Do you have a history of farming?
I'm the first in my family to be growing food on this scale, although I got my love of growing plants from my parents at an early age. They have a typical English back garden and they both enjoy gardening, as did their parents before them. The only differences are that my family's passions are more toward decorative plants, rather than edibles like me. Nowadays, it's nice to see my parents motivated by my growing adventures, and now they have some areas of their home garden put aside for growing food.
Q. What kind of produce do you offer?
I grow what we like to eat. We grew some 40 different types of western, Southeast Asian and Korean herbs, fruits and vegetables last year. We like to seasonally grow non-GMO (genetically modified organism) heritage varieties as they have proven to be more drought and disease resistant and are higher or earlier yielding. We are planning to do the same this year, with a few additions.
Q. What is better about local, organically grown produce?
It's a matter of personal preference. For our family and friends, there are a few factors that make locally-grown organic vegetables best. Mainly, it's the taste. You can't beat the taste of seasonal vegetables grown naturally, fresh from the soil and on your plate. It was like discovering the taste of food all over again.
It's also about knowing where your food has come from and how it's been grown. The growing process is as important as the end result. The whole growing process from soil preparation and seed to harvest is documented on our Facebook page. The page allows everyone to follow this process from beginning to end. Sure, sometimes our vegetables have been nibbled by bugs, they may even come with bugs on them. They don't always grow as big or they take longer to grow than conventionally-grown vegetables, but that's the way it' supposed to work. We're not supposed to get 100 percent of everything, every time.
Q. What is ahead for the coming year?
At the end of last summer, I convinced my wife that it would be a good idea to double our growing area. This allowed us to commit to growing larger crops of onions, to-matoes, eggplants, garlic and squash, which we didn't grow before on this scale due to the longer growing season required and lack of space.
There are currently four varieties of white, yellow and red onions. We also have purple-speckled hard neck garlic elephant garlic. Our squash patch has doubled in size, and we are excited to harvest both our summer and winter squash varieties. We're also growing more of what we trial tested last year, including parsnips, tomatoes, Italian basil and beets.
Find "Busan Organic Vegetables" on Facebook.