Food
Tteokbokki too delicious, too hot to handle
One of Korea's most ubiquitous food items is tteokbokki (rice cake and fish cake in a spicy sauce). Beloved by young and old alike, this popular snack can be found at street carts and restaurants around the country. Seomyeon is a particularly popular place to find tteokbokki, so it's your best place to begin your journey in getting a plate of this delicious and often highly spicy treat.

△ Tteokbokki is a spicy Korean delicacy made with rice cake, fish cake and oftentimes additional ingredients.
Tteokbokki is a dish that, at its core, is made of long, thin bars of rice cakes in a spicy red sauce. Fish cakes are the most common ingredients found alongside the rice cakes, but it's not uncommon to come across tteokbokki with vegetables and sundae (Korean sausage).
Now a popular snack for the common everyman, tteokbokki was originally an item enjoyed by Joseon-era royalty cooked entirely differently than it is today. A century ago, these royals made tteokbokki with beef and mushrooms, which is similar to tteokbokki made with bulgogi (marinated slices of beef or pork) today. As the Joseon Dynasty came to an end, officials expelled from court began to make the dish for the marketplace, where it gained popularity among commoners.
That being said, just because we don't eat tteokbokki today like the Joseon royals did in yesteryear, there are still many ways to enjoy this popular food. Add mozzarella cheese in the mix for a savory, sweet and spicy combination. Enjoy fusion versions that use sauces made of cream or rose, or pair it with gimbap (a roll made with rice and seaweed), mandu (Korean dumpling) or any of the other fried dishes you see at your food cart or restaurant.
■ Jeonpo Bangatgan (전포방앗간)
Jeonpo Bangatgan is a restaurant that specializes in tteokbokki. What makes going here an experience is the chance to cook the tteok (rice cake) via a gas burner installed at every table. The most popular item is the cheese waterfall tteokbokki, so named because a staff member comes to add cheese in a cascade-like manner as you cook it.
Another popular choice is the fried set menu that is dipped into the tteokbokki sauce. Including deep-fried glass noodles in seaweed, mandu, fried peppers and squid, this menu will undoubtedly make any diners' taste buds spring to life.
The cheese waterfall tteokbokki costs 16,000 won for two people. The fried food set menu charges 4,000 won. Jeonpo Bangatgan is a popular spot, so be aware that it often requires waiting in line to get in.
Hours: 11:30 a.m. to 11 p.m. every day
Address: 9, Jeonpo-daero 209beon-gil, Busanjin-gu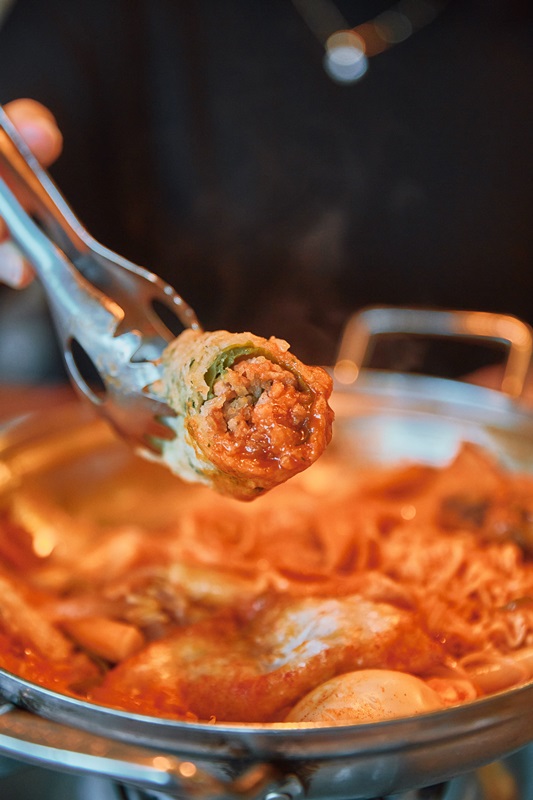 △ Fried dumplings can accompany your tteokbokki.
■ Ggomaengi Gimbap (꼬맹이김밥)
Named for a phrase meaning "bite-sized," this gimbap is made with rice and one ingredient of your choice, which could be ham, tuna, nuts and spicy bulgogi.
A bite-sized gimbap costs 800 won. Tteokbokki costs 3,000 won for a full plate, but it is also served at smaller portions of 500 won per tteok.
Hours: 11 a.m. to 9 p.m. Closed on Sunday.
Address: 12-1, Seojeon-ro, Busanjin-gu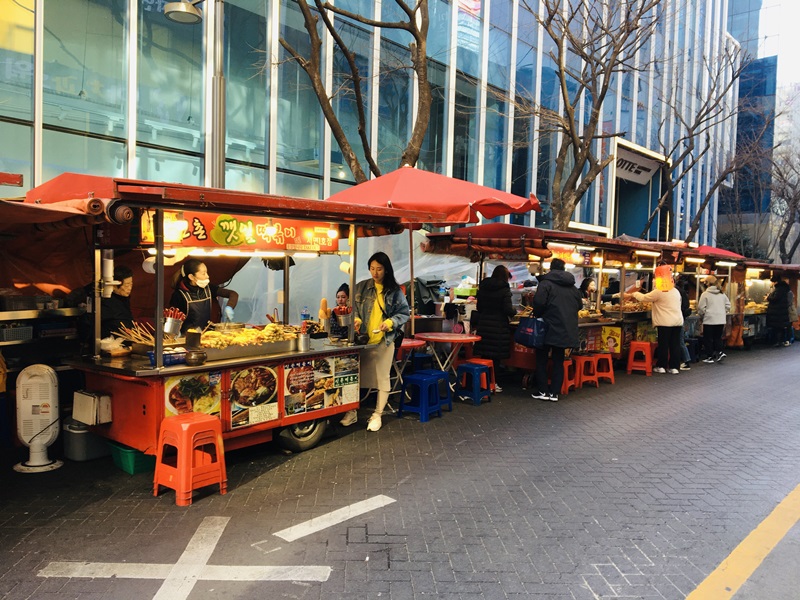 △ Many carts selling tasty tteokbokki and other street food snacks line the streets around Seomyeon's Lotte Department Store.
■ Tteokbokki Alleys
There are many places that can be labeled as "tteokbokki alley," and all of them offer delicious tteokbokki for patrons.
Enjoy a hot plate of the snack before or after shopping and sightseeing.
● Around the back gate of Lotte Department Store
Recommendation: tteokbokki and gimbap
Hours: 4 p.m. to 4 a.m.
Address: 748, gaya-daero, Busanjin-gu
● Seomyeon 1-beonga Tteokbokki Alley
Recommendation: tteokbokki and pajeon (green onion griddle cake)
Hours: 11 a.m. to midnight
Address: 68beon-gil, Busanjin-gu
● Hagwon Street Tteokbokki Cart
Recommendation: tteokbokki and gimbap
Hours: 11 a.m. to midnight
Address: Jungang-daero 680beon-gil, Busanjin-gu