Food
Strawberries add a little sweetness to winter
Strawberries are winter's fruit of choice, and Busan institutions hold many promotions for people to enjoy this delicious treat.
So, this Valentine's Day, take your special someone to one of the following establishments and get into that strawberry flavor.
Hilton: Crazy in Pink

△ Strawberries dominate the winter fruit scene, and there are so many treats to enjoy with them.
The Hilton Hotel is currently running a strawberry promotion entitled Crazy In Pink, which is ongoing until April 12.
Ornately decorated with pink flowers, McQueen's Bar on the hotel's 10th floor gives guests the chance to taste dozens of strawberry desserts and foods. Strawberry panna cotta, tiramisu, waffles; even pizza and salad with strawberries are all available to you. There is also a strawberry chocolate fountain and a pyramid of fresh strawberries.
The price for this strawberry smorgasbord is 48,000 won with a cup of coffee or tea, and 58,000 won with a cup of a special strawberry drink. The buffet operates during the weekend in two different shifts. First, from noon to 2 p.m. and then from 2:30 to 4:30 p.m. Due to the promotion's popularity, advance booking is required.
Phone: 051-509-1371
Address: 268-32, Gijanghaean-ro, Gijang-eup, Gijang-gun
Website: hiltonbusan.co.kr. English available.
Park Hyatt: Very Berry Afternoon Tea Set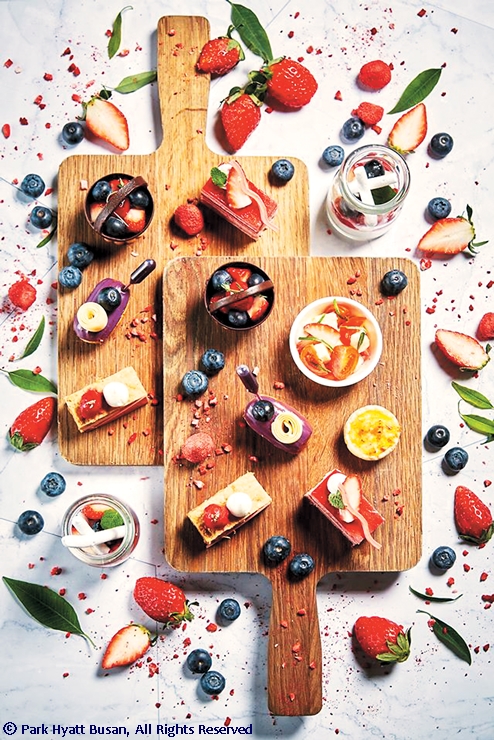 △ Berries at the Park Hyatt are oh-so-very good.
Not to be outdone, the city's Park Hyatt is offering its Very Berry Afternoon Tea Set until Feb. 29 at Lounge, the hotel's 30th-floor bar.
Dishes presented in this delicious promotion include strawberry opera cake with fresh strawberries, sweet and sour strawberry Caprese salad, raspberry sandwiches with ham and radish and quiche with shrimp, a signature French dish. Guests can also enjoy hot cups of premium coffee and tea.
The promotion at Lounge is available from 2 to 6 p.m. every day. It runs customers 65,000 won for two people.
Phone: 051-990-1234
Address: 51, Marine city 1-ro, Haeundae-gu
Website: hyatt.com. English available.
Lotte Hotel: Strawberry Picnic

△ Lotte Hotel runs the tastiest picnic you'll ever come across.
Another delicious promotion that is running until March 29 is Lotte Hotel's Strawberry Picnic. The Lounge, located on the hotel's first floor, is the site of this particular strawberry feast. There, guests can enjoy strawberry pancakes, creme brulee and custard cream. Also on the menu are seafood delicacies in the form of smoked salmon or crab sandwiches and chili shrimp. If you prefer something more turf than surf, you can order chopped steak and omelet.
Lotte Hotel runs this promotion between 11:30 a.m. and 2:30 p.m. for 55,000. You must make a reservation by phone.
Phone: 051-810-6430
Address: 772, Gaya-daero, Busanjin-gu
Website: lottehotel.com/busan. English available.
Westin Chosun: Lovely Strawberry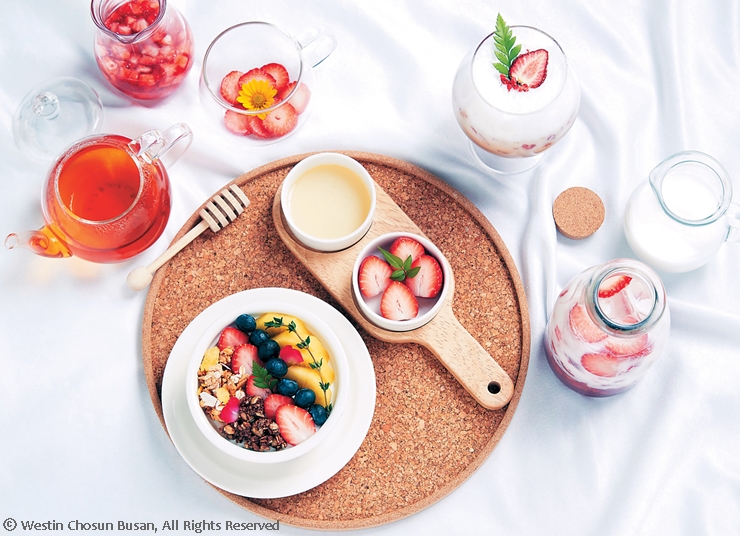 △ Enjoy fabulous drinks of milk, tea and yogurt at Westin Chosun.
The Panorama Lounge at the Westin Chosun presents a promotion known as Lovely Strawberry, which is an event showing off four new drinks: milk, tea, milk tea and a yogurt bowl, all made from strawberries. Dynamic Busan particularly recommends the milk tea with milk and strawberry syrup, because it was specially crafted by a tea sommelier.
The price for Lovely Strawberry begins at 18,000 won. Your order comes with a free coffee mug decorated with the art of Eve Armisen when you order two or more menu items from the promotion.
Phone: 051-749-7435
Address: 67, Dongbaek-ro, Haeundae-gu
Website: twcb.echosunhotel.com