Food
[Recommended Local Eateries] Thai and Filipino food in Busan

▷ Southeast Asian curries, noodles, meats and spices provide your tongue with a multinational culinary adventure.
Some of the best food in the world can be found in Southeast Asia. Whether it's a bowl of delicious Thai curry, hot Vietnamese noodles or a plate of Laotian sticky rice, there is so much to choose from. With the ASEAN-ROK Commemorative Summit imminent, Dynamic Busan highlights two restaurants with food from the region.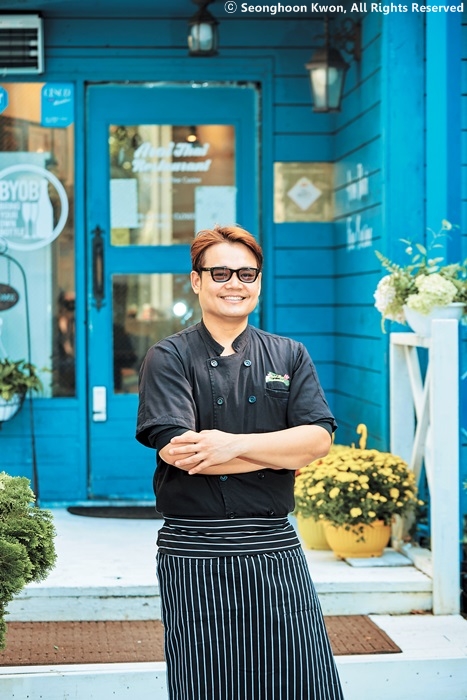 ▷ Aroi Thai's chef Noppadol Kongsumran
Aroi Thai (알로이타이)
You may have heard of the Michelin Guide to restaurants, but what about Thai Select? A system that acknowledges the best Thai restaurants in the world, Thai Select is officially recognized by the Thai government and is chosen through a strict standard. If a restaurant receives a 95-percent rating, then the establishment is raised to Thai Select Premium. Aroi Thai received this coveted title and is a Busan must-visit.
Manned by luxury hotel chef Noppadol Kongsumran, Aroi Thai serves dishes of tom yum and crab curry. Tom yum is a spicy and sour soup filled with delicious seafood and vegetables, including shrimp, mushrooms and green onions. Korean maeuntang (spicy fish soup) is a local similarity. The crab curry, known as bu pad pong, is a vegetable cream curry dish filled with large crabs, which are divided into hard and soft shells. The soft shell crabs are fried in their entirety, as they are easy to cook and manage. But, the hard shell crabs taste better, so Kongsumran actually recommends them over the soft shell ones, even though they are more difficult to prepare.

▷Tom yum prepared by Aroi Thai
Aroi Thai also serves stir-fried noodles, known as pad thai, which sell for 15,000 won. Tom yum costs 24,000 won and bu pad pong is 28,000 won. Thanks to the restaurant's Thai Select Premium title, the establishment will prepare lunch and dinner for 60 Thai officers visiting Busan during the summit.
How to get there Millak Station (metro line 2), exit 1. Go straight for 10 minutes along the Suyeong Gang Riverside.
Address 336-73 Millak-dong, Suyeong-gu, Busan
Phone 051-756-0275

▷Caldereta and silog prepared by Mabuhay
Mabuhay (마부하이)
"Mabuhay" is a Filipino greeting and exclamation, meaning "live" in its imperative form. It can be used as a cheer, a welcome and a hurrah. Mabuhay has operated for 10 years, which makes it one of the oldest Southeast Asian restaurants in Busan.
The first item on the menu is silog, a Filipino breakfast dish that combines garlic fried rice and fried eggs. It is usually served with chicken, pork or shrimp. Mabuhay also features caldereta, a beef stew that gained popularity during the Spanish colonial period. It is somewhat reminiscent of galbijjim (Korean braised short ribs), but is notable for using a tomato sauce. Also included in the dish are numerous hearty vegetables, such as green peppers, potatoes and carrots. Caldereta is packed with flavor and reasonably priced at just 12,000 won. Silog runs customers 6,000 won.
Finally, there is bulalo, a soup loaded with meat and vegetables. Some may see a resemblance to Korea's galbitang (short rib soup). A serving of bulalo large enough for at least two people costs 20,000 won.
How to get there Busan Station (metro line 1), exit 5. The restaurant is on the second floor of the building just to the right of the Shanghai Gate (상해문).
Address 13 Jungang-daero 195beon-gil, Choryang-dong, Dong-gu, Busan
Phone 051-464-7567