Food
[Recommended Local Eateries] Jeon and makgeolli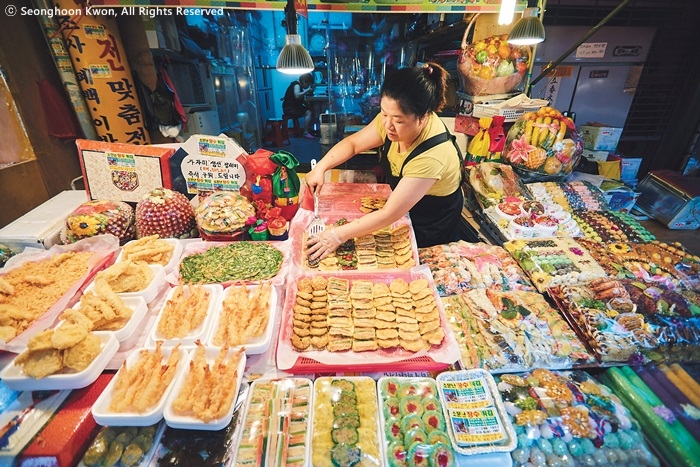 Friends and families making food together is universal. In Korea, this practice is done with jeon, a sort of griddle cake made by seasoning whole, sliced or minced ingredients and coating them with wheat flour and egg wash before frying the mix with a generous amount of oil. Jeon is best accompanied by makgeolli (raw rice wine), due to how the wine mixes with the oil and texture of the dish. With Chuseok upcoming, it's time to take a look at some quality restaurants serving this delicious combination of jeon and makgeolli.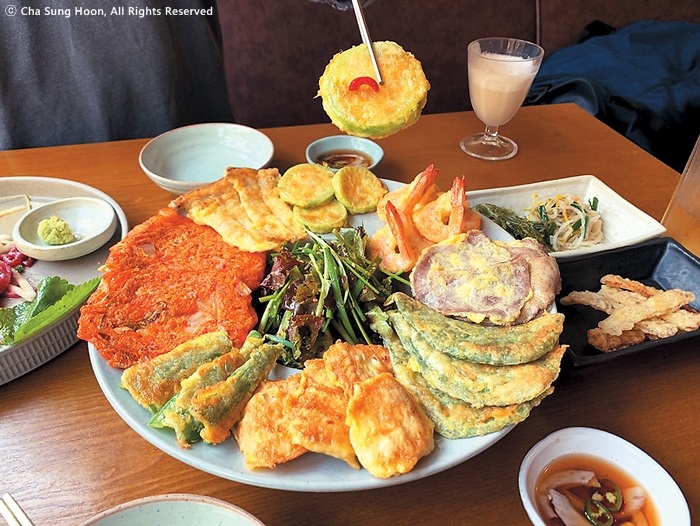 Gwibinjeon (귀빈전)
"Gwibinjeon" roughly translates to "jeon for your valued guests," so why not take their name to heart and bring your favorite people with you? Located in Yeonsan-dong (neigh-borhood) amid numerous restaurants and bars, this establishment provides diners with an elegant atmosphere. Soft yellow lighting illuminates the area, providing a space that is comfortable and cozy.
As good as the environment is, the jeon and makgeolli are even better. The best choice is to go for the assorted set of jeon, in order to try as many kinds of the food as you can. The set comes with a choice of mouth-watering side dishes, as well. Yukhoe (Korean-style raw beef) and kimchi jeongol (Korean hot pot soup) are two options to choose from.
Gwibinjeon also gives guests several choices when it comes to makgeolli. Traditional makgeolli is simple, cheap and tasty. Premium makgeolli gets a little fancier, but also comes at a price. The Geumjeongsanseong Fortress makgeolli is a drink to write home about. The wine is made around the fortress using traditional methods, so it is a distinctly Busan flavor.
The set menu of assorted jeon with choice of additional dish costs 47,000 won. Other set menus will set you back around 40,000 won. Traditional makgeolli costs about 5,000 won, while a bottle of premium makgeolli runs between 13,000 to 20,000 won.
◆ Address : 48, Ssangmicheon-ro 151beon-gil, Yeonje-gu, Busan
◆ How to get there : Yeonsan Station (Metro line 3), exit 10. Go straight and turn left. Walk for approximately 100m.
◆ Hours : 5:30 p.m. to 2 a.m. Closed on Sundays.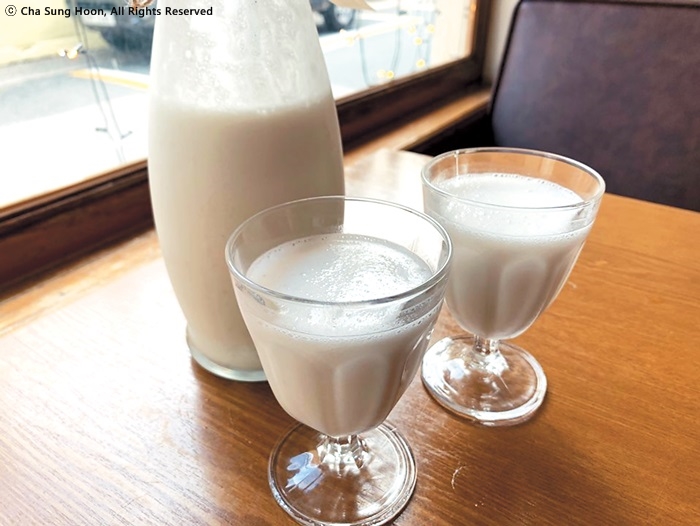 Dal (달)
Appropriately named the Korean word for "moon," Dal is a must-visit this Chuseok season. The best menu item at Dal is the set menu of the beef jeon with seasoned squid or dried pollack salad. This option combines different flavors for a fabulous result. Dal also serves unique brands of makgeolli made with fruit. Exotic flavors like green grape, honey banana and coconut are unusual and are sure to provide you with a culinary adventure.
Beef jeon costs 17,000 won, but it is 27,000 won with the set menu of seasoned squid or dried Pollack salad. One cup of fruit makgeolli is 8,000 won.
◆ Address : 17, Mandeok-daero 40beon-gil, Buk-gu, Busan,
◆ How to get there : Deokcheon Station (Metro line 2) exit 9. Go straight. Turn right at the alley of Daewon Apartment.
◆ Hours : 5 p.m. to 2 a.m. Closed on Sundays.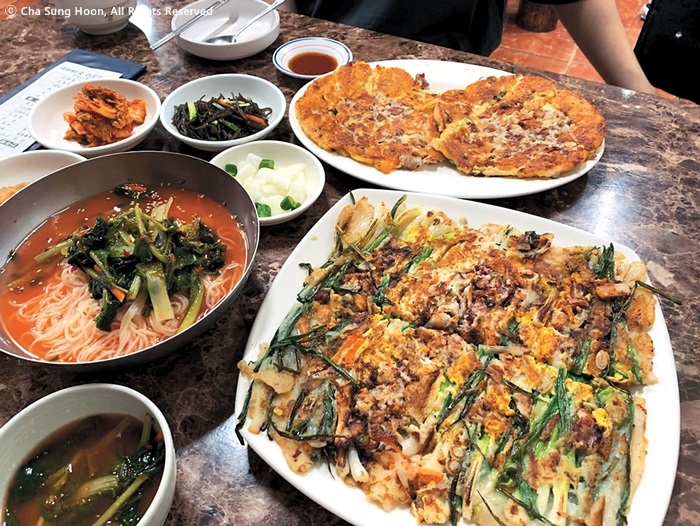 Somunnan Dongnae Pajeon (소문난 동래파전)
New restaurants are always coming around, but sometimes, older is better. Nestled along the slope of Geumgang Park among other similar old-style restaurants, Somunnan Dongnae Pajeon serves traditional jeon in the go-to district for the dish. Filled with pajeon (green onion jeon), bindaetteok (similar to jeon and made with mung bean) and amazing soups, Somunnan Dongnae Pajeon is a true traditional taste of Korea. The restaurant has appeared on more than one food-themed TV show, so its reputation is well-known.
Pajeon costs 12,000 won, while bindaetteok charges 10,000 won. Yeolmu guksu (noodles with young summer radish kimchi), one of the restaurant's highlights, will run you 5,000 won. Makgeolli is 3,500 won.
◆ Address : 55, Geumganggongwon-ro, Dongnae-gu, Busan
◆ How to get there : Oncheonjang Station (Metro line 1), exit 1. Go towards Geumgang Park.
◆ Hours : 10 a.m. to 10 p.m. daily. Closed on the first and third Mondays of the month.