Food
A home plate at Sajik, a dinner plate on your table
There's electricity in the air for the start of baseball, and fans going to need sustenance to root for the home team. Whether you're eating around Sajik Baseball Stadium for energy before a game, or enjoying a meal after one, the area has no shortage of delicious places to eat.
■ Somunnan Jumunjin Makguksu (소문난 주문진 막국수)

- 출처 및 제공 : 권성훈
After a baseball game, many spectators enjoy going to restaurants for both food and drink. One place that's tailor-made for post-game festivities is Jumunjin Makguksu. Jumunjin, the home of makguksu (buckwheat noodles) in Korea, is located in Gangneung-si (city), Gangwon-do (province). Somunnan Jumunjin Makguksu stays true to its origins, making it one of the best joints to visit.
The restaurant serves buckwheat noodles in the style of Gangwon-do, meaning that the dish is made with cold kimchi soup. That being said, if soup isn't to your taste, you can enjoy the noodles with sauce. Noodles at Somunnan Jumunjin Makguksu can also be eaten with suyuk (boiled port slices). You can order noodles in either soup or sauce with the pork to fully savor the flavor that the two foods combine to make.
Makguksu is particularly good in the summer, since the soup and sauce are served chilled, however if you prefer your noodles a little less frigid, you can order kalguksu (chopped noodles), which is always made hot.
Both the soup makguksu and kalguksu cost 8,000 won, whereas the makguksu in sauce is 9,000 won. With suyuk, prices vary between 18,000 and 23,000 won, depending on the size you choose.
How to get there Cross the main street at Sajik Baseball Stadium, turn right at McDonald's and walk for 40 meters.
Address: 8, Sajik-ro 58 beon-gil, Dongnae-gu , Busan
Hours: 11 a.m. to 10 p.m. Phone: 051-501-7856
■Gapyeong Dak-galbi (가평 숯불닭갈비)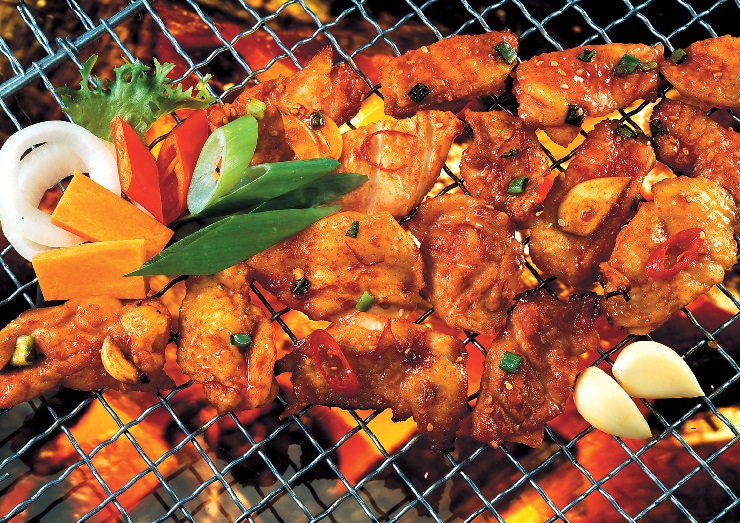 Another place sure to make you leave happy and full is Gapyeong Dak-galbi, featuring mouthwatering charcoal dak-galbi (spicy stir-fried chicken).
Gapyeong Dak-galbi serves two things: dak-galbi and, if you can't get enough of it, more makguksu, which can only mean that the restaurant is confident in its flavors. The chicken comes both sweet and spicy, with one portion weighing around 250 grams. Served with a two-portion minimum, you won't go hungry here! And if you're nervous about the food being too hot, adding melted cheese to the side for 3,000 won can help counter a dish that's too spicy. Of course, the buckwheat noodles with their ice-cold broth can also do the trick!
One 250-gram portion of dak-galbi costs 10,000 won. The buckwheat noodles are 6,000 or 8,000 won, depending on how much you order.
How to get there: Cross the main street at Sajik Baseball Stadium. Turn right at McDonald's and walk two blocks. Turn right once again and go straight for 50 meters. The restaurant is ahead.
Address: 20-4, Sajikbuk-ro 13beon-gil, Dongnae-gu, Busan
Hours: 5 p.m. to 2 a.m.
Phone: 051-505-6294
■Anyang Haemultang (안양해물탕)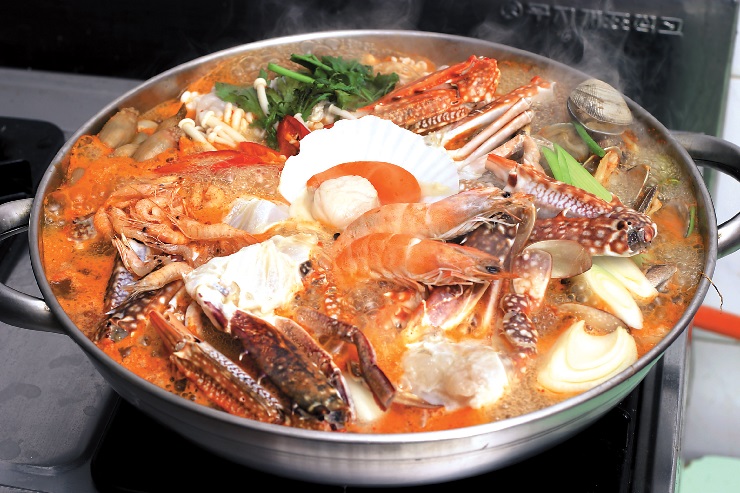 Anyang Haemultang is a restaurant specializing in haemultang (spicy seafood stew). Beloved by locals, the restaurant boasts certificates of recognition from a number of organizations.
Here you can find dishes made with over 20 kinds of seafood, such as crab, squid, shellfish and shrimp, as well as beef bone broth and vegetables. Stew servings are divided into sizes, with the smallest serving being ideal for two guests and the largest for four or five. Depending on the size you choose, prices range from 40,000 to 60,000 won. Don't forget to mix everything with hearty rice and flavorful sauces!
How to get there: Cross the main street at Sajik Baseball Stadium. Go straight for 180 meters and turn right. The restaurant is ahead.
Address: 66, Sajik-ro, Dongnae-gu, Busan
Hours: 11:30 a.m. to 10 p.m.
Phone: 051-505-0480