Food
Beautiful baked goods a feast of yeast in Namcheon
[Recommended Local Eateries] 'Bbangcheon-dong' Tour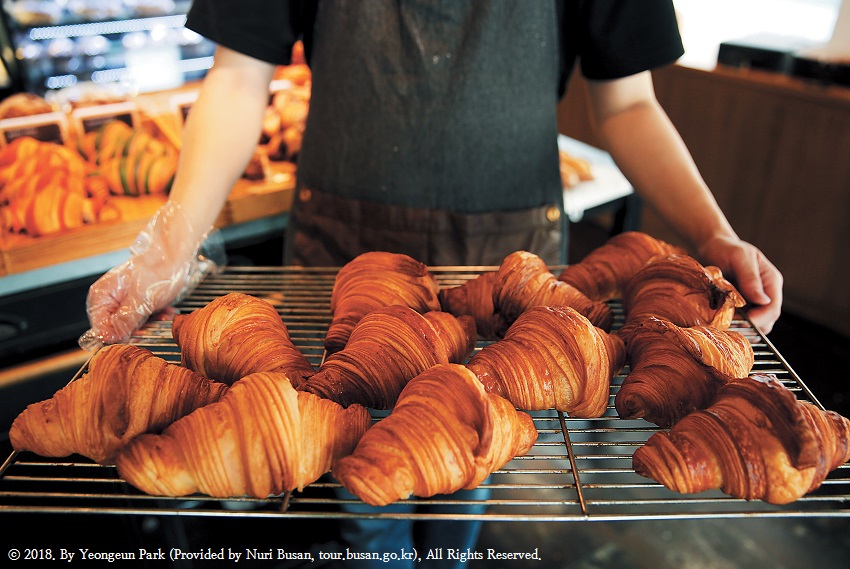 A bunch of beautiful croissants are waiting for consumption at Maitre Artisan.

As more and more Koreans opt for bread over historically-significant ri-ce, the more they will be willing to hunt for the best bakeries. However, one need not go too far and to each corner of Busan for the tastiest bread-based goods. They just need to head to Namcheon-dong (neighborhood).
"Bbangcheon-dong" is the cute nickname combining Namcheon-dong with the Korean word "bbang" for bread. It's an area that includes about 20 small and large bakeries, both well-established veterans as well as up-and-coming startups clustered around Namcheon Station.
The area became known for its bakeries due in part to the many schools in the area and the continuouly-growing attraction to bread products among its students. From nationally-known baking giants, to local newbies, to bakeries that even fea-ture rice instead of typical wheat, there is surely something with yeast to include with your feast. Bbangcheon-dong continues to grow in popularity, so much so the Suyeoung-gu Office now provides a local map so visitors can discover every bakery in the area. Here are a few of our favorites to get you started on your bakery bonanza.
■ Maitre Artisan
Maitre Artisan serves French bread made by a French boulanger (baker). Opened in 2014, Maitre Artisan's most popular health-conscious bread is made with a natural fermentation starter and wheat flour imported from France. Maitre Artisan has attracted a large following, thanks to its authentic French baguettes, which are crispy on the outside and chewy on the inside. Also popular are the various croissants including traditional, blueberry, pistachio and sausage. The bakery is closed on Mondays.
-Address: 21, Namcheondong-ro 22beon-gil, Suyeong-gu
-How to get there: Namcheon Station (Metro line 2), exit 1. Go straight toward Gwangalli for three minutes.
■
OPS
The interior of OPS Namcheon branch
A Busan original with franchises throughout the city and elsewhere, including in Seoul and Incheon, OPS is one of the largest bakeries in Busan and a must-visit for travelers. Opened in 1989, the signature product at OPS is the large cream puff, a flaky and delicate jumbo-sized dessert bread filled with vanilla-flavored custard which is sure to satisfy any sweet tooth.
Jumbo cream puffs at OPS are a signature item.
Breads made with seasonal strawberries are also popular in the spring. Many students heading to after school classes can usually be seen tucking into hagwonjeon (after school bread). This amusingly-named product includes milk and sponge cake that is easy to snack on quickly.
-Address: 37, Hwangnyeong-daero 489beon-gil, Suyeong-gu
-How to get there: Namcheon Station (Metro line 2), exit 3. The bakery is about 250 meters from the exit.

■ Cielo
Cielo had been a staple among loyal neighbors years before the name Bbangcheon-dong was on everyone's lips. Cielo is particularly famous for its rice bread products, such as rice bagels and bread loaves. Cielo prides itself on never using additives in its bread, so enjoy your favorites without the guilt. Sweet red bean bread and shrimp breads are also popular.
-Address: 19, Namcheondong-ro, Suyeong-gu
-How to get there: Namcheon Station (Metro line 2), exit 1. Go straight one block and enter the right alley. Then, continue straight three minutes.
■ Mutti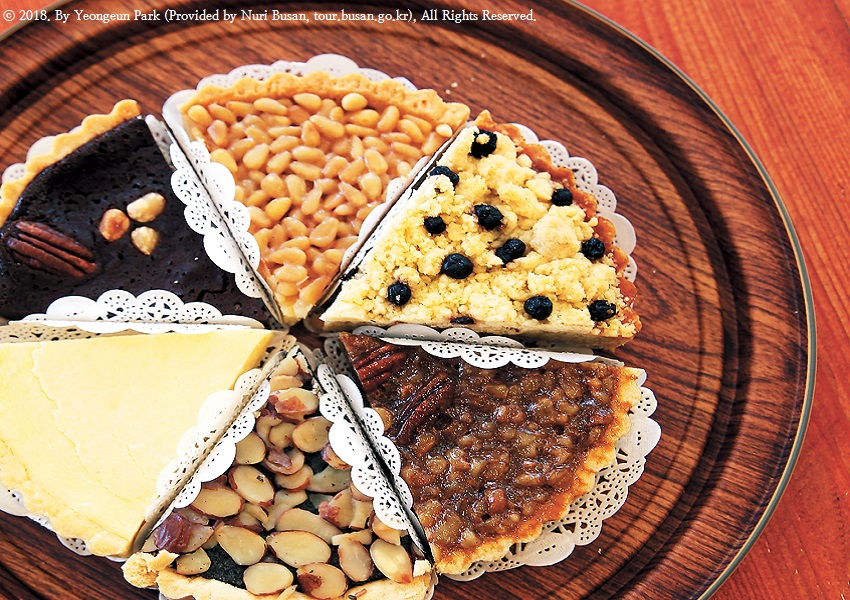 A variety of tarts at Mutti
Mutti means "mom" in German. It's also a lovely Bbangcheon-dong bakery specializing in desserts that will make customers feel a mother's love. The bakery name is based on the belief that a mother bakes her desserts using only the best ingredients. Mutti's size is small, but that has not stopped it from being a popular destination. Check out their tasty tarts topped with fresh fruits and walnuts. Their fresh-baked cookies also come recommended.
-Address: 33, Namcheondong-ro, Suyeong-gu
-How to get there: From Cielo, walk toward Namcheondong-ro for another three minutes. Mutti is ahead.