Food
Nakji, a bowl or three, so very good in all our bellies



[Recommended Local Eateries] Stir-fried small octopus
Gukine Nakjibokkeum's main event offers a full and satisfying meal that is full of nutrients.
Your mouth will be watering from the spicy scent long before the meal arrives at your table. Nakjibokkeum (stir-fried small octopus) is a perrenial favorite among Korean people. Unlike full-sized octopus, whose massive tentacles look like they came from a science fiction movie instead of the sea, nakji are smaller than a human fist. But, what they lack in stature they more than make up for in nutrients and value.
Busan is the true home of nakjibokkeum. There are a number of restaurants cooking this delightful dish that are waiting for you to dis-cover.
■ Wonjo Halmaejip (원조할매집)

Outside Wonjo Halmaejip
Wonjo Halmaejip is a popular restaurant that has specialized in crafting nakjibokkeum for more than 40 years. Located in Beomil-dong (neighborhood), this restaurant's rich history begins with feeding the many workers employed at a number of factories such as the historic Joseon textile factory. To fill the need to fill these hard-working bellies, various restaurants opened in the area. While the factories and many of those restaurants have long since closed, some, including Wonjo Halmaejip, have remained quite popular. The best way to eat stir-fried octopus here is to enjoy it with rice and noodles, which help to absorb the dish's rich, spicy pepper sauce. The cooking philosophy of this restaurant is to maximize the natural taste of its ingredients without using any artificial enhancers. Unlike some nakjibokkeum dishes, Wonjo Halmae-jip's is not spicy, meaning everyone can enjoy this delightful dish.
-Address: 10, Gold thema-gil, Busanjin-gu
-How to get there: Beomil Station (Metro line 1), exit 1. Go straight to the alley on the left.
-Hours: 10 a.m. to 9:30 p.m., daily
■ Gukine Nakjibokkeum (국이네 낙지볶음)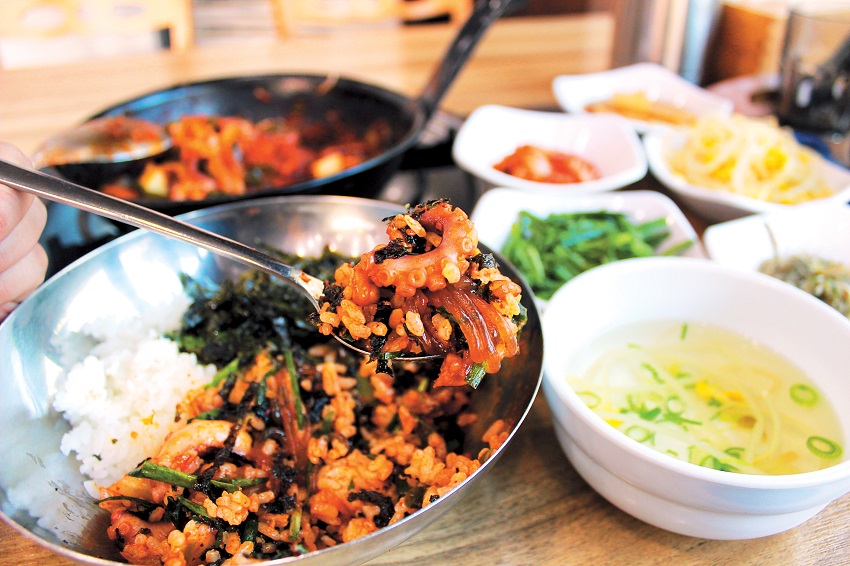 Nakjibokkeum's spicy sauce is typically mixed with rice.
Gukine Nakjibokkeum's signature dish will have first-time patrons wondering what took them so long to try it out.
Diners can add various fresh ingredients to a communal hot pot to make the stir-fried octopus dish complete, including cleaned nakji, shrimp, tripe, vegetables and seasoning. Enjoy some various banchan (side dishes) or a glass of beer while you wait for the food to come to a boil.
This delightfully delectable dish comes in a choice of various spice levels, ranging from mild to quite hot. If you're somehow still hungry after your first round, fill up those banchan plates for free at the self-service bar.
Do you want to experience the meal in the best way? Let's mix up that stir-fried octopus with rice, leek and some savory seaweed flakes. But, wait, there's more! Feel free to add some tasty, chewy noodles to the sauce such as udon, glass noodles or ramen.
-Address: 410, Yeonsu-ro, Suyeong-gu
-How to get there: Suyeong Station (Metro line 4), exit 4. Walk straight for three minutes.
-Hours: 10:30 a.m. to 10:50 p.m., daily
■ Oryukdo Nakji (오륙도낙지)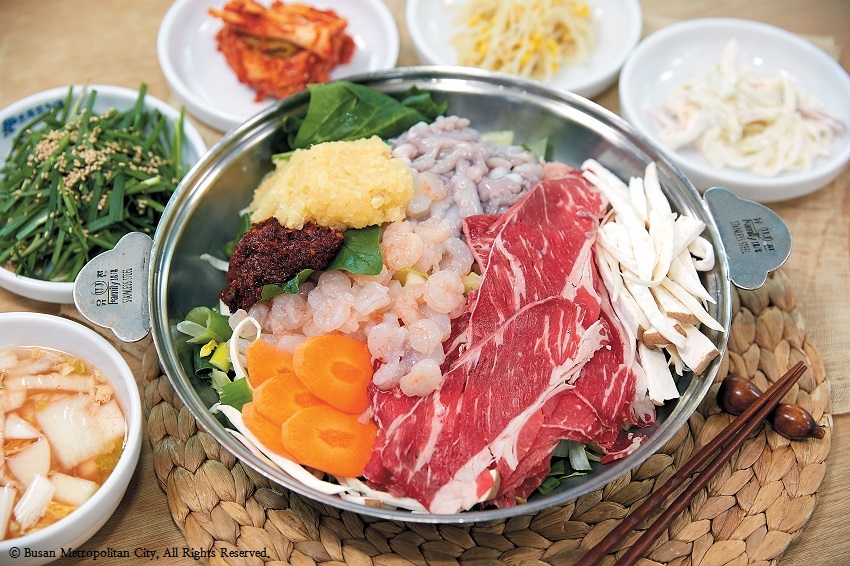 Pre-cooking at Oryukdo Nakji

Very soon, baseball lovers will be able to welcome back spring and our Lotte Giants over at Sajik Stadium. But, as anyone knows, root, root, rooting for the home team can be hungry work. Thankfully, there's Oryukdo Nakji. This restaurant has many branches but this one takes the cake (in this case, it takes the octopus) for being so conveniently located to Sajik Sta-dium. Their delicious nakjibokkeum, with its fresh vegetables, nakji and assorted seasonings in a meaty broth is perfect for hungry sports fans. A particular favorite is their nak-gopsae, a portmanteau that combines nakji, gopchang (tripe) and saeu (shrimp) into one word and one fantastic dish.
-Address: 30, Sajikbuk-ro 5beon-jil, Dongnae-gu
-How to get there: Sajik Station (Metro line 3), exit 1. Turn right at the main street. Go straight 400 meters and enter the alley between McDonald's and Industrial Bank of Korea and cross the road. Enter the alley between the U+ Square and Subway and walk 150 meters.
-Hours: 10:30 a.m. to 9:30 p.m., daily