Food
Caffeinated adventures await in older area
[Recommended Local Eateries] Jungang-dong Cafe Street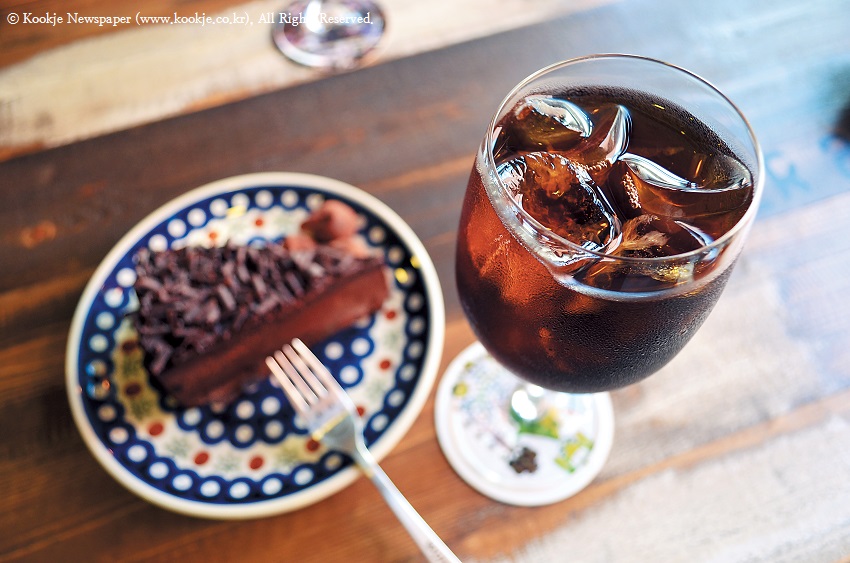 Enjoy a slice of rich chocolate cake and a glass of iced Dutch-style coffee at Brix No. 7 in Jungang-dong.
An unexpected discovery can lift our spirits and engage our imaginations. Even after all this time, there's still many mysteries to find.
In Jungang-dong (neighborhood), an area of alleyways is providing inspiration for discovery. Head toward the iconic 40-Step Stairway to find several unexpected coffee gems.
Why unexpected? In recent years, all the talk has been about Jeonpo Cafe Street. More recently, some of that area's thunder has been stolen by the Oncheoncheon Stream Cafe Street area. While those two are still fun and worthy places to find something new, they're certainly better known for coffee than Jungang-dong.
Jungang-dong's life as a coffee destination is relatively new. It remained an empty area years after City Hall moved from there to Yeonsan-dong in the 1990s. With the revival of the Nampo-dong central district, both small and larger businesses in the greater area have begun to feel ripple effects of that area's success. A new era has begun.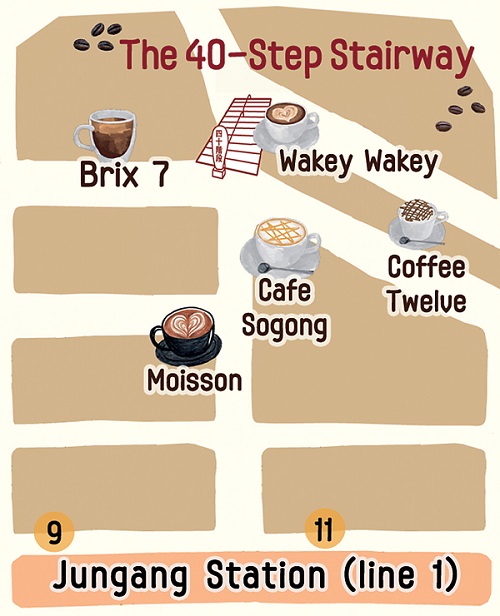 To help promote the area's emerging coffee culture, a guide map has been created for visitors. Find it at the local Community Service Center as well as the Tourism Information Center (and on this page!).
■ Moisson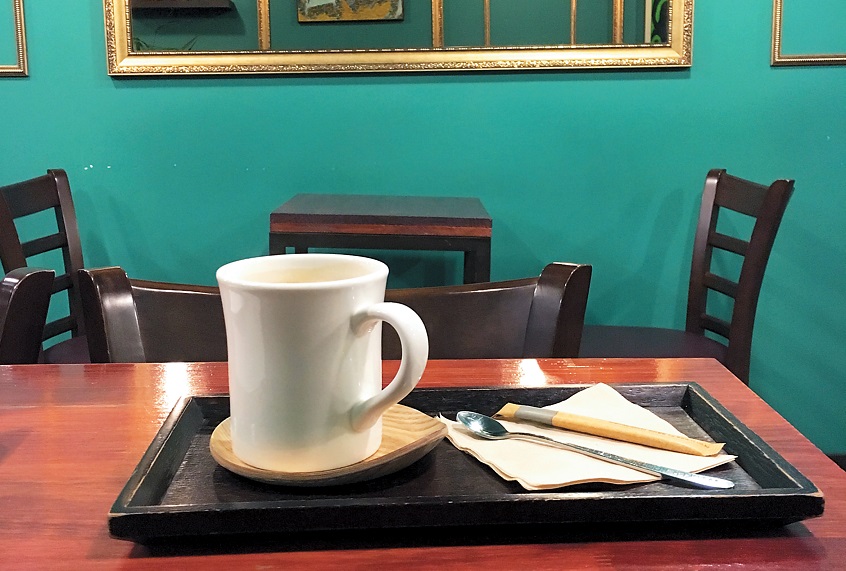 Located underneath the 40-Step Stairway, Moisson might be one of the older cafes in Jungang-dong but it's also one of the best. Bright, vibrant splashes of blue, red brick and an aquamarine interior make immediate impressions for all that visit. Oil paintings inside add to the at-mosphere, as the stirring scent of delicious, strong coffee wafts through the air. For something a little more decadent, try their cookies and cream frappuccino.
-Hours: 10 a.m. to 8 p.m., daily.
-Information: @cafe_moisson on Instagram
■ Wakey Wakey Coffee
Wakey Wakey, eggs and bakey!
While eggs and bacon are not served, Wakey Wakey does offer nice sweet treats like matcha (green tea) cheesecake and fondant au chocolat. Located halfway up the 40-Step Stairway, the cafe is sparsely furnished but offers a lovely, expansive view of the historic area through its gigantic window.
-Hours: 11 a.m. to 10 p.m. weekdays; noon to 9 p.m. Saturday and Sunday
-Information: @wakey_wakey_coffee on Instagram
■ Cafesogong (카페소공)
Cafesogong is an abbreviation for sosohangonggan (humble space). It's an appropriate name. Located under the 40-Step Stairway, Cafesogong welcomes visitors with its simple interior and sumptious treats. These include a cream cheese pretzel that comes complete with a bit of cream on top. Tables are available outside, which is perfect for enjoying around this time of year.
-Hours: 8 a.m. to 7 p.m., daily
-Information: @_cafe_sogong on Instagram
■ Coffee Twelve
What an interesting space! Coffee Twelve lives in a tidy little attic. Despite seeming impossible from the outside, there's enough space inside for a number of coffee lovers to have a cup (or, 12? I'm sure they wouldn't mind). Colorful bean bags, small tables, lamps and various bric-a-brac add even more to Coffee Twelve's charm and stimulate the imagination.
-Hours: 10 a.m. to 10 p.m., weekdays; 11 a.m. to 6:30 p.m. Saturdays; Closed Sundays.
-Information: @12oclock_twelve_coffee on Instagram
■ Brix No. 7
One could miss Brix No. 7's diminutive signboard from the street. Avoid this mistake. This is a small but mighty coffee shop, overflowing with coffee aroma. "Brix" refers to how one measures the level of sugar content. The number "7" is regarded as the most suitable point for sweetness. Long black and flat white coffees are always recommended. Beer is available in the evening for those not in the mood for caffeine.
-Hours: 9 a.m. to 11 p.m., daily
-Information: @brix7 on Instagram