Food
Hungry diners in luck when it comes to duck
[Recommended Local Eateries] Duck restaurants
Perhaps you're hoping to eat a little better in 2018. Have you considered adding some duck to your diet?
Duck meat, while fattier than chicken, is actually a healthier alternative than you might have thought. It offers higher concentrations of alkaline, which can help fortify a body against chronic diseases. Duck meat can also help detoxify the body, is a complete protein and is loaded with unsaturated fatty acids.
Embrace a new year and new you with two delicious, nutritious duck restaurant recommendations in Busan.
■ Jinseonmi Duck Bulgogi (진선미 오리불고기)
Bulgogi is one of Korea's most famous foods. Literally meaning "fire meat," it is made of thinly sliced meat marinated in a soy sauce-based sauce. Bulgogi is lightly sweet, finding wide favor across all ages, cultures and culinary tastes.
While most bulgogi tends to be made with beef, Jinseonmi Duck Bulgogi, as its name suggests, quacks to a different tune. It's a song the Myungjang-2 dong (neighborhood) dongjang (community head) loves to sing when dining at the restaurant.
"People in our district often come to this restaurant when they dine out with families or have a drink with friends," he said of Jinseonmi Duck Bulgogi, which he noted uses fresh domestic duck meat in its dishes.
The duck meat, marinated with a sweet and salty sauce, is placed on the hot grill. Scallions and needle-thin enoki mushrooms are added near the end, as not to overcook them. Ddeok (sliced rice cake) and potatoes can also be added. A typical duck bulgogi course for multiple diners costs 30,000 won.
Various leaves are provided to wrap the delectable meat including angelica, which provides a unique aroma and taste that pairs well with rich duck bulgogi. The dongjang recommends placing angelica leaf within a piece of lettuce before adding the duck, providing a flavor combination of mild, sweet, salty and very tasty.
- Address: 173, Myeongseo-ro, Dongnae-gu
- How to get there: Myungjang Station (Metro line 4), exit 3. Walk five minutes. The restaurant is next to the Saemaeul Finance Firm, near Gyeong-dong Apartments.
- Hours: 10 a.m. to 10 p.m.
■ Jangsoo Duck Village (장수오리마을)
With a spacious dining area, ample parking and a kids play room, locals often enjoy an entire afternoon at Jangsoo Duck Village.
This recommendation comes down, however, to the quality of Jangsoo Duck Village's main attraction. Local duck farms supply product every morning to ensure what patrons purchase is as fresh as possible when it reaches the dining table.
The smoked duck menu option comes lightly stir fried, with a deep aroma achieved through the cooking of smoked duck and mushrooms. Enjoy them wrapped with delicious onions, cucumbers and other crispy vegetables. Mustard sauce can also be added to further enhance the flavor.
Meals, which range from 30,000 to 50,000 won and can feed several hungry diners, comes with a boiled soup of duck bones, bean sprouts, onions and spring onion, which provides a refreshing and spicy accompaniment. Lunch time sets including duck, soup and several banchan (side dishes) can be enjoyed for only 10,000 won.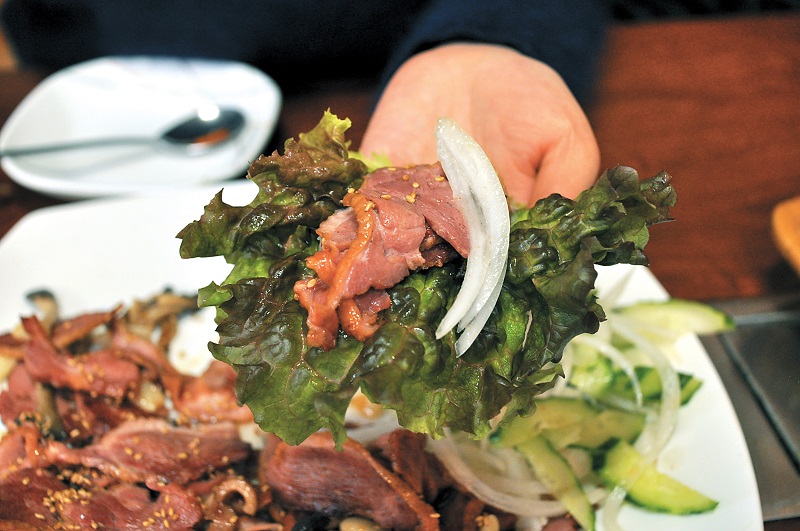 The Jurye-dong community head noted medicinal herbs are used in the preparation of most dishes, providing not only additional health benefits but also great aroma and taste.
- Address: 493, Baegyang-daero, Sasang-gu
- How to get there: Take bus 129-1, 133, 169-1 opposite from Lotte Department store in Seomyeon. Get off at the Baekyang Village stop. Jangsoo Duck Village is located in the basement of the fitness building across the street.
- Hours: 11:30 a.m. to 10 p.m.