Food
Delicious destinations to send 2017 off in style
[Recommended Local Eateries] Great places for year-end celebrations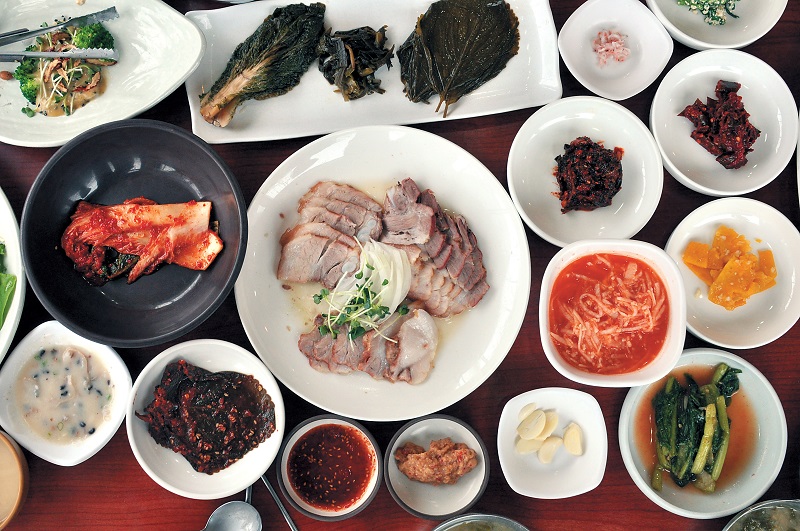 The year's end is upon us. December is a time for friends and families to gather, whether for the holidays, the new year, or just to celebrate for the sake of celebrating. Go ahead, you've made it to the end of another year. That alone is worthy of a party.
This issue of Dynamic Busan features restaurants that provide great atmosphere and delicious food for families, couples and friends to help usher in a new, prosperous year.
■ Suragan (수라간)
Gijang-gun (county) is quite literally a breath of fresh air. Seemingly a world away from the hustle and bustle of Busan's downtowns, Suragan is a delicious place to dine in Cheolma-myeon (town), a place where the ocean, mountains and surroundings provide a most relaxing backdrop to any year-end celebration.
Offering a prix fixe (pre-selected) menu, this private home converted into a restaurant offers a lovely taste of simple Korean country living. The Cheolma myeonjang (town head, similar to community head) recommends this restaurant for devotion to its food, which extends to every side dish.
Without the aid of any artificial ingredients, Suragan's food offers a clean and pure dining experience.
"Suragan means `royal kitchen,' where food is prepared for kings," the myeonjang said. "It feels like they're giving me the royal treatment every time I dine here."
Starting with sungnyung (hot water blended with scorched rice from the bottom of a pot), the restaurant serves steamed pumpkin and savory hand-made tofu, followed by enough side dishes as to make one's eyes bulge (and possibly their belts, as well).
The myeonjang recommends the pork boiled with medicinal herbs (30,000 won) for its tenderness. Wrap the pork in a pickled perilla leaf for a truly mouth-watering experience. Other prix fixe meals start at 18,000 won per person.
Post-meal tea can be enjoyed in a building across from the restaurant. Take a sip and reflect on the close of a great year, with many more still to come.
-Address: 56-3, Wayeo 1-gil, Cheolma-myeon, Gijang-gun
-How to get there: Banyeo Agricultural Market Station (Metro line 4), exit 2. Take bus 184 and get off at the Wayeo Village bus stop. Public transportation is not always available so getting to the restaurant by car is recommended.
-Hours: 11:40 a.m. to 9:30 p.m. Closed Wednesdays.
■ Dudeoji (두더지)
Dudeoji, the Geoje 1-dong community head's (dongjang) recommendation, has become popular among Instagram tastemakers that are eager to let diners know about this res-taurant's unique culinary delights and stylish interior.
The dongjang says Dudeoji is a quaint restaurant that is great for friends and couples to spend time together. "All of the beautifully-plated food looks too good to be consumed," he said with a laugh.
His favorite is the restaurant's pizza, their signature menu item. Chicken and pasta entrees are also popular. Pasta is made fresh and enjoyed with a selection of tender vegetables and crispy bacon, while chicken dishes offer both crispness on the outside and moist tenderness on the inside. A variety of sauces also pair well with the different entrees. Most dishes cost about 15,000 won.
Wine is available by the glass. Reservations are required.
-Address: 81, Beobwonbuk-ro, Yeonje-gu
-How to get there: Geoje Station (Metro line 3), exit 10. Walk about 10 minutes toward the right end of Busan High Court (부산고등법원).
-Hours: Noon to 9 p.m. (break time is from 3 to 5 p.m.) Monday through Friday, noon to 3 p.m. Saturday. Closed Sundays.
-Reservations: 010-5004-6112 (text reservations recommended if you cannot speak Korean)