Food
Delicious dining destinations worthy of discovery
[Recommended Local Eateries] Hidden places to try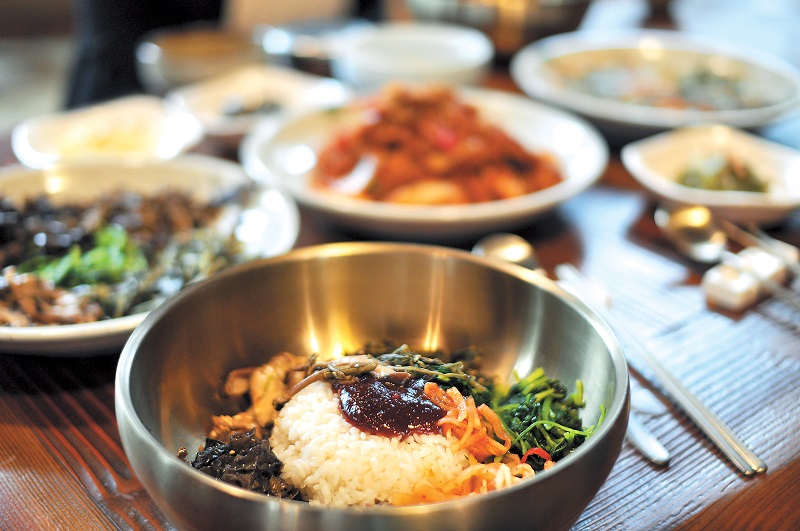 Dalma Gallery, located on Sanbokdoro, Choryang-dong, serves a beautiful bowl of bibimbap.
 This issue of Dynamic Busan features Korean restaurants off the beaten path that offer set menus, becoming increasingly-known here by the French phrase "table d'hote."
 Although not the most well-known restaurants, those who do know keep coming back time and again for high-quality meals and exceptional dining experiences. Forgive us for revealing your hidden gems!
■ Dalma Gallery (달마갤러리)
 Dalma Gallery, along Sanbokdoro (mountainside road) in Choryang-dong (district), is an old mansion with a well-maintained garden and big mature trees. Now a restaurant, this inviting structure once served as the official residence for both the mayors of Busan and governors of Gyeongsangnam-do (province).
 The restaurant also serves as a gallery for sculptures, paintings, ceramics and antiques depicting dalma, an important Buddhist figure.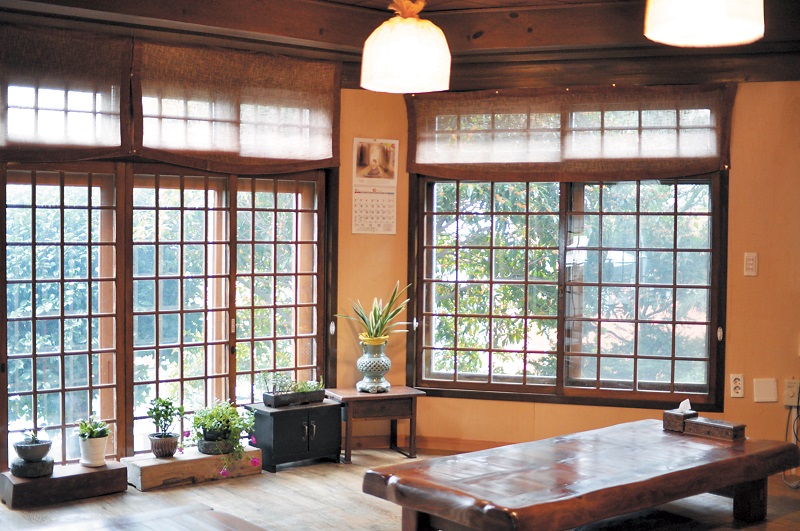 The Choryang-dong dongjang (community head) recommends Dalma's bibimbap (10,000 won). While one of Korea's most familiar dishes, the dongjang notes their take on the classic is without peer, featuring wild greens, shiitake mushrooms and tree ear mushrooms served atop expertly-cooked rice. For spice and flavor, add plenty of gochujang (red pepper paste) and mix.
 If bibimbap is not enough, Dalma's ojingeo muchim (seasoned squid) or jeyuk bokkeum (stir-fried spicy pork), served family style for 20,000 and 30,000 won an order ought to fill up even the hungriest group of diners. Round out your meal with a cup of soothing traditional tea. Alcohol is not available at the restaurant but diners can bring their own makgeolli (rice wine) or beer.
-Address: 25, Choryang-ro 100beon-gil, Dong-gu
-How to get there: Busanjin Station (Metro line 1), exit 7. Take bus 22 or 52 and get off at the Computer Science High School bus stop.
-Hours: 10 a.m. to 9 p.m. Closed Sundays.
-Phone: 051-917-2005 (Korean)
■ Suseonjae (수선재)
 "A bowl of rice is like an herbal tonic."
 This classic Korean adage pairs well with Suseonjae, the Sajik 2-dong community head's recommendation. With all natural ingredients, original flavors and vibrant colors, you may start feeling healthier just by looking at it. Now imagine how good you'll feel after eating it.
 Suseonjae means "fairy's house" in Korean. And, this modest private-home-turned-restaurant lives up to its name, as the sounds of gayageum (Korean zither) transport diners to another realm. The restaurant serves medicinal herbs-based food that not only tastes great, but even boasts medicinal qualities.
 All food served at Suseonjae is developed through strict quality-control preparations. Crispy fish and dumplings stuffed with cucumber are menu items served readily and amply.
 The community head recommends Suseonjae's tofu sobagi (tofu wrap with filling). Diced mushrooms are put in tofu before being fried slightly, as the aroma of shiitake mushrooms and chamnamul (Korean pimpinella plant) envelops the tofu.
 Besides the restaurant's table d'hote lunch menu, which costs between 18,000 and 20,000 won per person, hwangtaegui (grilled dried pollack), suyuk (boiled pork slices) and bulgogi jeongol (seasoned beef hot pot) come highly recommended. In-house medicinal liquors, brewed by the owner using wasp, green plums and mulberry are also available.
-Address: 44-4, Sajikbuk-ro 13beon-gil, Dongnae-gu
-How to get there: Minam Station (Metro line 3), exit 3. Take bus 50 and get off at the Ssangyong Yega entrance bus stop. Walk into the alley where Paris Baguette is to find Su-soenjae hidden at the corner.
-Hours: Noon to 9:30 p.m. Closed occasionally; call ahead to confirm.
-Phone: 051-504-7733 (Korean)