Food
Raw fish restaurants in Busan are a great catch
[Recommended Local Eateries] Raw Fish
For many travelers, when they think of Busan, they think of raw fish.
It's little wonder why. Surrounded by the sea, this humble port city we call home has an overwhelming abundance of options for experiencing the best fresh hoe (raw fish), from numerous restaurant chains and established family-owned destinations, to the famous Jagalchi Market and equally-impressive Millak Raw Fish Center near Gwangalli.
This issue of Dynamic Busan introduces two raw fish restaurants that might not be in an international tour guide but which should be eagerly sought out for those with a taste for the finest food from the sea.
■ Mijeong (미정)

Raw fish is the centerpiece of a bountiful spread of many delicious foods from land and sea served at Mijeong.
Cheonghak 1-dong (neighborhood) in Yeongdo-gu (district) might be a bit out of the way for some tourists. But, for a truly Busan experience this neighborhood's dongjang (community head) heartily recommends heading there for Mijeong and its variety of high-quality raw fish. The area's beautiful night view of Busan Harbor Bridge completes the experience.
The community head chose Mijeong for its reasonable prices. The raw fish course also includes grilled fish, boiled fish and soup for 35,000 won per person, in addition to seafood side dishes like small octopus and fresh oysters.
The raw fish served here continues to impress customers with its fresh taste. For anyone relatively new to experiencing raw fish in the Busan way, the community head recommends eating raw fish served at Mijeong with rice and pickled sea squirt, wrapped in mukeunji (ripened kimchi). Crispy grilled hairtail and boiled fish in spicy sauce are also served together. Round out your meal with a refreshing bowl of soup. Bite-sized portions of rice are provided for customers to make their own sushi (called chobap in Korea), as well.
- Address: 298, Taejong-ro, Yeong-do-gu
- How to get there: Nampo Station (Metro line 1), exit 6. Take bus 8, 30, 88, 113, 186 or 190 and get off at the Cheonghak Market bus stop. It is located near the crosswalk.
- Hours: 11: 30 a.m. to 10 p.m. Clo-sed Sundays.
■ Hwacheong Hoetjip (화청횟집)

Mulhoe (cold raw fish soup) at Hwacheong Hoetjip
Mulhoe (cold raw fish soup) is Hwacheong Hoetjip's signature menu item and just one of many ways raw fish is enjoyed throughout Korea. For this refreshing and popular summer meal, thick raw fish slices are mixed in spicy sauce and served in a chilled broth with assorted vegetables.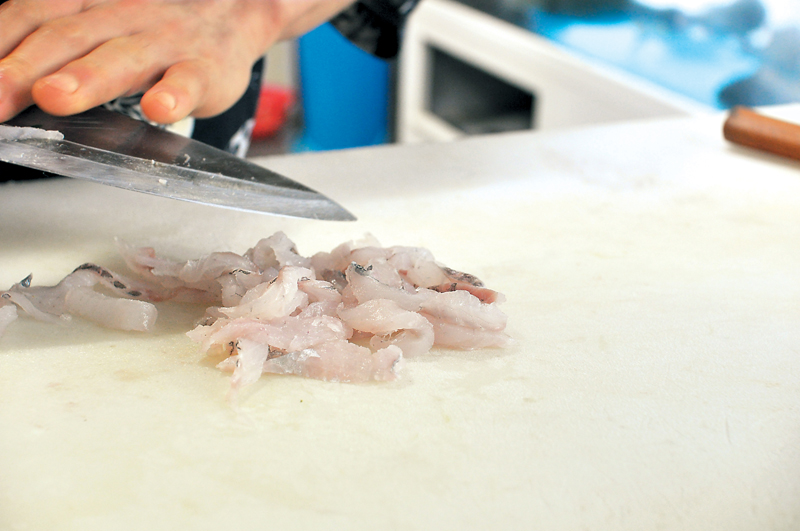 While most popular in the summer, Hwacheong Hoetjip serves mulhoe (10,000 won) throughout the year. Its housemade spicy and sweet secret sauce is made by boiling medicinal herbs for a long time, then freezing the mixture before serving partially-frozen with the raw fish.
Hwacheong Hoetjip sends its patrons to flavor country when it comes to this dish with its abundance of pear, cucumber and thick slices of rock fish.
Maeuntang (spicy fish stew) is a standard accompaniment to mulhoe. With boiled fish, vegetables and a roof of thick tofu slices holding all the goodness inside, it is a fantastic match for the spicy and sweet mulhoe.
Oncheon-dong, where the restaur-ant is located, is well-known for hot springs. No surprise as oncheon means "hot spring" in Korean. So, make an afternoon of your trip to the area with a hot spring bath at a nearby spa before or after enjoying some hearty, delicious raw fish soup.
- Address: 70-4, Jungang-daero 1367beon-gil, Dongnae-gu
- How to get there: Myeongnyun Station (Metro line 1), exit 5 (accessible only via the roadway overpass connected to the station). Walk straight past Lotte Department Store, turn right into the alley between SK gas station and Lucky Apartment and continue straight.
- Hours: 11 a.m. to 11 p.m.