Food
[Recommended Local Eateries] Busan surf and turf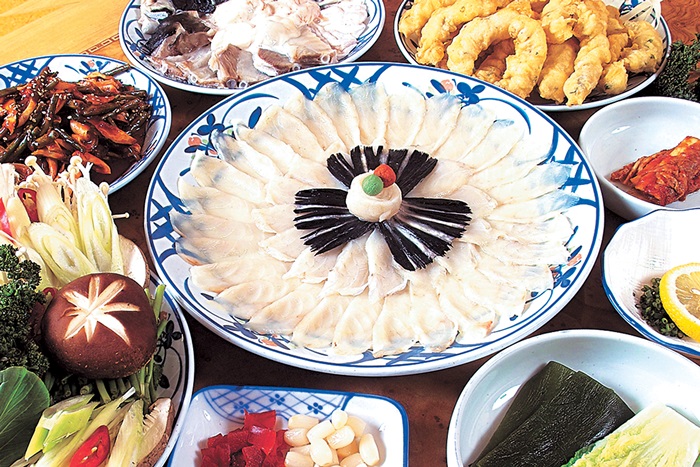 (Picture : Hoe is usually provided with a variety of side dishes.)

After enjoying the Busan One Asia Festival, the film festival and the fireworks, you're bound to get hungry. So whether you're taking advantage of the city's coastal location by getting some great fish, or you're looking for delicious meat, Dynamic Busan has you covered. Here are three of our top choices from Busan's rich and diverse culinary scene:
Hoe
Given Busan's proximity to the sea, it's no wonder that its citizens have grown up eating seafood. Often, the fish is eaten entirely raw. Korean raw fish, known as hoe, is different from Japanese sashimi in that it is consumed immediately after the fish is killed, whereas sashimi is left to first ripen. The most popular fish used for hoe are red seabream, flatfish, rockfish, gray mullet, along with gizzard in autumn and flounder in spring. Hoe restaurants usually provide you with accompanying soy sauce and wasabi (from the Japanese style), gochujang (red chili-pepper paste) with vinegar and doenjang (soybean paste) with sesame oil. Koreans typically eat hoe with the gochujang and vinegar, but the real Busan flavor is to mix the gochujang and doenjang together. Regardless of your choice, the sauces and pastes are there to enhance the flavor. Of course, you will get more than enough side dishes, like sea squirts, sea cucumbers, vegetables, nuts and jeon (griddle cake made by frying a mix of ingredients in oil with wheat flour).
(Picture : You can enjoy very fresh hoe dishes in Busan.)

▶ Millak Hoe Town (민락회타운)
Millak Hoe Town is a live fish market and restaurant area located at the eastern end of Gwangalli Beach that operates around 120 hoe restaurants. Since 1989, these restaurants have become the go-to place for those seeking raw fish in Busan. On the ground floor is the live fish market. You can choose the fish that you want and take it up to a restaurant or eat it outside, since Hoe Town is close to Millak Waterside Park.
How to get there : Gwangan Station (Metro line 2), exit 3. Go straight along with the main street and turn left at the beach.
Eomuk
Eomuk (Busan fish cake) is the easiest and cheapest seafood to find in a city full of it. Originating from Japan in the 1900s, eomuk is a popular street food most often served on a stick or with tteokpoki (stir-fried rice cakes in a spicy sauce). There are many ways to prepare eomuk, and they vary in price and trendiness. Whether in tteokpoki or as a fancy croquette, eomuk remains a Busan favorite. It makes a great gift, too, since it doesn't spoil easily when packaged properly.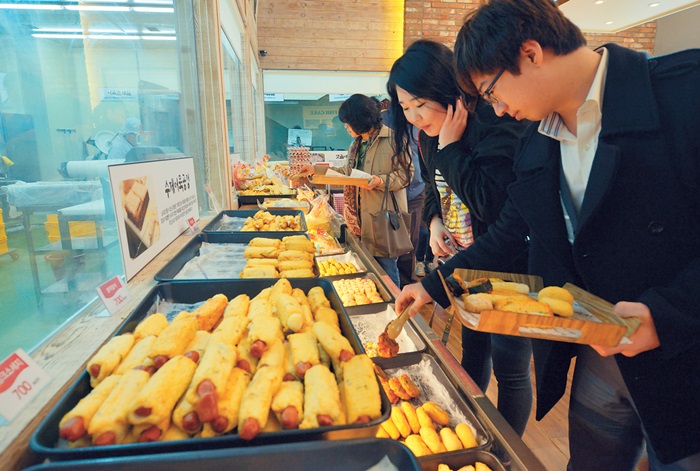 (Picture : More than just a street food, eomuk can get quite fancy sometimes.)
▶ Samjin Eomuk (삼진어묵)
In 1953, Samjin Eomuk began its business as the primary manufacturer of Busan fish cake. Until the 2000s, the delicacy was seen as a simple side dish, but Samjin Eomuk diversified and popularized the food to make it trendier. Samjin Eomuk continues operations today, and you can enjoy freshly-fried eomuk at their headquarters at the Yeongdo Bongnae Traditional Market. While there, you can also make your own eomuk and visit a museum all about the local Busan treat.
How to get there : Nampo Station (Metro line 1), exit 9. Take the Yeongdo-gu 5 village bus and get off at Bongnae Market stop. Go straight for 70 meters into the first alley.
Website : samjinfood.com
Yang Gopchang
In addition to seafood, Jagalchi Market is known for meat. If you cross the market's main street, you'll find an alley dedicated to pigs' feet and yang gopchang (beef tripe). This came about, because many sailors would grow tired of seafood and wanted meat as a result. The two options available to you are grilled tripe and tripe hot pot. For grilled beef tripe, you can broil it with salt or gochujang. Be aware that even though the tripe is delicious, the smell can be quite pungent.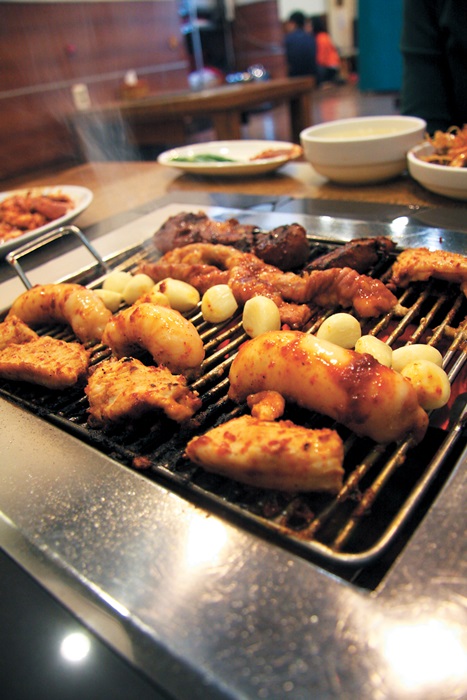 (Picture : There's nothing quite like the sound of sizzling yang gopchang.)
▶ Bupyeong Yanggopchang (부평양곱창)
Bupyeong Yanggopchang, a beef tripe restaurant, is located at the entrance of Bupyeong Kkangtong Market and is always crowded in the evenings. Major menu items include grilled beef tripe with either salt or gochujang, which costs 35,000 won for a small size, 40,000 won for medium and 45,000 won for large. The small size is suitable for two people, the middle size is good for three people and the large size is best for four.
How to get there : Jagalchi Station (Metro line 1), exit 3. Go straight to the entrance of Bupyeong Kkangtong Market through BIFF street for six minutes.