Food
Warm up this winter with hot soup of the sea
[Recommended Local Eateries] Seafood soup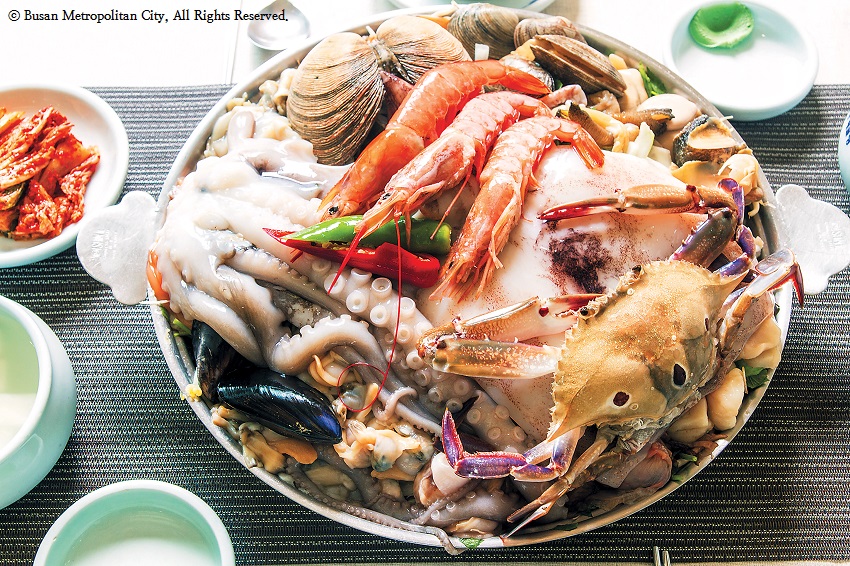 An incredibly photogenic meal available to consume at Anyang Haemultang.
Break out your heavy coats and scarves... winter is back.
One positive the cold season brings is how immensely comforting hot soups can be when we are at our coldest. In Korea, haemultang (seafood soup) is enjoyed throughout the year, but especially when temperatures begin their downward dip. Haemultang can be either spicy or as a clear soup depending on one's preferences. Its taste only grows deeper and more complex as its plentiful vegetables are melded with the seafoods on offer. Come with us this month as we explore a few of our favorite haemultang restaurants.
■ Anyang Haemultang (안양해물탕)
Anyang Haemultang, located near the Lotte Giants home at Sajik Sta-dium, is quite famous among local residents. Designated as an official "Busan Local Restaurant" 20 years ago, this popular seafood soup destination has only gotten better with age.
Like some of the best restaurants in Korea, only one item is on the menu. The owners proudly supply their haemultang only with seafood from un-contaminated areas near Busan and adhere to strict quality control standards. The meal's flavor-packed broth is made from boiled beef leg bones from Korea-bred cows, along with seaweed, vegetables and gentle spices. Add 20 different fresh seafoods into the soup, boil again and prepare to have your socks knocked clean off. Seafood like prawn, squid and more can also be added. English menu options are available.
-Address: 66, Sajik-ro, Dongnae-gu
-How to get there: Sajik Station (Metro line 3), exit 1. Walk straight 100 meters. Turn right and walk straight an additional 10 minutes. Anyang Haemultang can be found on the right with a sign written in red.
-Hours: 11:30 a.m. to 10:30 p.m., daily
■ Jeongwon Haemultang (정원해물탕)

Haemultang boiled with a wealth of ingredients from the sea is best when shared.

It might not be its most popular season, but the Gwangalli Beach area is still an excellent spot during winter because Jeongwon Haemultang is close by.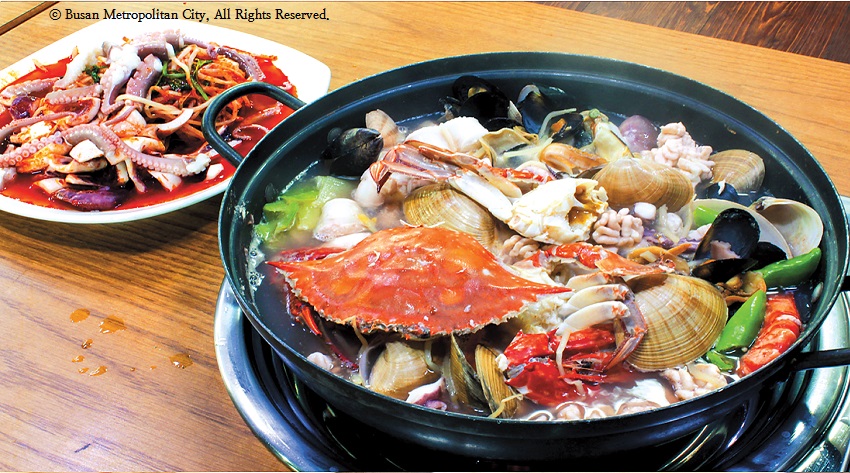 This seafood stew specialty res-taurant offers not only haemultang but also scrumptious steamed monkfish (agujjim), as well. Its haemultang features a clear clean broth, clams, squid, prawn, mussels, blue crabs, scallops and more, which are added to a large hot pot. Enjoy this as the locals do by starting with taking bean sprouts out after boiling and mixing them with delightful accompanying sauces. Then, try the same with the seafood. The steamed monkfish comes in plentiful quantities and is absolutely delicious. People who dine here just can't stop picking up their chopsticks for another bite. We challenge you to resist.
-Address: 25, Gwananhaebyeon-ro 225beon-gil, Suyeong-gu
-How to get there: Gwangan Station (Metro line 2), exit 4. Walk straight toward Gwangan Beach. Turn left at the Baskin Robbins ice cream shop and then continue walking. Turn left at Coffeesmith and enter an alley. You will see a sign on your left.
-Hours: 11 a.m. to 10 p.m., daily
■ Jeongdongjin Haemultang (정동진해물탕)
Seomyeon is pretty much smack dab in the middle of the city. Which makes getting to Jeongdongjin Haemultang probably one of the easiest things to check off your "Things to Do in Busan" list. We are glad we could help you.
This popular haemultang restaurant is big enough to fit plenty of hungry folks and its fresh seafood can be enjoyed either stewed or braised. More than 20 varieties of seafood will tempt tastebuds including blue crab, squid, small octopus, clams, mussels and more. This one is a little spicy so be sure to have a cup of water at the ready in case you need it!
The most popular dish at Jeongdongjin Haemultang is its braised spicy seafood (haemuljjim). Braised crab and braised jumbo shrimp can also be ordered for the ultimate experience.
-Address: 37, Seomyeonmunhwa-ro, Busanjin-gu
-How to get there: Seomyeon Station (Metro lines 1 and 2), exit 9. Walk straight for five minutes. The restaurant can be found on the left.
-Hours: 11:30 a.m. to 11 p.m., daily