Food
Gukbap, never stop: finding Busan's best bowls
[Recommended Local Eateries] Dwaeji Gukbap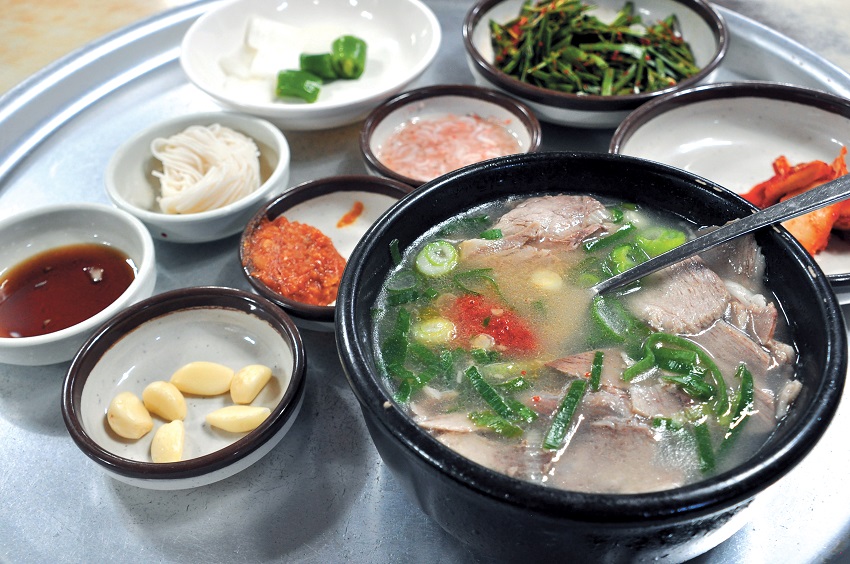 A bowl of dwaeji gukbap from Songjeong Samdae Gukbap offers diners ample quantities of pork mixed with rice.
Dwaeji gukbap is one of the most popular answers for many online searches on what to do when visiting Busan. While variations of this boiled pork, long-simmered soup and rice meal can be found in surrounding regions, it truly is a Busan local food.
Dwaeji gukbap is believed to have gotten its inauspicious start during the Korean War, when food was scarce and families sought to provide sustenance by boiling pork bones for a very long time. What started as a necessity became one of Korea's most comforting of comfort foods.
Served hot and simple, it is up to diners to decide how much buchu (chives) to add or whether to season their soup with salt or saeu jeot (brined baby shrimp). Some restaurants serve their dwaeji gukbap with rice already in the soup, many opt to keep them separated. When it comes to dwaeji gukbap, opinions and preferences are passionate and plentiful. Fortunately, so are the number of locations. Here are a few of our favorites.
■ Songjeong Samdae Gukbap (송정 3대 국밥)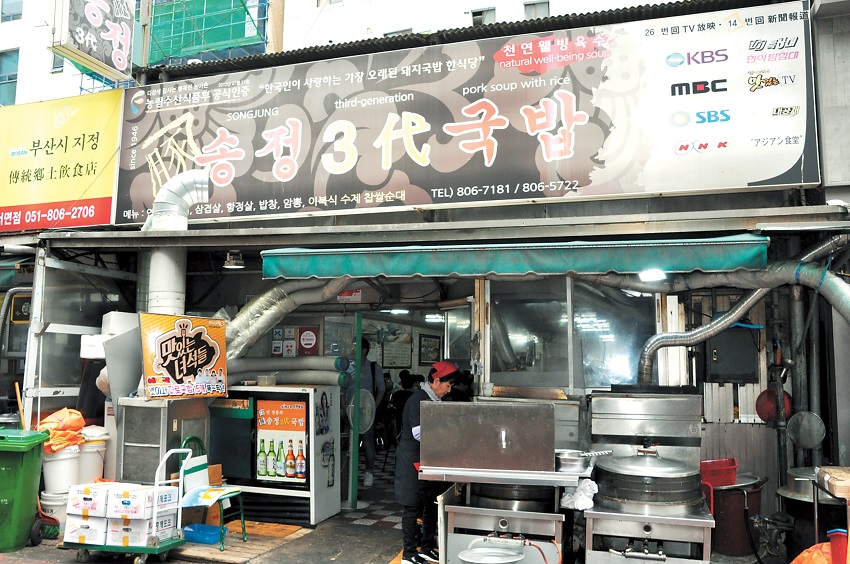 Songjeong Samdae Gukbap's front

What has locally become known as "Dwaeji Gukbap Alley" in Seomyeon still harbors historical reminders of sadness and nostalgia from the refugees of the Korean War. It also has a dizzying number of dwaeji gukbap restaurants.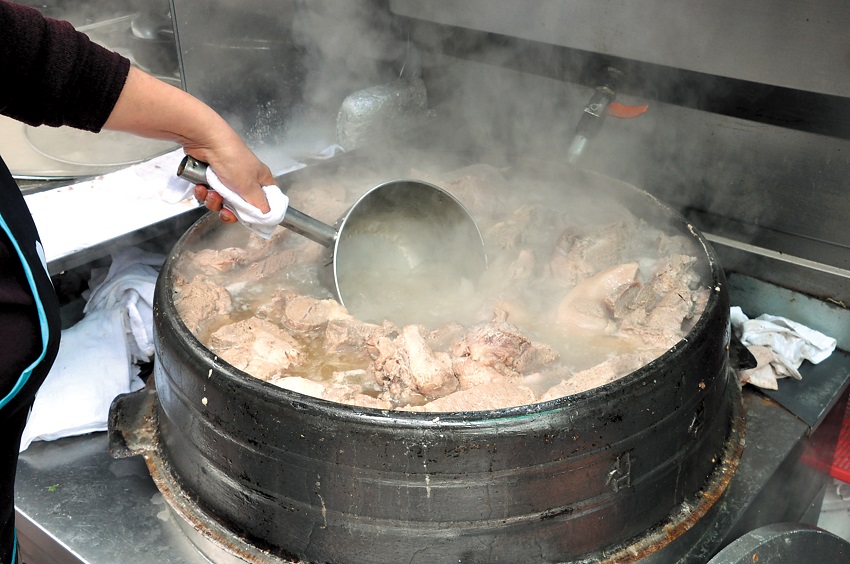 Plentiful boiling meat

Songjeong Samdae Gukbap stands out from the pack for its milky white broth, which is made by cooking beef leg bones instead of pork. Similar to the broth in seolleongtang (ox bone soup), this dwaeji gukbap's light flavor is immediately accessible to even first time gukbap diners.
-Address: 29, Seomyeon-ro 68beon-gil, Busanjin-gu
-How to get there: Seomyeon Station (Metro lines 1 and 2), exit 1. Walk straight, then turn right at Starbucks. Walk one more block and turn right.
-Hours: Open 24 hours
■ Ssangdungi Dwaeji Gukbap (쌍둥이 돼지국밥)
The alley is unassuming and quiet, but one humble restaurant is often packed with customers.
This Daeyeon-dong (neighborhood) mainstay offers lots of tradition with every steaming hot bowl of soup. Expect to wait a while during peak lunch and dinner hours. A welcome bonus here is an additional bowl of sliced pork, served in a spicy mar-inade.
-Address: 2, UN pyeonghwa-ro 13beon-gil, Nam-gu
-How to get there: Daeyeon Station (Metro line 1), exit 3. Walk around the corner toward UN pyeonghwa-ro and continue straight about five minutes.
-Hours: 9 a.m. to 11 p.m., daily
■ Bonjeon Dwaeji Gukbap (본전 돼지국밥)
This dwaeji gukbap destination is located near Busan Station, making it an easy and popular choice for tourists. Bonjeon is lauded for its soup's clean and satisfying broth. Enjoy your bowl with plenty of kimchi and spicy leek kimchi not just with tourists but with plenty of local, and loyal, regular customers.
-Address: 3-8, Jungang-daero 214beon-gil, Dong-gu
-How to get there: From Busan Station (Metro line 1), pass the taxi stand on the right and walk straight about two minutes. The restaurant is between an Angel-in-us coffee shop and a building with a BNK sign.
-Hours: 8:30 a.m. to 9:30 p.m., daily
■ Sinchang Gukbap (신창 국밥)

Shinchang Gukbap's soup has a signature reddish hue

Sinchang Gukbap, located in Toseong-dong, is well known for its light brown-colored broth that is packed with flavor. This is a popular destination for locals and tourists visiting nearby Nampo-dong and Gukje Market. This delicious soup that is cooked with pork bones, meat, seonji (congealed ox blood) and a lot of time. Crown daisy, garlic, spring onions and doenjang (soybean paste) are added when boiling. The resulting soup is clean tasting, thick and impressively comforting.
-Address: 53, Bosu-daero, Seo-gu
-How to get there: Toseong Station (Metro line 1), exit 3. Walk for three minutes along the adjacent alley next to Gyeongnam Middle School. Exit out to the main road, and find the restaurant on your right.
-Hours: 10 a.m. to 10 p.m., daily