Food
Hot, healthy meals to help beat the heat
[Recommended Local Eateries] Summertime replenishment


Hot bowls of seolleongtang, which is ox bone soup, have been served up daily at Seoul Kkakdugi in Nampo-dong (neighborhood) for over 70 years.
It might seem counterintuitive to some, but Koreans have long found eating hot soups from time-to-time can be a great way to restore one's vim and vigor when the mercury goes through the roof. This is especially true during what is considered the three hottest days of summer: chobok (beginning), jungbok (middle) and malbok (end). Want to tame the season Korean style? Try one of these hearty and delicious ttukbaegi (Korean-style earthenware pot) meals this month.
■ Seoul Kkakdugi (서울깍두기)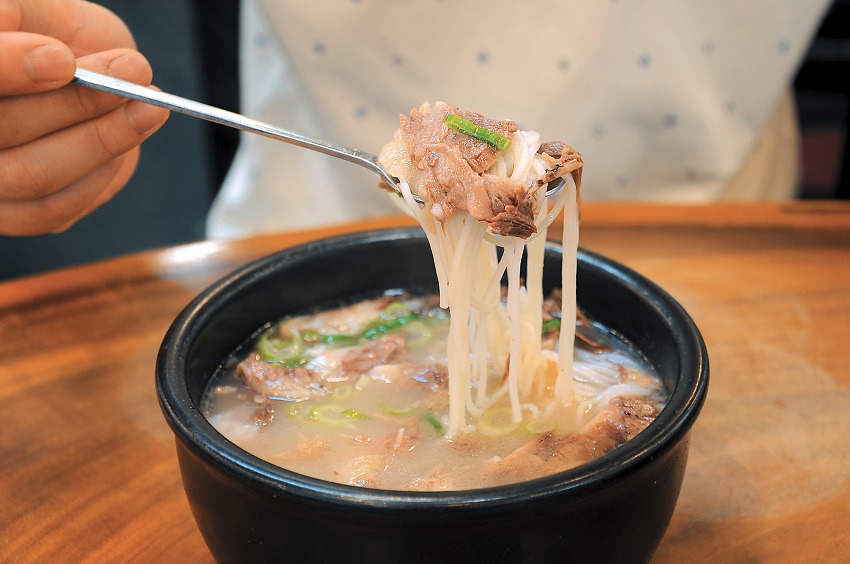 Seolleongtang is popular at Seoul Kkakdugi

Nampo-dong (neighborhood) is packed with many history-laden restaurants that maintain a steady clientele today. Seoul Kkakdugi, which today has many franchise locations, started here more than 70 years ago. It's easy to see why many people still venture far for the original.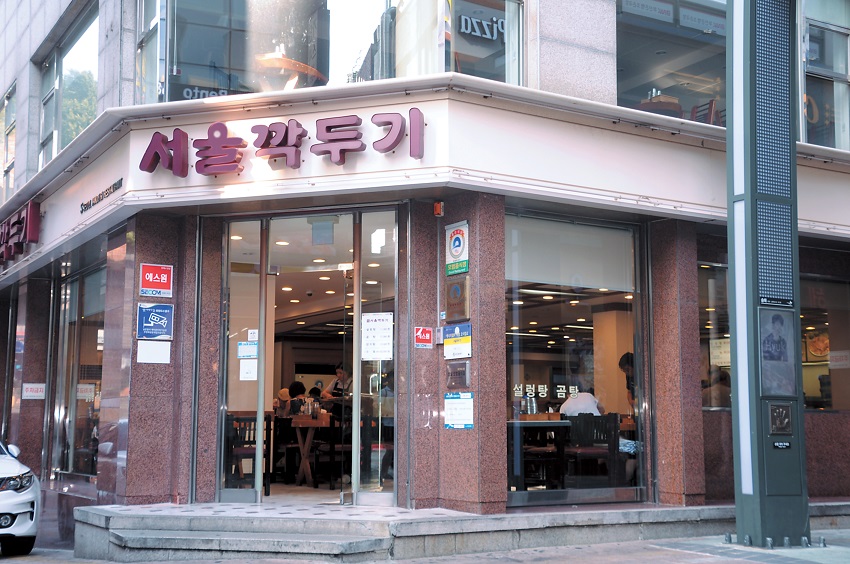 Seoul Kkakdugi's exterior
The seolleongtang (ox bone soup), gomtang (beef bone soup) and yangjitang (beef brisket soup) are delightful. While the broth for each soup is the same, the cuts of beef vary. Seolleongtang, at 10,000 won per serving, is their most popular dish. But, why stop there? If you upgrade to a larger size, it comes with extra meat! Salt or pepper can be added or even kkakdugi (cubed radish kimchi) sauce. Some customers visit just to taste their kkakdugi (it is in the restaurant's name, after all). Its crunch and light sweetness pair well with milky, hearty seolleongtang.
-Address: 10, Gudeok-ro 34beon-gil, Jung-gu
-How to get there: Nampo Station (Metro line 1), exit 7. Walk straight five minutes. Turn left at the alley between O'Sulloc and Under Armour. The restaurant is located inside the alley.
-Hours: 8 a.m. to 9 p.m., daily
■ Jisimjung (지심정)

Mandu jeongol is Jisimjung's signature dish

Jisimjung has a very long history serving mandu jeongol (dumpling hot pot) near Gwangalli Beach. The restaurant's specialty features four enormous dumplings filled with mushrooms, vegetables, eggs, meat and green beans served in a large pot. The dumplings are much larger than typical dumplings, so it is advised that at least three or four people attend to this 30,000 won serving. This "Kaesong style" dumpling recipe comes from North Korea and its ingredients offer a delightful and addictive balance between bland and salty. Chili powder is added for a spicy kick, while medicinal herbs in an anchovy-spiked broth simmer for more than three hours before serving. Another popular dish is dwaeji moksal gui (grilled pork neck), also for 30,000 won per large serving. Marinated pork neck is grilled together with potatoes, sweet potatoes, eggplant and onions. Yum.
-Address: 35, Namcheonbada-ro, Suyeong-gu
-How to get there: Geumnyeonsan Station (Metro line 2), exits 1 or 3. Walk toward the beach for about five minutes. The restaurant is on the left in the same two-story building as Eva's Kai Surf.
-Hours: 6 to 11 p.m., daily.
■ Jonggwan Bae's Dongnae Samgyetang (배종관 동래삼계탕)
This historical samgyetang (boiled chicken and ginseng soup) restaurant has for 40 years provided many customers in the Dongnae-gu (district) area with one of Korea's signature summertime dishes. Samgyetang is one of the most recognized restorative meals during hot summer months among Koreans. Its clean, simple taste has been as comforting for Koreans as a bowl of chicken soup has been a symbol for comfort and restoration in the west. Chicken is boiled in the ttukbaegi along with sticky rice, jujube, chestnuts and ginseng. This thick and hearty soup features milky-colored broth and chicken meat so tender it falls off the bones. Each generous serving is 15,000 won. Dakddongjip (chicken gizzards) and ginseng liquor are typically served prior to the main course.
-Address: 39, Dongnae-ro 116beon-gil, Dongnae-gu
-How to get there: Suan Station (Metro line 4), exit 5. Walk straight five minutes. Enter the alley near Cheongmyeong Pharmacy at the five-way intersection. It is on the right.
-Hours: 11:30 a.m. to 9 p.m. (break time from 3 to 5 p.m.). Closed on Mondays September through May.