Food
Cold noodles are a chill way to cool off
[Recommended Local Eateries] Milmyeon


Choryang Milmyeon, located near Busan Station, is often crowded with people eager to try its signature bowl of noodles and a plate of dumplings.

Do cold noodles make you immediately think of peace? They were featured prominently in the recent inter-Korean summit in April. In particular, the leaders of the two Koreas enjoying Pyeongyang-style naengmyeon (cold buckwheat noodles) was a particularly symbolically significant scene.
Naengmyeon, featuring cold, deep brown-colored buckwheat noodles served in a light, ice-flecked broth, is a popular way to beat summer heat in Busan. During the Korean War, however, refugees here longing for the comfort of their favorite noodle dish could not afford buckwheat. So, they turned to wheat flour, which was provided in refugee relief packages. The resulting milmyeon has become a popular meal here since.
Tourists flock to Busan every summer to taste the "original" milmyeon. This month, try a trio of popular milmyeon restaurants that have kept the legend of this historically-significant Busan original alive.
■ Choryang Milmyeon (초량밀면)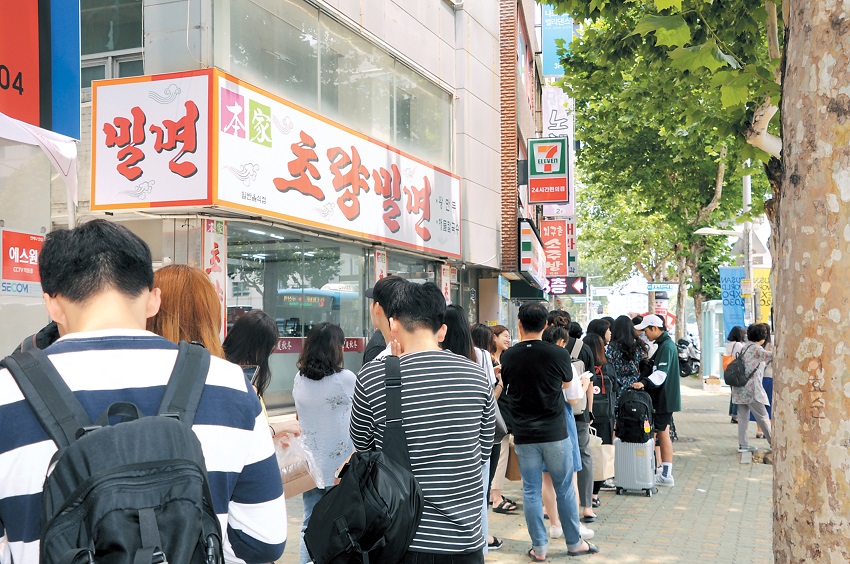 Folks wait outside Choryang Milmyeon

Any start or finish to historic Busan Station area tour should include a stop at Choryang Milmyeon. Where is it? Just look for the long line.
The restaurant has been featured many, many times on many different television programs, newspaper articles and more, resulting in countless tourists making the pilgrimage to the area.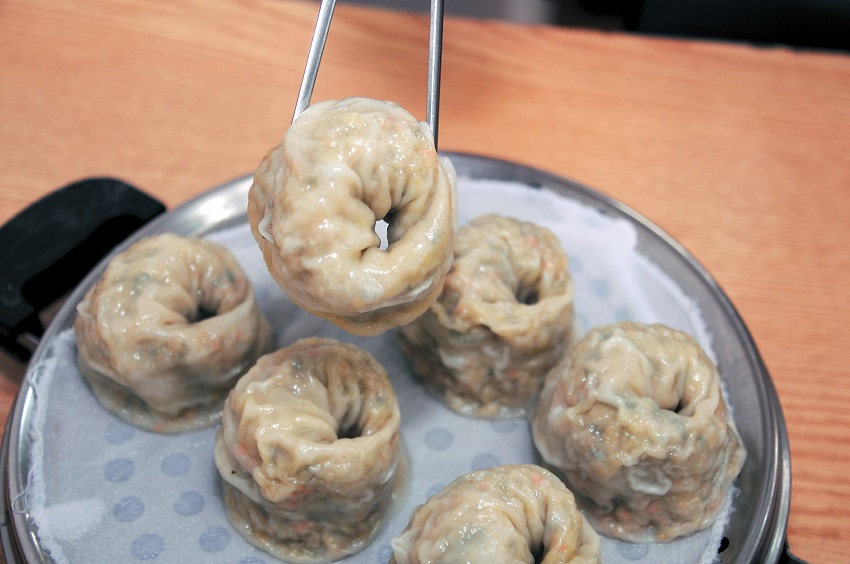 Bibim milmyeon (left) and steamed mandu (dumplings) are often ordered.

The chilled bowl, which costs 4,500 won, features a generous portion of wheat flour noodles and cold broth with thinly-sliced meat, spicy seasoned dadaegi (red pepper sauce), grated cucumber and a boiled egg on top. The broth, which is cooked before being chilled, is boiled with healthful herbs that not only taste good but are good for the body.
-Address: 225, Jungang-daero, Dong-gu
-How to get there: Busan Station (Metro line 1), exit 7. Find the restaurant after KB Kookmin Bank.
-Hours: 10 a.m. to 10 p.m., daily
■ Gaegeum Milmyeon (개금밀면)
A restaurant open for more than a half-century has a lot of tales to tell, in its walls and especially its food. Gaegeum Milmyeon has been serving wheat noodle aficionados since 1966. Unlike standard milmyeon, this restaurant's noodles are made by combining sweet potato starch with wheat flour, making the texture more chewy and soft. Some raw fish and gochujang (chili paste) are also available to up the flavor another level. Gaegeum Milmyeon is a self-service restaurant. Customers hand in their order tickets and grab the food when it's ready. It's a system that works in a place as popular as this. Takeout is also available. Milmyeon dishes, with or without soup, are 6,000 won.
Take a walk around Gaegeum Market afterward. A few other satisfying foods can be found there, including kalguksu (noodles), sundae (blood sausage), mandu (dumplings) and more.
-Address: 9-4, Gaya-daero 482beon-gil, Busanjin-gu
-How to get there: Gaegeum Station (Metro line 2), exit 1. Walk five minutes until the entrance of Gaegeum Market. Walk another 15 meters to find the restaurant on the left in the first alley.
-Hours: 10 a.m. to 8 p.m., daily
■ Gukje Milmyeon (국제밀면)
Tourist attractions can often generate large crowds of people on reputation alone. For Gukje Milmyeon, however, it's all about the taste. Located near Busan National University of Education, Gukje Milmyeon often features a line of folks waiting to get inside. It's worth the wait. Here, a serving of noodles, served with or without broth for 6,000 won, are made with the addition of domestically-grown powdered gardenia, which makes them more chewy and yellow. The broth is made utilizing beef bones, producing a hot, clear and a little pungent taste. The ground chili powder seasoning is also grown locally and requires at least a week of aging. The overall product is quite addictive.
-Address: 23-6, Jungang-daero 1235beon-gil, Yeonje-gu
-How to get there: Busan National University of Education Station (Metro line 1), exit 5. Walk about three minutes and turn left down an alley. Follow the alley for about 30 meters and you will see the white restaurant signboard on the left.
-Hours: Noon to 9 p.m., daily