Food
Hot pots full of healthy soups and stews for you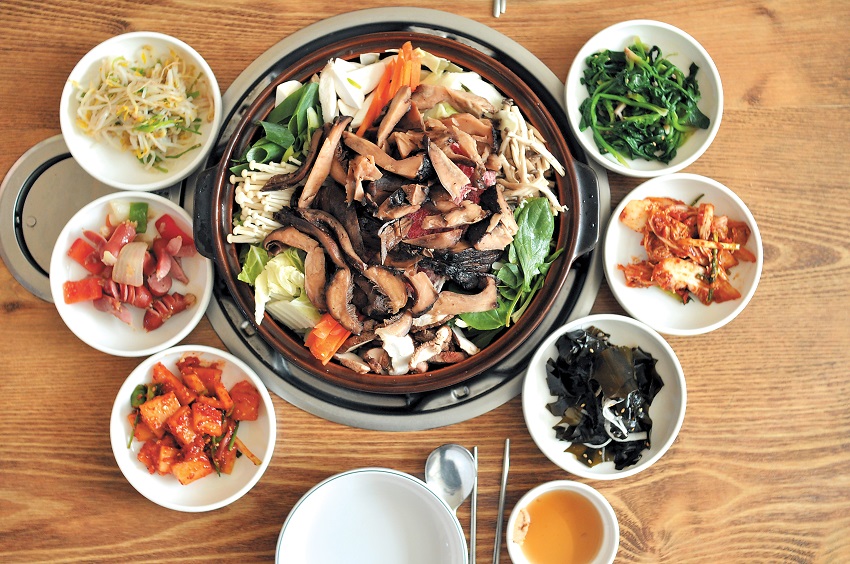 There is no shortage of hot soup meal options in Korea. Whether for warming up a chilled winter night, or cooling down during the boiling summer months, hot soups of various kinds can be enjoyed throughout the country, throughout the year. This month, we are highlighting a pair of delicious soups: mushroom hot pot made with a variety of mushrooms cooked at the table and chueotang, a thick, classic seafood soup that, while not as widely known these days, should absolutely be on one's Korean culinary radar.
■ Woong Yi's Papa (웅이아부지)
 Woong Yi's Papa, in Seo 2-dong, is a prime example that worthy restaurants don't always feature a ton of online reviews. This one does, however, come highly recommended by the area's dongjang (community head) for its delectable beoseot jeongol (mushroom hot pot), which offers a variety of different mushrooms cooked in a large pot at the diner's table. The restaurant has not gone completely under the radar, as plenty of neighborhood residents pack the place for lunch every day.
 The owners tout their wholesome ingredients that do not include any artificial flavors or seasonings. The most signature food is the neung-i mushrooms hot pot. Only home- grown mushrooms are used, most prominently the neung-i variety, followed by other delicious ingredients like oyster mushrooms, king oyster mushrooms and winter mushrooms. There's also an ample amount of beef, green onions, cabbage, spinach, carrots and more cooked together to create this stupendous stew. Several hungry diners will be stuffed from each 25,000-to-35,000 won set. Single serving lunch menu prices are kept reasonable, as well. Mealtime classics like sundubu jjigae (soft tofu stew), doenjang jjigae (soybean paste stew), or kimchi jjigae (kimchi stew) are offered for 5,000 won.
-Address: 48, Seodongjungsim-ro, Geumjeong-gu
-How to get there: Myeongnyun Station (Metro line 1), exit 3. Take bus 189 and get off at the Back Gate Sewoong Central Hospital (세웅병원 후문 정류장) stop. Follow the direction of traffic for a couple minutes before seeing the restaurant on the first floor of a brown brick building next to a parking lot.
-Hours: 11 a.m. to 10 p.m. daily. Closed Sundays.
■ Lee Baek's Namwon Chueotang House (남원추어탕 이백집)
 For Koreans, chueotang is a go-to dining choice when one is feeling under the weather. A thick and hearty soup of boiled and blended loach fish, chueotang offers the kind of comfort Koreans crave when sick. While the beginning of autumn is prime loach season, it can be enjoyed throughout the year.
Chueotang's restorative powers aren't just superstition, either. With a full slate of protein, calcium and minerals in every bowl, this is a meal full of power in every bite. The Geoje 4-dong community head enthusiastically endorses Lee Baek's Namwon Chueotang House, one of the most popular "get well soon" restaurants among neighborhood residents. A sign outside informs customers that this restaurant offers chueotang in the style of the southern part of Jeollanam-do (Jeolla province), which is thicker and richer than the other popular style of Gyeongsangdo, which features clear broth by straining the blended loach through a sieve. This restaurant boils whole loach in a pot, separates the meat from the bones and then returns the meat back to the pot, along with dried Chinese radish, which helps to deepen the flavor of the dish.
Besides this hearty soup, which costs 8,000 won per serving, a side of boiled beef accompanies every meal. A variety of loach-centric dishes are also available here including deep fried loach, which is very popular among locals.
-Address: 62-7, Haemaji-ro 31beon-gil, Yeonje-gu
-How to get there: Geojehaemaji Station (Donghae Line), exit 1. Walk three minutes toward Yangjeong (opposite from the Saemaeul finance firm). Follow Haemaji-ro 57 between Geoje-dong Church and Cleantopia five minutes, then turn right at an apartment complex. The restaurant is located on the first floor of a small apartment building on the right.
-Hours: 10 a.m. to 10 p.m. daily.